What are the best day trips from Rome?
Answers from Our Experts (3)
Some of Italy's top destinations are close to Rome, making day trips a breeze. One of our favorite day trips is to Ostia Antica. Located just a half hour outside the city via train, Ostia Antica was ancient Rome's port city and its ruins are impressively well preserved today. Walking through the ancient city, you can explore Ostia's ancient forum, baths and amphitheater, and other signs of early Roman life.

Another great day trip is to Umbria, one of our favorite regions in Italy. The less touristy version of Tuscany, Umbria boasts rolling hills, rambling farms and vineyards, and medieval hill towns. The easiest Umbrian town to reach from Rome is Orvieto, which is only about an hour train ride away (you then have to take the funicular up into the town from the train station). With beautiful views of the surrounding countryside, winding cobblestoned streets, authentic Umbrian restaurants, and one of the most ornate and important cathedrals in the region (don't miss the stunning frescoes of the Last Judgment inside, which had a direct influence on Michelangelo's own version in the Sistine Chapel), Orvieto is the perfect destination for a relaxing day trip outside of Rome.
Is there anything more pleasurable than driving across Italy? It's one of the best, most scenic and charming destinations I've ever had the pleasure of taking road trips through, and have done so many, many times. There are so many cultural attractions, so much history, so many restaurants to see, but whenever someone asks me about the best day trips from Rome, I have to say (sheepishly) visiting the designer outlets in Tuscany. In about a two hour drive from Rome, you can access two of the best discount shopping destinations in Europe—The Mall in Reggello and the Prada outlet in Montevarchi. Both are accessed via the AutoStrada and both deliver bargains on designer goods you won't find elsewhere. At The Mall, you'll find luxury brands such as Gucci, Balenciaga, Loro Piana, Ferragamo and more. In Montevarchi in a non-descript factory building that's somewhat hard to find, you'll discover Prada handbags, clothing, shoes and more at amazing discounts. My husband found the tuxedo he wore to our wedding there for under $300, and I have boots purchased 10 years ago for a steal that I still wear. It's a trip that's well worth the effort, with beautiful scenery on the way.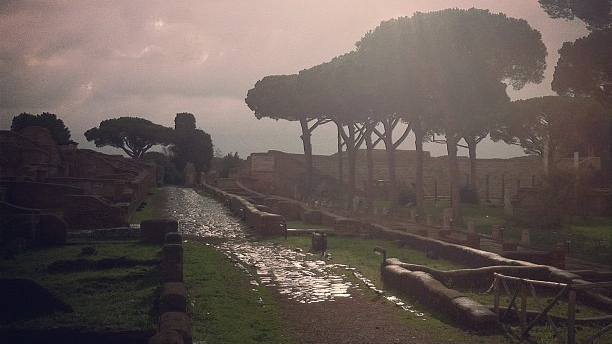 Photo by Erica Firpo
Rome is by far the center of the world, and definitely Italy for the matter of a great day trip. Just 20 minutes away by local train and on the coast is the archaeological site Ostia Antica, often dubbed Rome's Pompeii as it is a completely expose, ancient harbor city. A fun full day or half day trip, you are literally walking back in time through ancient houses, temples and forum. Just a few stops down is Ostia Lido, the beach strip which becomes a very vivacious summer spot. If the coast beckons you, 45 minutes northest of Rome is Santa Marinella, a small beach community with ancient ruins, Renaissance palaces, open beaches and delicious fish restaurants.

To the northeast and reachable by train and bus in 45 minutes is Tivoli which has the beautiful 2nd century Villa Adriana, Emperor Hadrian's countryside home, and Villa d'Este, an incredible Renaissance villa with vast gardens and singing fountains. After a morning of site visits, I particularly love a long pranzo (lunch) at Sibilla, a restaurant overlooking Tivoli's cascades and situated in a reconstructed Roman temple.

If looking to get out of the Lazio region for the day, head northeast to Orvieto in Umbria. The less-than-one-hour regional train ride leaves at the base of this charming hill town whose early 15th century cathedrale boasts the very best in early Renaissance paintings. If chaos is what you are looking for, la bella Napoli is only a quick 75 minute train ride from Rome (via rail transit providers TreniItalia and Italo). In Naples, you can pick up Christmas decorations, eat the best pizza you'll ever have and walk on the dark side (of Spaccanapoli) all in one day. For a bit of Tuscan sun, Florence is only 90 minutes away by fast train.