What are the best places for cappuccino in Rome?
Answers from Our Experts (2)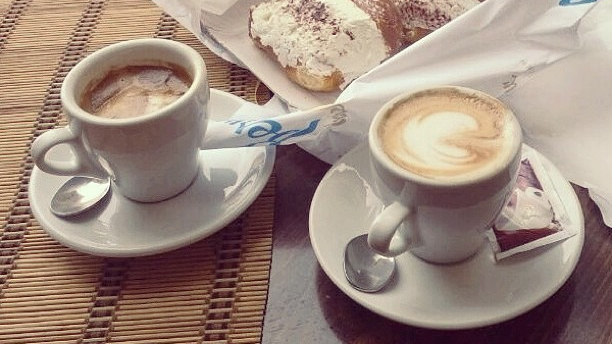 Photo by Erica Firpo
It is really not hard to find a good cappuccino in Rome, but it is difficult to distinguish greatness. Traditionally, Rome's best places for cappuccino are Caffe Sant'Eustachio in Piazza Sant'Eustachio and Tazza d'Oro on via degli Orfani, both located near the Pantheon in Rome's historic center. Their greatness is primarily based on the quality of coffee and how they prepare their coffee drinks- Sant'Eustachio sugars most coffee drinks, Tazza d'Oro has a delicious granita di caffe con panna.

For a stylish coffee, Illy has been knocking my socks off with its chains of chic caffes. Espressamente Illy on via Urbana (Monti) has great seating to go along with its lovely coffee beverages, served in specific Illy artist designed cups and glasses, and likewise Espressamente Illy on via degli Uffici del Vicario near the Parlament (Center). The newest Illyshop on via Due Macelli (Piazza di Spagna) has a tiny coffee bar where the barista makes the best cappuccini in Rome. Smart phone users: Illy has an Android and Apple Illy locator app to help you find Illy bars.

Usually in Rome where you can find a great espresso you can also find a great cappuccino. Very much adored drink, "cappuccino e cornetto" is the typical Italian breakfast. Like for espresso, also cappuccino can be ordered in its different variations, such as with a sprinkle of chocolate powder, "schiumoso" with more foam, cold, caffeine-free and many other types.

Among the best places for cappuccino in Rome are Sant'Eustachio Il Caffè in 82 Piazza Sant'Eustachio, near the Pantheon, where they use high-quality coffee grains, fresh and toasted in wood oven, and Sciascia Caffè 1919 in 80/A Via Fabio Massimo, Prati area, famous cafeteria that serves many types of cappuccino, among which cold cappuccino and cappuccino made with barley instead of coffee.

A good place for cappuccino is also Castroni, in Via Cola di Rienzo and Via Ottaviano. Castroni is not really a cafeteria or a pastry-shop, but a shop specialized in gourmet food, where you can find delicacies from all over the world, from different types of tea to herbs, spices, coffee and chocolate. Along with great savory snacks, they also prepare a good espresso and a great cappuccino.