What are the best wine bars in Rome?
Answers from Our Experts (1)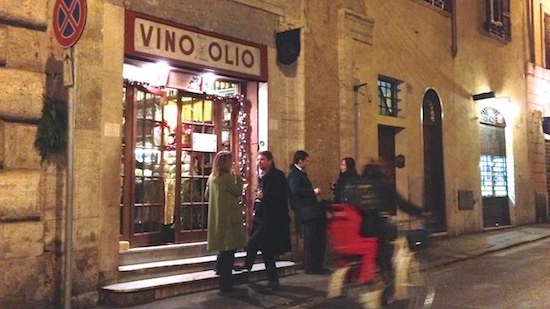 Photo by Erica Firpo
In Rome, your allegiance to the local enoteca (wine bar) is on par with your fidelity to Roma or Lazio, the two local soccer teams. But since each neighborhood has several enoteche, from quaint and traditional to stylish and trendy, you are allowed a piccolo tradimento (tiny betrayal) on occasion. My favorite enoteche in Rome are:

Il Goccetto is often considered one of the oldest wine bars in Rome and has all the rustic charm that I need for a traditional wine bar- a great selection of wines and a delicious antipasto menu. Location is perfect, a charming side street between the Tiber river and Campo de' Fiori that side steps the college crowd. On the other side of Campo de' Fiori is Angolo Divino, via dei Balestrari 12, another rustic wine bar with slightly more space and a lovely wine list and antipasto menu, though availability is dependent on the owner's whims. Another favorite in the nearby Ghetto neighborhood is Beppe e Suoi Formaggi, an incredible cheese and wine shop frequented by many gastro-tourists.

Other neighborhood enoteche that have caught my eye and palate are Monti's Ai Tre Scalini (unmistakable on the corner of via Panisperna and Via dei Serpenti), a rustic wine bar and the recently renovated Le Barrique at via del Boschetto 41, who's mod remake also includes a dinner menu, and Trastevere's quiet Uva Rara on via di San Crisogono 31.

If looking to learn more about Lazio, head toward Piazza di Spagna to Palatium which focuses on Lazio region vintages, or else Enoteca Provincia Romana (Piazza Venezia) whose Rome-focused menu of wines also includes notable products from the region.