What is Holy Week like in Rome?
Answers from Our Experts (1)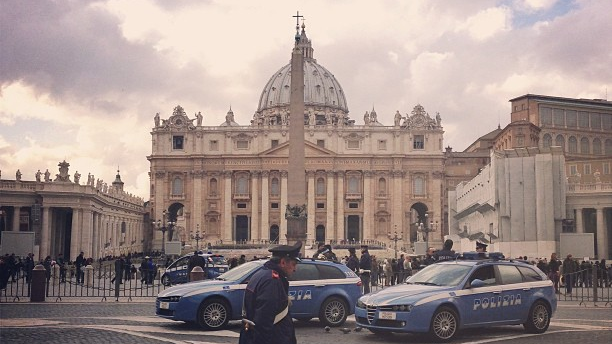 Photo by Erica Firpo
With Rome and the Vatican in the world's spotlight over the past few weeks thanks to the recent Papal election, Holy Week will garner even more attention than usual. The days leading up to Easter Sunday will showcase a new Vatican led by Pope Francis I, the first South American to head the Holy See.

Holy Week officially began on Palm Sunday, March 24, with Pope Francis I leading an overflowing papal mass in St. Peter's Square. You'll find a double-packed Holy Thursday, March 28 with a 9:30 a.m. Chrisma mass in St. Peter's Basilica and 5:30 pm Mandatum. The solemn morning mass observes the religious rites of priesthood, associated with Christ's institution into Catholicism. The late afternoon Mandatum mass gives way to the moniker Maundy Thursday, the celebration of Christ's bathing of the Apostles' feet, from the Latin Mandatum. The ages-old tradition has been held in past years at St. John the Lateran Basilica but this year, Pope Francis I perform the ritual washing the feet on 12 young inmates at Casal del Marmo penal institute in Rome.

Good Friday, March 29 will bring tens — if not hundreds — of thousands to both St. Peter's Basilica and the Colosseum. At 5 p.m., the Vatican hosts the papal mass for the passion of the Lord, and then shortly thereafter, Pope Francis I will move to the Colosseum for the Via Crucis. The Way of the Cross is a torch-lit procession commemorating the Stations of the Cross led by the Pope himself with the unique backdrop of the historic arena.

For a final evening papal mass, the Holy Saturday, March 30 Easter vigil is held inside St. Peter's Basilica at 8:30 p.m.. The vigil leads into Easter Sunday, March 31, with Pope Francis I presiding over Holy Mass in St. Peter's Square at 10:15 a.m. Arrive early as the Square will be shoulder to shoulder with visitors in attendance. At noon, the Pope will then address the city of Rome and world from the central loggia of St. Peter's Basilica with the Urbi et Orbi.

For Italians, Holy Week continues to Pasquetta, Easter Monday, April 1. An official holiday from work and school, Romans head to backyards, parks and the countryside for picnics and relaxation to celebrate with friends and family. Since Holy Week festivities change the dynamic of the average week in Rome, it would be worthwhile to organize lunch and dinner reservations in advance from Holy Thursday through Pasquetta. And for those who may find the Vatican events larger than life, remember that Rome has more than 800 churches which will all be celebrating the Easter events. If the crowds in St. Peter's Square are too much, take a peek into any of the city's lovely places of worship.