What is the Rome Metro like?
Answers from Our Experts (2)
Rome has two metro lines, A (red color) and B (blue color), covering about 40 km of the territory and intersecting at Termini, Rome's main train station and important bus hub. Due to the city's huge size, two metro lines are not enough to cover the whole area, and citizens need to take also buses and trams to reach places far from the city center.

Line A has 27 stops, starts in Battistini and ends in Anagnina, near Cinecittà. Stopping near all the main historic, cultural and religious attractions such as the Vatican, Piazza di Spagna, Fontana di Trevi and Piazza del Popolo, the trains of this line are always jam-packed with tourists. Line B counts 25 stops and travels from Laurentina to Rebibbia/Conca d'Oro, stopping near places like San Paolo Fuori Le Mura basilica, Circus Maximus and the Colosseum.

On both lines it's always recommended to watch your personal belongings as pickpockets are very active, targeting especially tourists.

Works for the new Line C (green color) are already taking place, but get often halted not only for the slow beaurocratic machine, but also because wherever they start digging some ancient ruins come to light.

Apart from the subway, Rome is also served by some lines of overground trains connecting the outskirts and surrounding villages to the city center or to the metro.

Although underground and overground trains are managed by two different companies, you can use the same ticket available at newsagents, ticket offices and vending machines of the metro stations.

For info on metro routes and updates, check out Atac website, while for the overground trains, visit Trenitalia web page.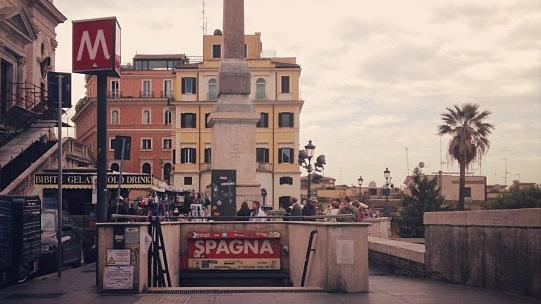 Photo by Erica Firpo
The Rome Metro is quite easy to navigate as there are only two lines- Metro A (red) and Metro B - which run primarily on the eastern side of the city center (though crossing NW/SE). As part of the ATAC team (Rome's transit authority), metro, buses, trams and local trains link the entire area of Rome and its outer suburbs together. The metro connects the Vatican neighborhood through the city center to the Colosseum and San Paolo/Ostiense neighborhoods, with the ever chaotic Termini Station as Metro hub and transfer point. In addition, the metro has stops at secondary train stations Tiburtina and Ostiense.

Basic Metro Facts:
The Metro runs underground for most of its travels, though does surface out of the city center.
Metro stops can be distinguished by the large red M as its signage.
Travelers must always purchase and validate their tickets. Tickets can be purchased at the local tabaccaio (tobacco/stamp shop), news stands, ticket booths and ticket machines. Validation must occur prior to passing through the Metro turnstyles.
Metros are often crowded and can be hot in the summer months, though some of the newer metros have light airconditioning. Personal space is rare on the metro so pay attention because pickpocketing is rampant.
Metro hours are 5:30 am to 11:30 pm.
For those traveling with bags, small children and strollers or prams, entry and exit to the metro is not always accomodating. There are few elevators and often times escalators are not functioning.
Most transit strikes are announced in advance and have the charming ability to frustrate the entire city, if not country. Always peruse google for the word sciopero (strike) and review ATAC website as well.