What should I pack for a trip to Rome?
Answers from Our Experts (2)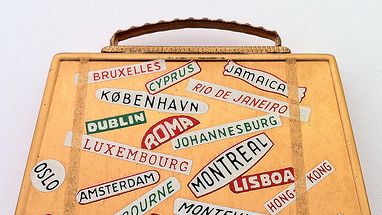 Photo by Lisa Larson ljcybergal
So you are going to Rome and you need to leave space for all those souvenirs you will bring back. What are the suitcase essentials? The most important thing to pack when traveling to Rome are a pair of sensible shoes. For fall, winter and spring travel, sensible means shoes that will last for miles and are water-resistent. For the summer months, sensible means sandals and/or light weight sneakers.

Dress Code: Italians rely on the bella figura to dictate appropriate attire. In a nutshell, style and comfort should be double-billed when choosing clothing. Keep in mind that churches require covered shoulders and knees, so accessorize with an attractive scarf that can be both shoulder covering and a stylish accessory for any season. Lightweight trousers are ideal in the summertime for evenings out and St. Peter's Basilica visit. Fall, Winter and early Spring can be chilly, so bring warm sweaters and cardigans, and waterproof overcoats. During Spring and Summer, remember to pack a foldable hat, sun cream and a great pair of sunglasses.

Electronics and Necessities: must-haves should include a foldable Rome city map, foldable bag for purchases, photocopy of passport, convertor (Europe uses 220 volts) and extended battery case for smart phone and/or extra batteries for digital camera. Avoid bringing curling irons or hair dryers.





Depending on what season you decide to travel to Rome, you will need a different luggage. The very first thing I (and probably most visitors) would pack for a trip to the Italian capital is my camera, essential to make sure I catch moments, colors and immortal relics.

Luggage-wise, the best season is summer, as with such hot temperatures you need to bring the lightest clothing you have in your wardrobe. As it's recommended to walk all around the city center, comfortable shoes, trousers and a t-shirt would be your best bet. Nighttime, pubs and clubs usually don't require a specific dress code, but probably you won't be at ease wearing runners, so maybe bringing a fancy clothing option is a good idea. The blazing sun will require you a sunscreen and probably also a hat and sunglasses.

Autumn and springtime are pretty easy, too. You might need some jumpers and a jacket, especially for the evening, and in autumn definitely waterproof shoes and an umbrella, as November and December can be pretty rainy, but usually it's not very cold, so no need for heavy clothing.

During winter we can have cold temperatures, so if you come between January and March/April, make sure you bring warm clothes, a winter coat, waterproof shoes and all you normally need to face the cold.

If you are a very far-sighted traveler, you can bring with you also a guidebook and a map, although in Rome you can find both in every language at the airport, at Termini train station and at most newsagents around the city center.

One last tip, make sure you leave some empty space in your bags, as for sure you will want to buy some gifts for yourself and for your friends and family.