What are the best attractions in Salt Lake City?
Answers from Our Experts (3)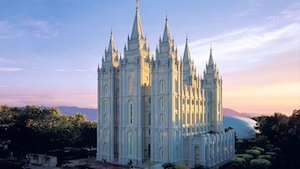 The Mormon Temple/Salt Lake City CVB
The most visited attraction in Salt Lake City is the Salt Lake Temple at Temple Square. The Temple was built from 1853 to 1893, and is, by reputation, the most visited location in Utah, with more than 5 million visitors a year. It is also the 16th most visited place in the United States. Right now, it is the largest Mormon Temple in existence, at 253,000 square feet. For those who like to hear the Mormon Tabernacle Choir, and not on Sundays, the general public can hear the choir rehearsing on Thursday evenings. There is no particular dress code and they can take as many pictures as they want.

The Salt Lake City Library is an architectural masterpiece, as it was designed by Moshe Safdie, an internationally known, multiple award winning architect. The Library cost $78 million dollars, and it is now ten years old. Mr. Safdie believed that a library is far more than a place where books and computers are kept, so he and his team conceptualized a building that truly stands alone. The building is 240,000 square feet that houses now more than 500,000 books and other materials. It is a six story, curving building with a walkable wall that encloses a public plaza, with shops and services at ground level, reading galleries above, and a 300-seat auditorium enclosure also. It has roof garden, and by walking the crescent wall or going up the elevators, you can get a 360 degree view of the Salt Lake Valley.
www.slcpl.lib.ut.us

Abravanel Hall is the concert hall in Salt Lake City, the one that is home to the Utah Symphony, and The Salt Lake City Theater. It is also part of the Salt Lake County Center for the Arts. The hall is an architectural landmark and is adjacent to Temple Square on South Temple Street. The hall is actually a concrete building within a brick building. The building was designed by FFKR Architects and acoustical design services were provided by Dr. Cyril M. Harris, who was the acoustical consultant for the remodeled Avery Fisher Hall in New York City and the Kennedy Center in Washington D.C.

The Natural History Museum of Utah is housed in the Rio Tinto Center, to serve as the state's new natural history museum building. Located in the foothills above Salt Lake City, the building sits on a series of terraces that follow the contours of the Wasatch foothills. The building is located along the Bonneville Shoreline Trail, a popular location for hiking and mountain biking. The Museum's exterior is wrapped with 42,000 square feet of copper, mined from Kennecott Utah Copper's Bingham Canyon Mine, and is installed in horizontal bands of various heights so that it resembles the red rock layers and formations as seen throughout Utah, especially in the South.

There's no shortage of attractions in Salt Lake City. Here are the top three attractions to see according to our Forbes Travel Guide correspondant.

1. Stroll Temple Square
One of the quintessential attractions in Salt Lake City is a visit to Temple Square in the heart of downtown. This four-block epicenter is the world headquarters of the Church of Jesus Christ of Latter-day Saints, but the temple's gothic-like architecture, extensive genealogy database and self- or group-led tours appeal to many inquisitive minds. Visitors are welcome to stroll the grounds from 9 a.m. to 9 p.m. daily and even attend many of the 360-person Mormon Tabernacle Choir rehearsals, which take place on Thursdays at 8 p.m., alongside one of the world's largest organs (11,623 pipes in all).

2. Explore Red Butte Garden
Adults and families will enjoy the flora and fauna at Red Butte Garden in the foothills of Salt Lake City. With more than 100 acres filled with colorful plants and blossoms, this botanical sanctuary offers year-round exhibits and events, including art displays, nature walks, headlining concerts, kid-friendly crafts and interactive workshops.

3. Turn a Page at Library Square
It may be filled with an extensive collection of literary delights and independent zines, but the Salt Lake City Public Library isn't just for book lovers. Inside this five-story library, you'll find plenty of shops and non-profit organizations to cultivate your curiosities, such as an artist co-op, a community writing center, a public radio station, a hair salon, a florist, a café and more. If you prefer the simplicities of a library, head to the rooftop garden, where panoramic views of Salt Lake and the Wasatch Mountains await.

Far and away the biggest attraction in Salt Lake – and all of Utah – is Temple Square, the world headquarters of the Church of Jesus Christ of Latter-day Saints (Mormons). The "square" is actually a 35-acre campus in the heart of downtown that includes the stunning granite temple itself, completed in 1893 after 40 years of labor (the interior is not open to the public). Here you will also find the home of the Mormon Tabernacle Choir, who perform every Saturday and Sunday, the church museum, a genealogy center, scheduled garden tours, and much more. Close by are three new attractions that comprise much of the city's recent $5 billion downtown reinvestment. City Creek Center is a unique indoor/outdoor shopping mall with retractable roofs that includes a trout filled creek running down its middle and is designed as a novel urban streetscape, open 24 hours even when the stores and restaurants are closed. The Natural History Museum of Utah covers everything from Utah's geology to the Native American tribes that inhabited the region to local dinosaurs. The Leonardo is a world-class, highly interactive science and technology museum, and both opened to much fanfare just last year.