Where is the best shopping in San Francisco?
Answers from Our Experts (3)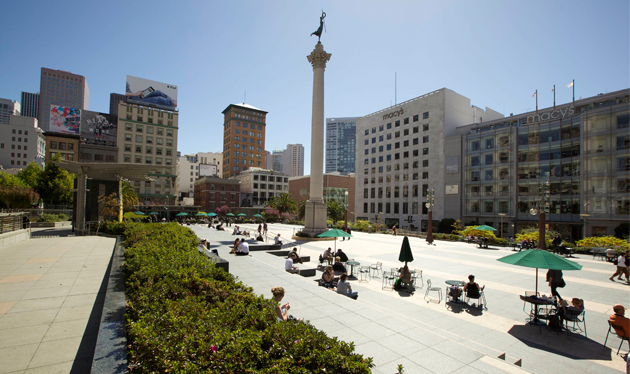 San Francisco Travel Association photo by Scott Chemis
As with most quests, the best place to look depends on what you're seeking, and shopping in San Francisco is no exception.


For clothing and shoes, the best place to go is the Union Square area, which is easily accessible from the Powell BART or Muni train stops. On the square itself and in the three-block radius, you'll find department stores including Macy's, Neiman Marcus and Saks Fifth Avenue, Barney's New York, Nordstrom's and Blomingdale's. For more distinctive jewelry and high-end housewares, head to Gump's, which is a San Francisco institution. Specialty shops in the area include Britex Fabrics, Bulgari, Uniqlo and Agent Provocateur.


If you're seeking gourmet foodstuffs and cooking paraphernalia, head to The Ferry Building on the Embarcadero. Further out, the Marina, Mission, Haight and North Beach neighborhoods are all lined with quirky shops and boutiques, selling exactly what you didn't know you were looking for, be it a handmade mid-century lampshade, a tiny mouse skeleton, a vintage coat or a bespoke gentleman's hat.


San Francisco is basically a shopper's paradise.

New York has Fifth Avenue, Paris has Avenue Montaigne, and San Francisco has Union Square where shoppers and credit card companies coo with delight at Macy's, Neiman Marcus, Saks Fifth Avenue, Louis Vuitton, and Tiffany's. But don't limit yourself to just the square. Head three blocks in any direction for countless boutiques and big name brands, and of course San Francisco's own Gump's department store, a retail monument in the city for over 150 years.

Hayes Valley (start at the corner of Gough and Hayes) not far from the Civic Center has been face lifted a few times over the last several years and provides shoppers with an eclectic mix of non-chain clothing boutiques, shoe shops, home décor, and cafés and restaurants. Check out Lavish for their unique cards and stationary, reminiscenet of that old-fashioned way of communicating with distant friends and family.

Personally, I window shopping and people watching on Haight Street, the epicenter of San Francisco's hippie culture and summer of love in the 60s. The smell of incense and other herbals still wafts through the streets among vintage shops, record stores, jewelry boutiques, and other assorted outposts.

New to San Francisco is the appropriately named New People, a Japanese retail and entertainment hub smack in the middle of Japantown. Here shoppers find the art, and hip retail brands like Baby, The Stars Shine Bright, all fresh from the land of the rising sun.

Polk Street is a fun wander with that something for everyone appeal. The upscale scale consignment shop CRIS can land you some names like Gucci, Chanel or Prada for a fraction of the cost. Molte Cose is a three-in-one blend of women's and men's fashion plus vintage shop. Plus much more along what's called Polk Gulch.

Although San Francisco is not known for being a fashion city, there are plenty of wonderful spots to get carried away with your credit card. Downtown's Union Square is the home to Saks Fifth Avenue, Neiman Marcus, Macy's and designer boutiques like Louis Vuitton, Gucci, and Bulgari. Just up the street on Market, is the Westfield Centre, a dome-like indoor shopping mecca where high (Bloomingdales, Tory Burch, Michael Kors) meets low (Zara, Madewell, H&M).

On the other side of Union Square is the legendary Wilkes Bashford, which has been a shopping instittution for over 50 years and was recently remodeled. At this impeccable 7-story townhouse, you'll find a vast assortment of clothing, jewelry, and accessories by international names such as Pucci, Christian Louboutin, Loro Piana, and Ermenegildo Zegna.

Many other streets are worth paying a visit to, as they offer locally made goods and a wide selection of items. On Fillmore Street in Pacific Heights, you'll find beloved nationals Marc by Marc Jacobs and Jonathan Adler and neighborhood favorites Heidi Says and Margaret O'Leary. Union Street is another place where there's a variety of shops, from the dress-filled Ambiance to the reader's heaven Chronicle Books. Hayes Street has a sprinkling of wonderful home stores along with the popular mens and women's fashion boutique, Azalea.