What is public transportation like in Seattle?
Answers from Our Experts (2)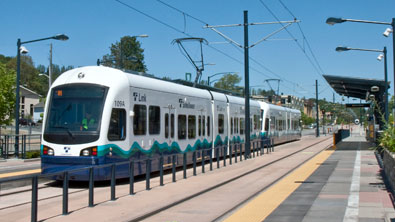 SoundTransit.org
Public transportation in Seattle is never going to steal New York City or Washington D.C.'s thunder, but it's pretty decent for both locals and tourists to get around. Most of Seattle's gems lie in the neighborhoods just outside the downtown corridor and it's simple to visit without renting a car and still get a taste of local culture. For those of us who live here, we rely on King County Metro Transit for bus service. The app One Bus Away makes it easier to use public transit by providing route schedules and real-time arrival information. A few years ago, Central Link Light Rail made its debut, shuttling people from Seattle-Tacoma International Airport to downtown (for just a few dollars) and avoiding traffic on the often-stacked up I-5. Within the city, I frequently rely on Uber to get me around in style. Download the app and within minutes, you can hail your own private, on-demand driver and avoid the need to ever carry cash.
Seattle's public transportation tends to be pretty reliable; it's generally easy to get from one part of town to another, especially if you're headed to or from the airport, downtown, or the University District, as these areas have the most frequent service and are served by many routes.

King County Metro buses are the most common way to get around via public transportation, though we also have ferries, trains, and streetcars. It can be a little overwhelming! To use the bus, simply determine your route, stand at the stop, enter at the front, and pay when you enter. If you need help, bus drivers are friendly and are great resources for questions on where to get off or how to pay.

Seattle recently built a light rail that runs from the airport to downtown, with an extension to Capitol Hill currently being built. In the coming years, there are plans to further extend with additional lines to other parts of town, but for now, there's just one line. The light rail makes fewer stops than the buses do, and it's a traffic-free way to get around. Just remember to pay at a kiosk in the station before you enter.