What are the best places to eat in Sydney?
Answers from Our Experts (3)
As an international hub, Sydney has attracted talented chefs and restaurateurs from all over the world. The bonus for you is getting to experience the diverse and delicious regional cuisines found here. Forbes Travel Guide's editors suggest you dine at these five restaurants in Sydney:

1. Guillaume at Bennelong. This high-end, award-winning spot run by Chef Guillaume Brahimi is situated in the iconic Sydney Opera House, and has fixed, pre-theater menus along with its regular selections.

2. Zaaffran. Sleek white interiors and a stunning view of the Bay signal that Zaaffran is something different. Brothers from Bombay paired with the former chef of the Raffles in Singapore to create modern versions of Indian dishes that will delight meat eaters and vegetarians.

3. Icebergs. One of the city's best Italian spots sits right on Bondi Beach, where chef Roberto Marchetti combining great scenery with simple gourmet dishes like fresh figs with gorgonzola, walnuts, chestnut honey and mint or steak for two with herbs, garlic and olive oil.

4. Yaama Dhiyaan. Try Aboriginal and modern Australian fusion meals at this popular spot in inner suburban Darlington, which also serves as a hospitality training opportunity for Native Australians.

5. Govinda's. This vegetarian buffet in the suburb of Darlinghurst includes a combination Indian specialties, pastas, and desserts. For an additional fee, diners can watch first-run movies upstairs in a comfortable theater with floor cushions and plush couches.
Sydney is known for its multicultural dining culture, with the continent's best chefs stirring up the finest cuisines from around the world. In no particular order, here are five of my favourite restaurants:

Kazbah: Known for its breakfast degustation, that might need a village to finish, this Middle Eastern restaurant serves the best tagines in the city. The Moroccan lamps and music sets an ideal ambience.

Hugo's Manly: This waterfront restaurant hasn't just won the "Best Pizza in NSW" for two years in a row for no reason. Drop here for either lunch or dinner and make sure you order one of their cutting-edge cocktails, or two.

Yullis: This all-vegetarian, old favourite on Crown Street only has about 15 dishes on the menu, but it's perfect for a casual, weeknight dining experience.

North Bondi Italian Food: It's busy, it's noisy and it's bustling with Bondi's infamously rich-but-hippy crowd. But it's also a stone's throw away from the golden sands of Bondi beach, serving wallet-friendly Italian cuisine, Aussie-style.

Kitchen By Mike: Set amidst the warehouse district of Rosebery, this giant warehouse space blends Australian-made designer furniture with high-quality food. They pride on their "locally grown, owned and produced" philosophy and the menu changes on a daily basis. You can't get more Australian than this.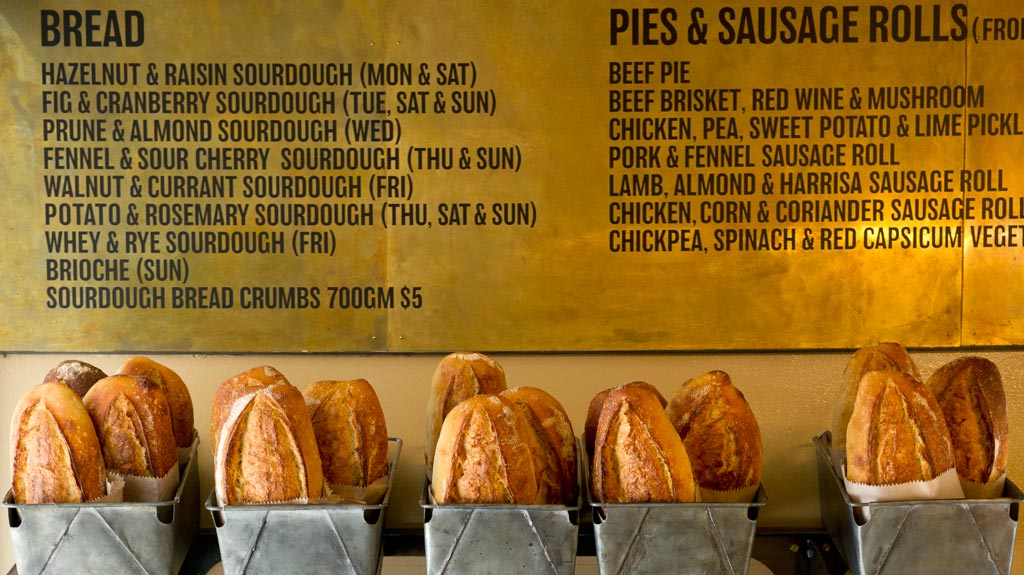 The Menu at Bourke Street Bakery
Eating out is a favorite activity for Sydneysiders. Packed with heaps of different cuisines, the city won't let you down when your stomach starts to grumble.

Quay
Named "Restaurant of the Year 2013" by the Australian Gourmet Traveller 2013 Restaurant Guide and "Best Restaurant in Australasia" by the S.Pellegrino 2012 World's Best 50 Restaurants, Quay boasts a beautifully cultivated, fresh and flavorful menu. Celebrated chef Peter Gilmore works with various textures and tastes to create his world-renowned dishes like fragrant poached chicken served with white radish, sea scallops, smoked eggplant cream and pea blossoms, or red claw yabbies (Australian crawfish) with garlic scented custard and yabby velvet.

bills
Australians love their breakfasts. So, while in Sydney you must stop by bills for breakfast on their sunny terrace in Surry Hills. Chef Bill Granger earned his reputation here for making the world's silkiest scrambled eggs and most mouth-watering corn fritters. Come early because these delectable dishes are no secret to locals or out-of-towners who line-up as soon as the café opens.

Marigold
If you've never had the yum-cha experience, head to Marigold for a brunch time frenzy of delicious steamed dumplings, saucy noodles and scrumptious pork buns delivered to you by carts zooming through the restaurant. Each cart pusher will try to sell you on whatever goodies his or her bamboo steamers are coveting. Be sure to try the rice noodles in peanut sauce or steamed shrimp dumplings. And definitely don't be afraid to wave down a cart if you're lusting after those doughy pork buns you spotted from afar.

Grasshopper
Tucked away in Sydney's CBD hides Grasshopper. The restaurant and bar features an open kitchen where you can see your market fish, Jerusalem artichoke and piperade or scallops and cauliflower with curry balsamic prepared right before your eyes. Head below after dinner for a jam jar full of your favorite cocktail or choose one off their recipe-style menu.

Bourke Street Bakery
Another Australian must is the meat pie or sausage roll. Whichever you prefer, the pies and rolls over at Bourke Street Bakery are sure to please. Each flaky, golden crust holds an outstanding gourmet filler you'll have to taste to believe. Get your taste buds buzzing with a chicken, sweet potato, pea and lime pickle pie, a lamb, almond and harrisa sausage roll or try one of their daily specials.