What are the five best Sydney food experiences?
Answers from Our Experts (3)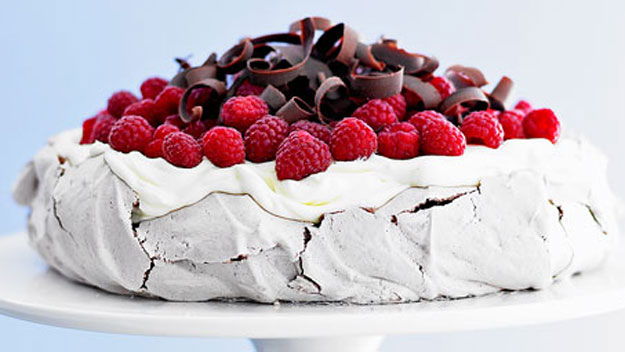 Pavlova Topped with Raspberries and Chocolate
During your stay in Sydney make sure you really dig into some true Australian food experiences and eat like a local. Most of us know about the infamous Vegemite yeast spread, but there are a few more Aussie classics that you should try (and you may find them a bit tastier). Don't miss out on these top five.

Tim Tam
Made of chocolate cream sandwiched between two malted chocolate cookies and smothered in a layer of chocolate, the Tim Tam is considered "Australia's Favorite Cookie". This chocolaty treat is delicious on its own, but even better when dipped into some tea or an Aussie made flat white, in what's called a "Time Tam Slam".

Meat Pie
Australians love these hand-sized pies filled with minced meat, gravy and sometimes onions, mushrooms, cheese or tomatoes. Pies are found almost everywhere and are perfect for a quick lunch. Some bakeries in Sydney have taken the pie even further and created gourmet fillings like Bourke Street Bakery and The Pie Tin – where you can grab a sweet pie for dessert too.

Pavlova
This favorite cake was named after the Russian ballerina Anna Pavlova in honor of her tour through Australia and New Zealand in the 1920s. Popular during the Australian summer and often served for Christmas, the cake is meringue based and often garnished with fruits and whipped cream. Yum!

Kangaroo
Taste test Australia's coat of arms and find yourself some 'roo meat. This lean, entirely free-range meat is available in most supermarkets in the form of steaks and sausages. You can also find kangaroo featured on some restaurant menus throughout the city. Try the Pepper Kangaroo pizza at the Australian Heritage Hotel in The Rocks or the highly acclaimed Kangaroo Steak prepared at The Meat and Wine Co.

Lamington
This list wouldn't be complete without the Lamington. With sponge cake coated in chocolate and coconut flakes, this cake has been dubbed 'The National Cake of Australia'. Bite into this popular cake at Single Origin Roasters in Surry Hills, which offers quite possible the best lamington in Sydney.
Australia is culinary heaven, with food from all of Europe, Middle-East, South-East Asia, Africa and its own homegrown wonders ruling the menu at restaurants in its multicultural cities.

There're so many traditional meals you can eat here, from pizza to Thai, all with an Australian twist. But then there are some gourmet experiences that only a food-loving traveller will appreciate. Here's my list:

1) Have a toastie at Sydney's Eveleigh Market, made especially by from top chef Alex Herbert. The Crooked Madam is her take on the croque-madame - it's a toastie with ham, gruyere, fried egg, Dijon mustard and barbecue sauce.

2) Manage a 10-course degustation at Tetsuya's. It's a marriage of Japanese and French flavours and techniques. Their ocean trout dish is an icon enough to rival the Sydney Opera House.

3) Grab fish 'n' chips from Mongers at Bondi or Manly beach, head to the beach and eat it while battling with the seagulls. It's the most Australian thing you can do, trust me!

4) Learn how to shuck an oyster in a masterclass at Sydney's Boathouse on Blackwattle Bay with chef Colin Barker and progressive farmer Steve Feletti from Moonlight Flat Oysters. And then get to eat them, thereafter!

5) Have a late-night Tiger, (after a very messy night, if possible) a chunky-beef pie filled with mushy peas, mash and gravy, at Harry's Cafe de Wheels. He's a bona fide tourist hotspot, so tell him you're travelling and you'll make his day.


Australia has a unique culinary culture influenced by indigenous people, and waves of immigrants from Great Britain, India, China and the local ingredients. Beyond seasonings like vegemite, dukkah and lemon myrtle, here are Forbes Travel Guide's editors' picks for the five best food experiences in Sydney:

1. Lamingtons. A favorite sweet, lamingtons are sponge cake rolled in coconut and topped with whipped cream. They're usually enjoyed with afternoon tea, but are delicious anytime.

2. Meat pie. A holdover from the British immigrants, meat pies are turnovers with flaky crust filled with a variety of different meats. Some have just steak or kidney while others add mashed potatoes and onion too. A pie floater is a meat pie on mushy pea soup. Find them at any conveniences store.

3. Beer. Don't believe the Foster's commercials; Australia actually has some of the best beers in the world. Toohey's has a brewery in the near western suburbs if you want a tour, or just sample Aussie favorites like James Squire, Cascade, Carlton and XXX in any pub.

4. Local seafood. Moreton Bay Bugs are a local name for shellfish in the lobster family. Other local delicacies include crawfish called yabbies locally, fish & chips and mud crabs. Try them all at upscale Manta, tourist favorite Nick's or the humble Fishface in Darlinghurst.

5. Wine. The Hunter and Barossa valley wine regions are considered among some of the best in the world, so why not take a day to do some exploring and tasting? Wineries in both regions make acclaimed shirazes — the local name for syrah, as well as chardonnays, cabernet sauvignons and even sparkling wines.