Where is the best shopping in Sydney?
Answers from Our Experts (3)
It's not just the big European shopping chains that are making it big in Sydney's shopping district. In fact, the city has some of the most prestigious Australian designer labels as well as vintage shopping boutiques.

Westfield on Pitt Street: The huge Zara store might usher you into this shopping haven, but once you're in, you'll find this to be the mecca of shopping for everything under the Sun. Start at level one, full of emerging and affordable fashion designers and slowly move up the fashion ladder onto Chanel, Miu Miu, Prada and Mulberry.

The Corner Shop in Strand Arcade: Want to take some of the top Australian fashion desigeners back with you to your homeland? Visit this high-end vintage store that smells like new-age luxury wrapped in your grandma's muslin cloth. You'll find Sass and Bide, Alex Perry, Camilla, Zimmerman and all their mates on these racks.

Crown Street: This street might seem like Sydney's café hub, but as you stroll down from the Oxford Street end, some hidden gems are bound to lure you in. From laid-back, casual threads found at One Teaspoon, vintage Prada boots at Grandma Takes a Trip to vibrant-hues at Holy Kitsch. This street is collectors' heaven!

Aquabumps Gallery: If you can't battle the surf at Bondi, pop into this gallery and take one of Eugene Tan's original surf photo prints with you (they ship worldwide).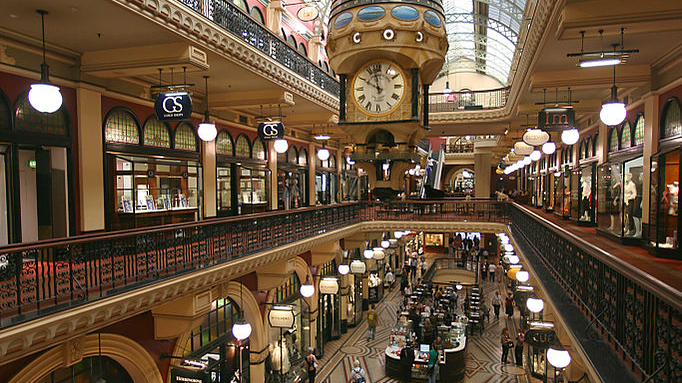 No matter what your shopping style, Sydney is sure to hold a store that tickles every fancy.

Vintage in Surry Hills
Surry Hills is the suburb where creatives come to meet, greet, eat and shop. Among the cool bars and hip cafes sits an excellent selection of vintage stores. Head to Ici et La for a cabinet of curiosities filled with retro furniture, a collection of vintage fabrics and other interesting finds with an added French flair. If vintage duds are your thing, Grandma Takes A Trip is THE Sydney vintage establishment to find amazing pieces dating from the 40s to the 80s. Cream is another great spot with a unique selection. And to bring it all together, hit the Sydney Antique Centre where you'll discover 60 vintage shops housing everything from furniture and glassware, to a huddle of stalls with some of the best vintage clothes around.

Concept Stores
The concept store is a relatively new, well, concept to Australia, with Sydney's first opened in 2012. The gallery-like store comes highly curated with fashion, accessories, cosmetics, housewares, art and other luxury trinkets often by lesser-known to obscure designers. The original Sydney concept store, Cara&Co, and the recently opened The AparTTment, are two covetable spots to shop. Discover the rare fashion finds at Cara&Co, then enjoy some Belgian fine dining at their in-store restaurant, or step into The AparTTment to find yourself inside a quintessential Parisian apartment chockfull of bohemian wonder.

City Center
In Sydney's center you'll find a plethora of stores as you head from the Queen Victoria Building to the Pitt Street Mall and on to The Strand. Within the beautiful, historic QVB shop around at the various high-end fashion, jewelry and housewares boutiques. Next make your way to the Pitt Street Mall for shopping in several flagship stores including Zara, Tag Heuer and Nespresso. End your shopping excursion at another spot full of history. The Strand, first established in 1891, holds an array of Australian fashion and specialty stores.

David Jones
Founded in 1838, Australian department store David Jones is the oldest department store in Australia. The upmarket store is home to top Australian and international cosmetic, fashion, housewares and furniture brands, as well as electronics and foods.
Sydney has several huge shopping complexes that are worth a visit. Forbes Travel Guide's editors suggest you start with the block-wide Queen Victoria Building in the city center, a gorgeous 1890s structure now filled with jewelers, fashion stores and other specialty shops. The Strand Arcade is a vintage mall housing the stores of some of Australian's top fashion designers. The city center is chock-full of art galleries and designer-label stores. If you're looking for souvenirs or handmade merchandise, check out The Rocks market or Paddy's in the Haymarket, while Original & Authentic Aboriginal Art near Circular Quay sells legitimate artwork from each region of the country. Just east of downtown, as Oxford Street enters the Paddington neighborhood, you'll find an area nicknamed the "Style Mile," which has boutiques by Sydney's fashion elite.