What are the best souvenirs to buy in Vancouver?
Answers from Our Experts (2)
First Nations art and jewelry from the city's museum shops and galleries makes a striking souvenir. Look for works in the Museum of Anthropology gift shop and in Gastown galleries, including Hill's Native Art, Coastal Peoples Fine Art, and Spirit Wrestler Gallery. On South Granville Street, check out the Douglas Reynolds Gallery.

For your foodie friends, bring back local smoked salmon; it's sold packed to travel at several stalls in the Granville Island Public Market. Also on Granville Island, you can source other BC-made foods, from jams to spice rubs to chocolate, at Edible Canada.

Though Lululemon, the yogawear company, is now an international brand, the business launched in Vancouver. To bring home their latest styles and scout out their creations-in-progress, visit the Lululemon Lab.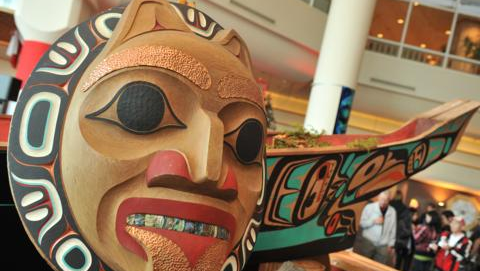 Tourism Vancouver
Taking a little piece of Vancouver home is easy – Gastown is filled with traditional souvenirs: T-shirts, postcards, prints of Vancouver streets past and present and other small trinkets. From Gastown it's just a short walk to Chinatown, where many stores carry jade pendants, bracelets and carvings (be wary of "too good to be true" deals as real jade is not cheap), but you'll also find many shops packed with authentic and inexpensive imports like ceramics, paper lanterns, silk robe and embroidered linens.

For a keepsake with cultural significance, shop for Aboriginal art, jewellery, wood carvings and sculptures at the Bill Reid Gallery of Northwest Coast Art. The incredibly intricate Northwest Coast Blankets and Throws would make for an amazing memento of time spent on the West Coast.

Vancouver hosted the 2010 Winter Olympics, and The Bay continues to stock some exclusive, Olympic-themed apparel as well as the HBC Collection, which features the brand's colorful, iconic stripes on everything from blankets to snowboards. For another tried-and-true Canadian brand, check out Roots's iconic beaver sweaters or finely made leather pieces.

And being a hockey mad city, a piece of apparel from the Vancouver Canucks – found pretty much anywhere in the city – will make you feel like a local.