What are the best restaurants in Atlanta?
Answers from Our Experts (6)
When it comes to favorite pastimes in Atlanta, eating may rank second only to watching football. But with so many renowned restaurants to choose from, the city's love of fine dining is perfectly understandable. If you look downtown, you'll see places like the Forbes Travel Guide Four-Star Park 75 and the Atlanta Grill serving up choice steaks and grilled salmon in elegant settings. Glance towards Buckhead and you'll see The Café, a stylish spot inside Four-Star The Ritz-Carlton, Buckhead that knows just about all there is to know about fresh contemporary cuisine. And turn a little past Atlantic Station and you'll find the vibrant, seasonal menus of beloved Four-Star restaurant, Bacchanalia.
I'm going to second Ford Fry's Nuevo Laredo Cantina vote for best casual spot in Atlanta. The "salsa to end your search" declaration on the menu at this Mexican dive is accurate. You'll be addicted immediately — the chicken diablo, chicken enchiladas, lobster tacos and fajitas are delish. For something a bit trendier and dressier, my latest favorite is No. 246 (which, incidentally, is owned by Ford Fry) just outside Atlanta proper in downtown Decatur — a quaint area any visitor to the city should visit, and you can even get there via Marta. Everything tastes so good there — even the olive oil and bread they bring out as a starter. I recommend the spaghettini with Georgia shrimp, sugar snap peas, garlic and spinach, or the gnocchi with spicy pork meatballs, English peas, roasted mushrooms and garlic. Nearby Cakes & Ale is also a popular spot, with a seasonal gourmet menu that will surprise you with its simplicity and pure, delicious flavor. I still think about the oysters I sampled at this spot. And speaking of oysters, the Oyster Bar at Fry's The Optimist on the Westside is a great spot to eat light on a wide selection of fresh oysters (the menu changes daily). I'm dying to try the key-lime push pop, too, next time I visit.
For casual, I like Nuevo Laredo and Community Q. I like the Fox Bros. guys and that's pretty good, but Community Q is my favorite. For high-end, Bacchanalia takes it. But what I think will be one of my next spots when it opens is Bruce Louge's BoccaLuppo. His food is awesome.
When it comes to the dining scene in Atlanta, options are unlimited. Some of the best chefs in the country run kitchens here, so interesting culinary hybrids happen south of the Mason Dixon Line. If you're looking for something authentically southern soul food, head to Gladys Knight and Ron's Chicken and Waffles, but prepare to wait in line. Here, you'll find your favorite meal served all day long, and a place that allows for savory and sweet to coexist. (It's named for Knight, a soul legend and the late Ron Winans, a gospel legend.) Locals and visitors (especially ones who have checked out national TV shows like "Man v. Food") head here for the Midnight Train – 2 chicken wings and a waffle. But fair warning: go easy here. You'll be angry if you leave without ordering up a slice of sweet potato cheesecake. If you're in a highfalutin food mood, then you want to aim for high brow hot restaurant Canoe, where George McKerrow Jr. is one of the nicest restaurant owners around town. Make Sunday brunch a stop for sure – because a basket of sticky buns is a must-do – but evening dining rules here. And especially if you're looking to toast a special occasion. If your palette is a bit more adventurous, you'll want to have the slow roasted Carolina rabbit on your plate. A must-have starter is the house smoked salmon on a crispy potato cake.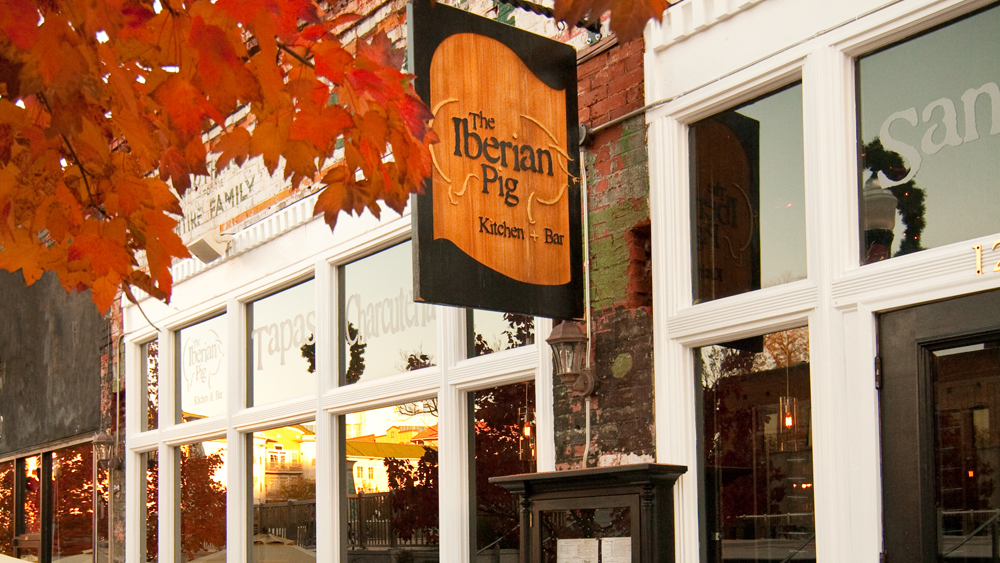 Photo Courtesy of Iberian Pig
Atlanta houses some of the best restaurants in the Southeast. While it's hard to pick a favorite, here are five you must try.

Bacchanalia. Anne Quatrano is synonymous with fine dining in Atlanta and doesn't get any better than her heavily accoladed restaurant, Bacchanalia. Quatrano's menu changes with the season, with quality and service always consistently sublime. Right next door to this Four-Star restaurant, you'll find its equally impressive sister restaurant, Quinones at Baccanalia (which also happens to claim Four-Star status). The 10-course prix-fixe menu changes daily, but if you see the pecan tart with vanilla bean ice cream on the menu when you arrive, consider yourself very lucky.

Park 75. While you don't need get gussied up in your finest clothes for a meal at Park 75, this is definitely more upscale than your typical breakfast, lunch or dinner joint. The Four-Star restaurant located within Midtown's Four Seasons Hotel Atlanta uses local ingredients in an array of worldly dishes that are equal parts familiar and inventive; recent highlights from chef Robert Gerstenecker's kitchen have included short rib grilled cheese and parsnip-sweet potato gratin with cinnamon marshmallows.

JCT Kitchen. Chef Ford Fry's first venture is one of my absolute favorites. While his other restaurants, No. 246 and the Optimist are lovely, his take on Southern in a casually elegant setting sum up Atlanta perfectly.

Iberian Pig. Drive roughly seven miles east of Downtown Atlanta to the city of Decatur, which is one great dining destination. Iberian Pig, located on the square, has a stellar wine list only matched by its authentic Spanish tapas.

Miller Union. Chef Steven Satterfield was gifted with the talent of taking seasonal, simple ingredients and making magic on a plate. His restaurant in West Midtown gained national attention from "Garden & Gun," "The New York Times," and "Bon Appétit," with good reason.

Empire State South. James Beard Award-Winner Hugh Acheson's highly lauded Empire State South was one of the most buzzed about restaurants when it opened in 2010. ESS is worth every amount of hype years later.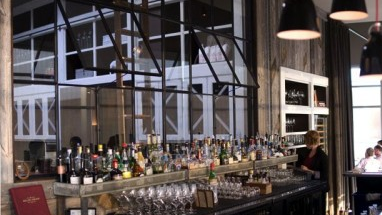 It'll come as no surprise to you that Atlanta does Southern food well. Restaurants like Empire State South, Miller Union, Table & Main, and JCT Kitchen are among the best of the best in this city.

But there's also Old Fourth Ward's Miso Izakaya, where we recommend the shoyu tamago and the pork belly or duck buns. And there's Chai Pani, a street food-inspired Indian joint in downtown Decatur where the kale pakoras, sev potato dahi puri, and uttapam can't be beat. Just down the road are the Spanish-style tapas at the Iberian Pig, and not far from there is the General Muir, Emory Point's Jewish deli concept with house-made bagels, perfect cheesecake, and a double-stack burger with crispy pastrami and gruyere.

If you're in the mood for sandwiches, try Star Provisions, where the shrimp po' boy is the best in town. For pizza, visit the always-crowded Antico or head OTP to Vingenzo's in Woodstock. Inman Park's newest Italian restaurant, BoccaLupo, has quickly become a neighborhood favorite, and everything from the small plates to the burger is done flawlessly at Bocado.