What's happening this weekend in Atlanta?
Answers from Our Experts (3)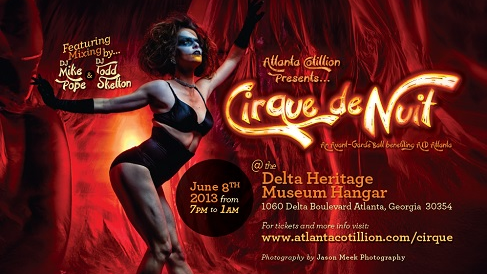 You're dying to get dressed and head out for a night on the town, right?
And if it helps an awesome cause, all the better!
Save up your pennies for June 8, when you can take part in the Cirque de Nuit, an avant-garde ball. The Cotillion has donated more than $1.2 million to AID Atlanta through events over the years, and this year they have a new theme and new entertainment, but the fashion and fun in the name of a good cause? That'll be the same.
The event happens on Saturday, June 8 from 7 p.m. to 1 a.m. at the Delta Air Transport Heritage Museum (the Historic Hangar). On this night, guests will move to the musical styling of DJs Mike Pope and Todd Skelton, sip on SVEDKA Vodka and Trianon Tequila cocktails and nosh on hors d'oeuvres by Ocean Catering. Off the dancefloor, guests can play Blackjack, take part in a silent auction or check out the French circus performers -- yes, there will be fire breathers and aerialists!
And for all of that, the price isn't that bad! Tickets start at $50 and are 100% tax deductible!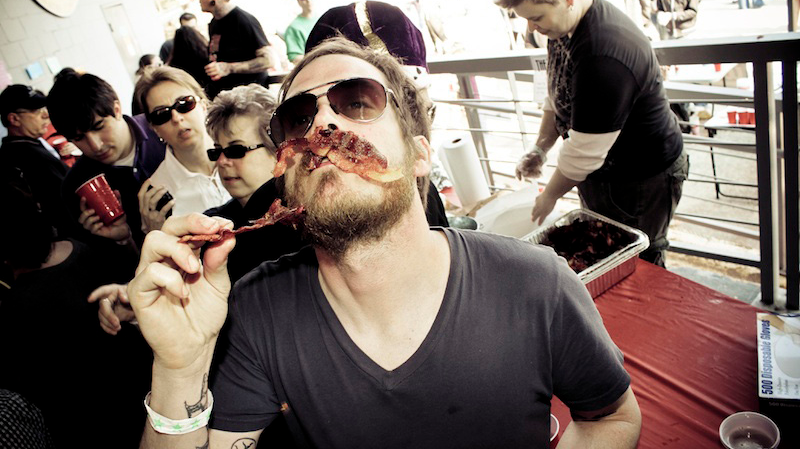 Courtesy of Mike LaSage
If you had tickets to the cancelled Morrissey show on Saturday, have no fear, there's still so much to see and do this weekend (March 30-31) in Atlanta. First things first…Bacon!

BaconFest. Last year, there was actually a sighting from the one and only Kevin Bacon at Dad's Garage's BaconFest. The annual fundraiser for the improv group is an awesome way to spend a Saturday with plenty of beer, bands, and of course, bacon.

Laughing Scull Lounge's 4th Annual Comedy Festival. Bring on the laughs March 27-31 at the comedy fest featuring 60 professional comics taking the stage over five funny days.

If things go according to plan, Mother, the newest bar on Edgewood will soft open on Thursday. Catfish, chicken sausage hoagies, and brisket tacos are all said to soak up everything the bar is serving up. From cocktails to from absinthe to vino to shots of tequila, the alcohol will be flowing. Sounds like my kind of place.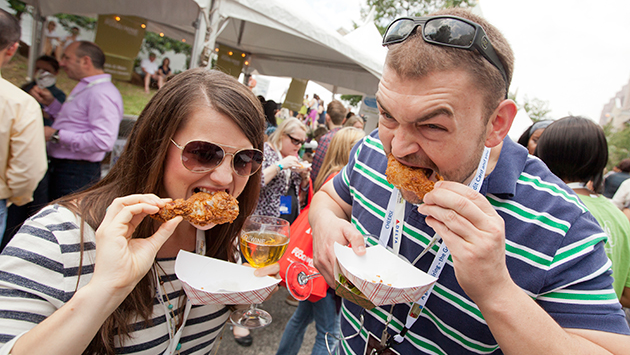 This weekend is the Atlanta Food & Wine Festival — a celebration of the very best in Southern food, beverages and traditions. The four-day festival will be held May 30 through June 2 in Midtown Atlanta. About 9,000 people are expected to wine and dine with some of the most respected chefs and mixologists from the South who will be hosting cooking and cocktail demos, seminars, tasting tents and panel discussions. Among them will be Chris Hastings and Frank Stitt of Birmingham, Ala.; John Besh of New Orleans; Mike Lata and The Lee Bros. of Charleston; Ashley Christenson and Scott Crawford from North Carolina; and a slew of local Atlanta talent — Asha Gomez, Duane Nutter, Gerry Klaskala, Greg Best, Kevin Gillespie, Shaun Doty and Steven Satterfield, to name just a few.

One of the best things about the AFWF is there are tons of events and classes during the weekend so you're sure to find plenty to fill your dance card. Thursday night, check out the PIG OUT: Tailgate Style Party at JCT. Kitchen — it's the AFWF's signature party featuring some of the South's best tailgating foods from chefs Ford Fry, Joe Schafer, Derek Emerson, Brandon McGlamery, Kelly English and Chris Shepherd. $65, May 30, 7 p.m., 1198 Howell Mill Road.

If you'd rather be somewhere with a party atmosphere, head to the Rathbun's Watch List Party hosted by brothers and chefs Kent and Kevin Rathbun. They'll be hosting 12 star Southern chefs and two mixologists "to watch" who'll be serving up tasty treats and cocktails. These are the chefs the Rathbun brothers considers some of their favorite up and comers, so you know this is going to be a good time. $75, 7:30 p.m., 112 Krog St.

If you have to choose just one event to attend, make it the tasting tents. These are where you can wine and dine your way through more than 70-plus culinary stations from restaurants, chefs and mixologists throughout the South — each rotating in and out daily. Themed tasting "trails" ensure you'll chow down on Southern favorites like fried chicken, craft beer, barbecue, pork and bourbon.