Which Atlanta restaurants are best for brunch?
Answers from Our Experts (4)
Atlanta boasts a ton of brunch bravado. Here are a few favorites:

1. Ria's Bluebird. Ria's Bluebird features a simple, organic breakfast menu with lots of charm. Straightforward biscuits and gravy and buttermilk pancakes bolster the menu - while soy faves such as Southwest tofu scramble and country-fried tempeh add a twist. Side orders include grits and avocado slices.

2. Canoe. Canoe's riverside setting in the Paces neighborhood serves up Southern-style brunch on the Chattahoochee. Dig into Georgia pecan sticky buns, cornmeal pancakes and fancier fare like duck and eggs with sage biscuits.

3. Murphy's. In the Virginia-Highland neighborhood, Murphy's beloved crab cake Benedict with jalapeno hollandaise is worth the long line. Served on both Saturday and Sunday, favorites include Georgia white shrimp and grits, as well as sweet specialties like the malted waffles. Browse the bakery and wine shop before you leave.

4. Rosebud. Rosebud in Morningside is a spunky homage to one of Jerry Garcia's custom-made guitars. The neighborhood restaurant features a weekend brunch, as well as Monday and Friday night brunch menus. Select from a laundry list of brunch cocktails. Specialties include BBQ duck and grits and a lobster Benedict.

5. Thumbs Up Diner. Choose from five locations for this diner favorite. The Thumbs Up Diner is a step back in time, albeit in an urban atmosphere. With breakfast served all day long, this affordable favorite is a nice alternative to long brunch wait times elsewhere. Savor breakfast classics and housemade jams.
My favorite spots for brunch in Atlanta are Buttermilk Kitchen, West Egg, Murphy's, No. 246 and Serpas.
4th & Swift. Also, Local Three. I like them both.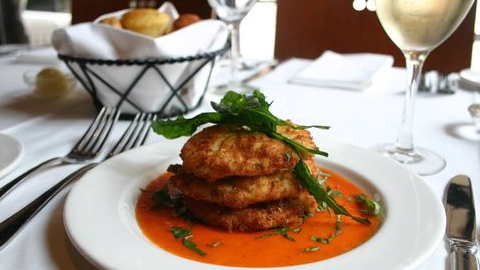 Credit
One of the best places to lull about over a delicious brunch is South City Kitchen in Atlanta's midtown. Brunch starts here with cornbread muffins and biscuits and sweet apple butter spread. Then order the fried green tomatoes — served with goat cheese and a delicious tomato sauce — for your first course. The waitstaff here is to be trusted: It's open and honest about the best dishes on the menu — I haven't been disappointed yet. That said, barring any seafood allergy, you absolutely can't go wrong with the crab cake hash — it's served with fingerling potatoes, over-easy egg (though I get it cooked over hard), hollandaise sauce and tomato relish (ask for more on the side, trust me). Save half to take home, because the desserts are not to be missed, plus the South City Cosmo has the right amount of tang and sweetness to wash whatever you end up ordering here down. In the summertime, it tends to be a hotspot, so book a reservation, and plan to park here for a few hours. There's fantastic people watching, and it's not too far from midtown's bustling arts district, so there should be plenty of post-brunch entertainment abound.