Where is the best shopping in Austin?
Answers from Our Experts (2)
Austin's "go local" mantra extends to shopping as far as the eye can see. If you're looking for chain stores, head to Barton Creek Mall or The Domain. But you'll find unique boutiques peppered throughout all of Austin's neighborhoods.

One of Austin's quirkiest stores is Uncommon Objects at the epicenter of South Congress. Here you'll find the widest variety of antiques, decor, and oddities.

Kick Pleat in Clarksville stocks the nation's emerging designers and features cutting edge trends and unique finds.

Mana Culture features jewelry from all over the world, made from a variety of materials like bone, wood, gold, and unique stones. They also stock sunglasses, boho-chic clothing, fragrances, and belt.

Austin's best clothing store for men is Stag on South Congress. Stag's rustic yet classic vibe calls to mind style icons like Steve McQueen and Kings of Leon. Stag also carries shoes, bags, accessories, and personal care items for men.

If you're shopping for both mom and baby, your best bet is Perriberri in Westlake. From super soft Barefoot Dreams blankets and clothes, to boutique women's clothing brands like Collective Concepts and Subtle Luxury, this store covers it all.

To hit up multiple shops in one fell swoop, the best shopping districts include the 2nd Street District, The Domain, South Congress, and the Arboretum area.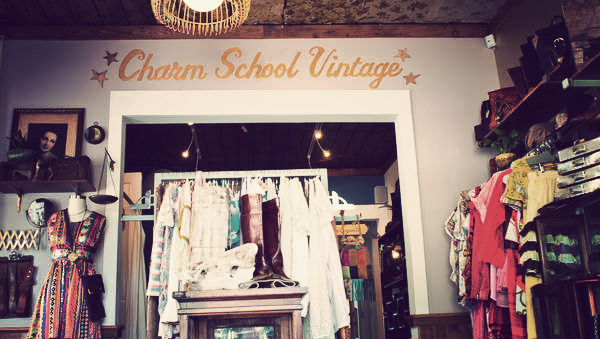 photo by Shari Gerstenberger of Charm School Vintage
While the Domain and the Barton Creek Mall are not all that far north and south (respectively) of downtown, and stores like TJ Maxx and Nordstrom Rack are just as common as in any city, one of my favorite parts of Austin is the prevalence of independent businesses. In a nutshell, here are some great local spots for clothing and home decor:

For vintage finds, Charm School Vintage has a wonderfully curated selection, as does the color-coded collection at Feathers. Nearby Prototype Vintage has great finds for home and body, and New Bohemia stocks dresses for days and boots to boot. Blue Velvet on North Loop has great finds at even better prices, and Laced with Romance is a dreamy gem of a shop. Moss on South Lamar carries designer consignment for a fraction of its original price.

While I like DSW just as much as the next girl, there are some good spots in town for shoes too. Allen Boots can't be beat for some of the best and blingiest cowboy boots in town. Stella Says Go has cute selections and great sales. Austin-born Whole Earth Provision Co. is your one-stop shop for all things earthy and comfortable. Creatures Boutique, STRUT, and Emeralds all usually have a good stock of heels and flats. And BOOTLEG is the only Airstream in town with a rotating cast of one-of-a-kind footwear.

There are also several boutiques with great, hand-picked selections, though some (C. Jane, Co-Star, Cotone, Blue Elephant) are pricier than others (Maya, SoLa, Francesca's- last one not local but worth mentioning!) Though, of course, the sales racks can always be a lifesaver!

Headdress and JM Dry Goods are both must-sees for Southwestern inspired clothing, jewelry, and items. Spartan is like a rustic gallery of carefully selected, curious gifts and simple jewelry, while Wanderland is packed with fun books, toys, home decor, and functional items. Mockingbird Domestics specializes in primarily Texas-crafted items for home and garden, both vintage and new. Aviary is a wine lounge where every chair, glass, cheese board, and rug is for sale. Uncommon Objects on South Congress specializes in just that, and Mercury is like its Warehouse District cousin. Take Heart on East 11th Street carries adorable, handmade cards, gifts and home items.

For the dudes in your life, New BROhemia has a great selection of vintage shirts and jackets, STAG and Service Menswear carry a rotating selection of quality Austin urbanwear. HELM carries stylish and sturdy handmade boots, No Comply has a small but choice selection of skate shoes, and Nice Kicks is sneakerhead heaven.