What are the best places to eat in Buenos Aires?
Answers from Our Experts (2)
Buenos Aires is famous for its steak and full-bodied red wine (and infamous for its dependence on pasta and pizza). But there is a lot more to the city than its basic food groups. Here are the five best places Forbes Travel Guide recommends to eat like a well-heeled local (or permanent resident).

1. La Cabrera. For one's essential steak fix, the oft-recommended La Cabrera truly does deliver. Hardly a secret, its succulent cuts of meat draw carnivores from around the world, and the low-key atmosphere and seasoned waiters add to the experience of devouring a steak as large as your head.

2. Pipí Cucú. To see French influence that goes beyond architecture, head to Pipí Cucú, where an attractive waitstaff slings risotto and sweetbreads in a cozy, romantic space with mismatched plates and candlelight. It's also a great spot to just grab a cocktail.

3. The Oasis Clubhouse. Early risers who miss scrambled eggs would do well to sample brunch at The Oasis Clubhouse, a members-only space tucked into the busy heart of Palermo Soho. It's definitely the only place in the city you can sip Bloody Marys and enjoy an omelette underneath an original Warhol (or, if the weather's nice, poolside).

4. Café Crespin. For an Argentine take on the classic deli/diner experience, head to up-and-coming Villa Crespo, where Café Crespin is perpetually packed with locals and savvy travelers who want a relaxed atmosphere to sip espresso and nibble on housemade pastrami.

5. De Olivas Ilustres. A tapas restaurant on a nondescript Palermo street, De Olivas Ilustres serves up great takes on contemporary Argentine cuisine, small plates-style. Dishes come served on tiles, and saving room for dessert is absolutely essential.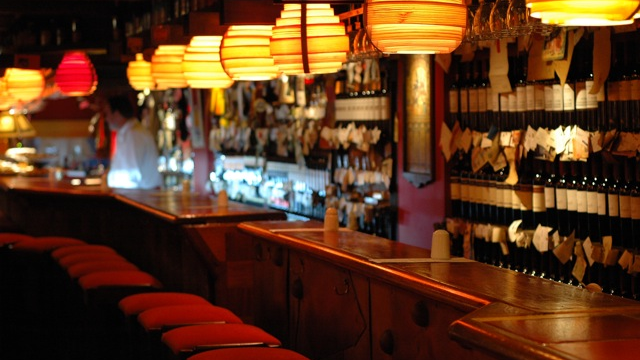 The bar at Tancat, Photo by Mai Pham
1. La Cabrera Norte, just across the street from the original La Cabrera, is the place to go for steak and meat. Order an ojo de bife to share, or half portions of your favorite cut. My favorite is actually the bondiola, a special cut of pork with a fatty layer that crisps up like bacon, which I was advised to order with side of eggs cooked sunny-side up in a skillet. All of the main orders come with at least 10 side dishes, so be prepared to feast, and remember to order a robust Malbec to go with your meal.

2. Tancat. Located in Centro, near Retiro and Calle Florida is this authentic Spanish tapas bar, where you can order a pitcher of house made sangria and other classic Spanish dishes like their pulpo a la gallega (grilled octopus) or gambas al ajillo (shrimp with garlic). Not surprisingly, the waitstaff may recommend a steak, and if you order it, you will be rewarded with one of most tender and flavorful preparations of meat in the city.

3. Las Esclavas. This bakery is well known among residents of Recoleta for its fantastic baked goods. This is the place to go for breakfast or for a quick snack. The sandwiches de miga -- thin, crustless, white-bread sandwiches stuffed with fillings like ham and pineapple or palmitos, are some of the best in the city.

4. Cumana. For empanadas, head to the friendly and casual Cumana in Recoleta. The steak empanadas, or empanade de carne al chuchillo, is a must order, along with their humita, or corn empanada. If you're hungry, order a cazuela as well, very traditional, rich, hearty and tasty.

5. Casa Cruz. Take a step into sexy at this club/bar/restaurant with its ornate decor and its sumptuous red velvet booths. It's a place to get dressed up, to see and be seen, to indulge in whatever the experience might allow: scrumptious food, intimate setting, people watching, vino, and whatever else the night might bring.

6. Cafe San Juan. If you want to go where the locals go, and dine on food that's made with attention and care, head to Cafe San Juan in San Telmo. This small, charming bistro with its tightly packed dinner tables and chalkboard menu is a great place to relax for an evening of excellent food and wine. The menu changes regularly, so just ask the server for a recommendation.