What are the best things to see and do in Buenos Aires?
Answers from Our Experts (2)
From green spaces to historic buildings, there's plenty to keep travelers occupied while they're getting to know Buenos Aires. Here are Forbes Travel Guide's editors' picks for the five best things to see and do.

1. Casa Rosada. Immortalized in celluloid during the film version of Evita, it's the perfect place to channel your inner Madonna standing on the balcony. Fun fact: This White House of Buenos Aires is pink because the building was originally painted with cow's blood.

2. Cemetario Recoleta. The most famous final resting places in Buenos Aires are gathered here, which means this cemetery is worth a visit for those who want to explore the history of the city's biggest families and some of its most well-known residents, including Mrs. Perón.

3. Cemetario Chacarita. Though it's not as well-known as Recoleta, this cemetery is actually the better bet if you're choosing between the two; its scale and the tombs of Argentine luminaries such as tango god Carlos Gardel, whose life-size bronze statue still prompts female fans to climb up and hug it on occasion, make it well worth a visit.

4. Xul Solar House. The former residence of Argentina's answer to Salvador Dalí, this is a great place to see Solar's work, as well as comb through his personal effects. Informative, engaging and a great choice for art buffs, it's a perfect choice on hot days due to its powerful air conditioning.

5. Reserva Ecologica del Sur. On a sunny day, there's nowhere better to be — especially if you have one of the city's free bicycles in hand. Opt for a picnic, people-watch or work on your tan alongside the locals who flock here to worship the sun during the warm months.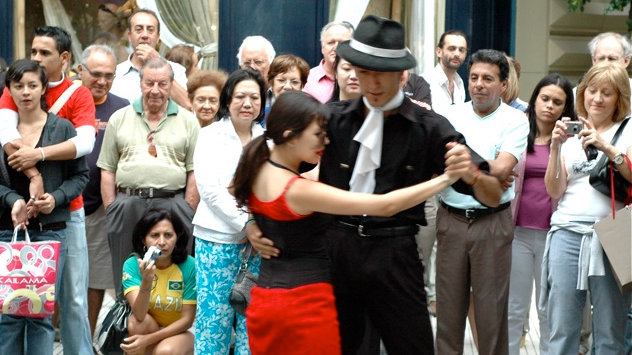 Photo by Mai Pham
1. Tango. Whether you want to watch tango, or learn tango, Buenos Aires is the place to do it. For informal tango dances and street performances, head to Calle Florida outside the Galerias Pacifico shopping mall, or to the area of La Boca on a weekend afternoon, where competing cafes will offer free sidewalk performances if you sit down for a drink and a snack. For performance tango, head to one of the big performance tango shows like the ultra-sexy and exclusive Rojo Tango at Faena Hotel and Universe, or one of the bigger shows in San Telmo like Boca Tango or Senor Tango. And to learn tango, head to one of the local milongas, where amateurs can take group classes, then take a twirl on the dance floor among the regulars.

2. Shopping. When you walk the streets of Buenos Aires, you'll notice that the locals have a style. Whether you want big brand names or boutiques, there's plenty of excellent shopping in Buenos Aires. Wander the streets of Palermo Soho for some of the best boutique shopping for men and women, or hit one of the big malls -- Galerias Pacifico, Abasto, Paseo Alcorta, or Patio Bullrich. If you're adventurous, head just north of Palermo Soho to Avenida Cordoba between the 4000 and 5000 blocks, where you'll find a concentration of outlet stores selling last season's styles at a discount.

3. Recoleta Cemetary. Say what you will about the morbidity of visiting a cemetary, but the famous cemetario in Recoleta is a must visit for its beautiful tree lined walkways and ornate tombs and sculptures dating back for hundreds of years.

4. Buenos Aires Design Center. Spend an afternoon at the Buenos Aires design center to get ideas for home decor and home furnishings, from living room and bedroom furniture, to lighting and bathroom fixtures, rugs and art. When you're tired, head to the top floor to sit and relax at one of the cafes on the terrace.

5. Museums. There are several museums in Buenos Aires worth visiting, including the MALBA, or the Museo de Arte LatinoAmerico de Buenos Aires. Set in a gorgeously airy, modern building with a hip, indoor/outdoor cafe and an excellent modern art collection, you'll want to visit, if only to see the fantastically large silver flower sculpture on the lawn outside. Another noteworthy museum is the Museo Nacional de Bellas Artes, with 32 exhibit halls and free daily admission.

6. Futbol. If you can time it right, and get tickets, one of the most exhilarating things you'll ever experience is sitting in the bleachers among rabid Argentinian futbol fans. Yes, we are talking about soccer. Whether you're a sports spectator or just there for the ride, it's a glorious one, complete with yelling, chanting, foot-stomping, cheering, exuberant songs and claps with such strength that you'll feel the energy coursing through your body.

7. Feria de San Telmo. Every Sunday, from 10 a.m. to 4 p.m., the heart of San Telmo turns into an antique market, similar to London's famous Portobello Road Market, where you can browse the stalls for antique baubles, books, artwork, and more. Street vendors line the cobbled streets with local craft offerings, and there are plenty of street performers to add to the entertainment, as well.