What are the best things to do on a romantic trip to Cape Cod?
Answers from Our Experts (2)
The five best things to do on a romantic trip to Cape Cod are:

1. Enjoy a romantic dinner at Wequassett's twenty-eight Atlantic.

2. Take in Cape Cod's stunning beauty with a sunset cruise on Wequassett's boat on Pleasant Bay.

3. Take Wequassett's launch to the pristine Outer Beach, and ask the resort to prepare a picnic lunch.

4. Enjoy the annual Cape Cod Jazz Festival at Wequassett during the summer months. Listen to the sounds of talented performers while sipping champagne under the stars.

5. Enjoy sunset at Race Point, the tip of Cape Cod.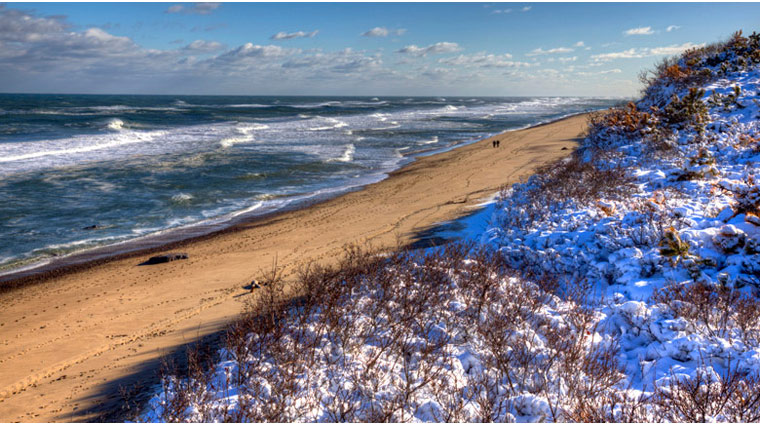 ©iStock/kickstand
With its miles of sandy beaches and quaint towns, Cape Cod is a naturally romantic place to escape to, with plenty of activities and sites to fill a weekend or longer. Here are five of the best things to do on a romantic Cape Cod getaway:

1. Cape Cod Winery. Set the mood at the Cape Cod Winery in East Falmouth where you can engage in free wine tastings year round. The winery specializes in harvesting grapes for cabernet sauvignon, merlot, pinot grigio and cabernet franc blends. The vineyard is open year-round, but summer and fall are the best times to visit when grapes are at their peak for tasting.

2. Cape Cod Lavender Farm. It's a proven fact that the smell of lavender promotes relaxation and calming effects. Why not stroll through lavender fields with your loved one and enjoy a day of scented bliss? The 12-acre Cape Code Lavender Farm overlooks Island Pond in Harwich and has over 14,000 plants for you to explore, including their own Harwich Blue lavender which can be purchased from the farm.

3. Nauset Beach. Get up early and watch the sunrise over Nauset Beach, one of the most romantic beaches on the Cape's ocean side. Nauset Beach stretches 10 miles, and there are even snack bars along the beach walk where you can grab a cup of coffee or hot chocolate and warm up under the sun while you walk the beach.

4. Cruise to Martha's Vineyard. If early morning walks on the beach don't sound romantic, focus instead on the later part of the day with a sunset cruise. Head to either Hyannis or Falmouth and hop a ferry to Martha's Vineyard for dinner. From July 2 through Labor Day, the last boats leave Martha's Vineyard for Cape Cod between 9 and 10 p.m., so you can have an early dinner on the Vineyard before heading back to the Cape for the night. You'll find a variety of boat schedules and different operators at both the Woods Hole (Falmouth) and Hyannis ports. If you're up for the boat cruise but not into the Vineyard, Hy-Line cruises offers cruises that go leave from the Cape and wrap around Martha's Vineyard, giving riders some beautiful views without actually having to get off the boat.

5. Bike rides. Take in the views together by cycling along the Cape's famous trails. The 7-mile Province Land Trail takes you along beaches and over sand dunes, and offers an intense workout for riders. There are also plenty of flat trails around the Cape, many of which begin in Cape Cod National Park, and will provide a more leisurely bike ride with some beautiful views.