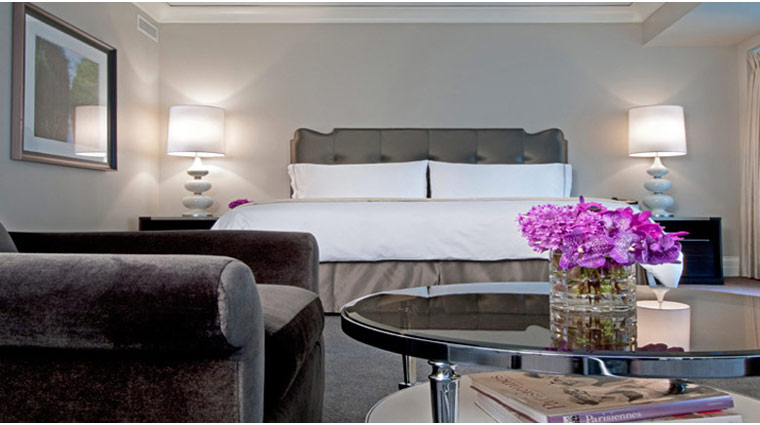 Don't be surprised if the Five-Star Four Seasons Hotel Chicago has a file on you. The staff meets every morning to go over who's arriving that day and what they might need, whether it's something you requested prior to your visit or something they know by scrolling through their huge database of guests. It's this flawless service that makes a stay here feel exquisitely relaxing. It also doesn't hurt that the hotel recently underwent a thorough revamp, and is just steps from the city's best shopping.

Steps away is the Five-Star Peninsula Chicago, which mixes Old World opulence with Asian-influenced style. The hotel's graceful service befits the dignified atmosphere of this gem. But the Peninsula's crown jewels are also its most delicious. The trendy Shanghai Terrace serves Asian-inspired fare and cocktails, Pierrot Gourmet is a sunny morning spot to start the day with breakfast and brunch and a late-night room service order of a famous Chicago-style hot dog is practically mandatory during any Windy City visit.

You might be confused when you walk into Five-Star Trump International Hotel & Tower. Is it a hotel? Is it a condo building? It's both, and the understated but upscale lobby is a precursor to everything this well-done hotel has to offer: A sophisticated but relaxed lounge; a gorgeous, Five-Star fine dining restaurant, Sixteen; lavish rooms where every detail has been taken into consideration (down to Sub-zero refrigerators); and amazing views from everywhere.

Located high atop Water Tower Place along Michigan Avenue, Four-Star The Ritz-Carlton Chicago underwent a major renovation in 2010, giving rooms a sophisticated and modern makeover. The Deca restaurant on the 12th floor is a chic place for cocktails and bistro fare.

The Four-Star Waldorf Astoria Chicago is adorned with chandeliers inspired by Coco Chanel's jewelry and features only 10 rooms per floor, which include fireplaces, terraces, and white Carrera marble bathrooms. The elegant Parisian-style building has a cobblestone motor court, a Greek-columned spa, handsome bar and two fantastic restaurants.

With its cherry-wood design and gold and mocha accents, the Four-Star Park Hyatt Chicago is a prime choice for a striking stay in Chicago. Anything you could need is a question away with the hotel's butler service and oversized tubs and room views of the Windy City's famous skyline and Lake Michigan guarantee your a fair share of relaxation and beauty during your stay.
On August 1, 2013

Jaydine Sayer answered the question:

What are the best bars in Chicago?

Sometimes it feels like there's a bar on every corner in Chicago, and in some neighborhoods this actually rings true. Dive bars, cocktail lounges, beer meccas, dance halls, taquerias — this city has it all. Here are a few I think are worth a visit:

The Violet Hour: This cozy, candlelit spot in hip Wicker Park was one of the first to get in on the bespoke cocktail craze. Make a reservation — you'll need it.

The Aviary: While you may head here because you couldn't score tickets to dine at Next (chef Grant Achatz's adjacent restaurant), The Aviary is a worthy destination on its own. Drink concoctions are made with precision and insane creativity.

The Old Town Ale House: Dive bars are aplenty in the Windy City, but this one serves as a much-needed relief from the ritzier spots in Old Town. Cheap beer and throwback tunes abound.

RM Champagne Salon: Hidden off the West Loop's buzzy Randolph Street down a cobblestone alley, this posh lounge serves bubbly and lots of it.

Big Star: Go to this Wicker Park spot for stiff whiskey drinks, potent pitchers of margaritas, killer tacos and excellent people watching.

On August 1, 2013

Jaydine Sayer answered the question:

What are the best neighborhoods in Chicago?

Chicago really is a big city made up of diverse neighborhoods, from buzzy River North to low-key Lincoln Square. If you've got the time, try to hit up more off-the-beaten-path areas like Logan Square, Pilsen and Andersonville — each has rich cultural and food scenes.

My favorite neighborhood, though, is the West Loop. There's a little bit of everything here. Foodies flock to hot restaurants like Girl & the Goat, Next and G.E.B. At night, spots like RM Champagne Salon, Vera and Maude's Liquor Bar attract a sophisticated crowd. During the summer months, the neighborhood bustles with a low-key energy. Hungover sunbathers, families and dog walkers converge at Mary Bartelme Park, a beautiful city park loved for its modern design. (Tip: On hot days, head to Cone, the new gourmet ice cream shop a few blocks away). Also a few blocks away? Greektown. I like to sit outside on Athena's newly renovated patio for a quintessential Greek salad and glass of white wine before a leisurely stroll through the hood.

On August 1, 2013

Jaydine Sayer answered the question:

What are the best spas in Chicago?

Most of the city's very best spas are found within the confines of a luxury hotel. And that's just fine by me — who else really knows how to pamper, indulge and cater guests (Frette robes, free bubbly, fab lounges) like a Forbes Travel Guide Five-Star spot?

Among my personal favorites is The Spa at Four Seasons Hotel Chicago. It's an old-school luxury spa with a classic, comfy lounge, effective treatments and impeccable service. I book appointments here when I want to splurge. The spa also has a long history of unique seasonal treatments (pumpkin scrubs in the fall, scotch-fueled pedicures for Father's Day), so there's almost always something new to try on the menu.

The Peninsula Spa Chicago is a lovely space with an Asian-inspired vibe that is as warm as it is exotic. The treatments are indulgent and range from Eastern specialties like Thai and Balinese massages to a salt and oil scrub that's anything but basic. Hit the fitness center's indoor pool and outdoor sundeck post treatment.

Treatment rooms and the fitness facilities at The Spa at Trump Chicago take advantage of the hotel's stunning views — head to your appointment early to get in a workout while you look out at the Chicago River and beyond. The locker room is as luxe and roomy as they get, and this spa is the only one in the city that features treatments by Kate Somerville, Hollywood's go-to skin guru.

The boutique spa Allyu is away from the hotels in River North but still close enough to book for a quick visit. I simply love to Zen-out here. It's a gorgeous health-driven, eco-conscious spa with primo services without primo prices. The tented meditation area is worth a trip alone. Treatments range from traditional hot stone massages to reflexology to firming facials.

One more spot I can't wait to check out is the Chuan Spa at the new Langham Chicago (the spa set to open in August 2013). This place will be unlike any other in the city, with an herbal sauna, a salt stone sauna and an oriental steam room. When I finally get in for an appointment I plan on showing up as early as possible to take advantage of all the fancy facilities.

On August 1, 2013

Jaydine Sayer answered the question:

What restaurants have the best views in Chicago?

Hands down the most spectacular view in Chicago can be had from Sixteen, the Trump International Hotel & Tower's ode to fine dining. Through the restaurant's huge floor-to-ceiling windows you can see the Chicago River, Lake Michigan, and the Loop's skyline. But the most surreal view is of the iconic Wrigley Building's clock tower — it's almost as if you can reach out and touch it. If the weather is decent, grab a drink on the terrace before dinner.

I also like the view from NoMI at the Park Hyatt, which overlooks Michigan Avenue and is particularly pretty at dusk. Terzo Piano is a must for lunch, as the fresh Italian restaurant looks out over Millennium Park from its perch in the Art Institute. And North Pond in Lincoln Park has gorgeous views of the park and an inimitable feeling of utter urban zen.

On July 29, 2013

Lauren Viera answered the question:

What would be a perfect date night in Chicago?

Because there are so many amazing restaurants and activities in every neighborhood in the city, the answer to this question begs another: What's your style?

Classic: Dinner and a Show in the West Loop
I'd recommend nabbing reservations at one of the dozen or so outstanding restaurants on Randolph Street's Restaurant Row, and then walking to City Winery to catch a concert with cabaret-style seating. I recently enjoyed a West Loop date-night just like this, starting at Executive Chef Paul Kahan's Avec (go early; this is one of the few that doesn't take reservations and fills up by 6 p.m. nightly) followed by a concert that was underway by 8 p.m. down the street.

Trendy: Al Fresco Dining in Wicker Park
Booking a night out in trendy Wicker Park is a wonderful excuse to explore a neighborhood that comes to live after sunset. Many cafes and restaurants along Milwaukee Avenue offer sidewalk seating for dinner (I like Taxim, specializing in modern Greek fare), and just as things begin to get a little rowdy, it's time to steal away to darkly lit cocktail den The Violet Hour, where expertly mixed drinks await.

Romantic: Picnic in Millennium Park
If the weather allows it, I love nothing more than a gourmet picnic date under the stars at Millennium Park, whose Jay Pritzker Pavilion hosts live music of all stripes through the summer months. If you're hankering for a nightcap once the concert ends, Henri on Michigan Avenue is a beautiful little French-inspired fine dining restaurant with a perfect little bar. Alternatively, at the north end of the park lies Maison, an often overlooked little bistro with a lovely selection of wines and digestifs.


On July 29, 2013

Lauren Viera answered the question:

Where is the best sake in Chicago?

Thanks to a growing number of Japanese restaurants that span both fine-dining and casual experiences, quality sake is increasingly available in Chicago. One of the best places to sample a bottle or two is alongside Japanese-inspired street fare is at Yusho, the critically lauded restaurant starring Matthias Merges, a former Charlie Trotter's chef. Yusho is a full-service restaurant with a casual vibe, and numerous bottles of sake are offered alongside innovative cocktails.

Though I've never been, Murasake has been on my to-visit list so long, it's embarrassing. Located in Streeterville, this is Chicago's premiere sake (and karaoke!) lounge and also offers a wide variety of otsumami—traditional Japanese small-plates often served at bars.

Arguably the best Japanese restaurant in Chicago is Takashi (named for James Beard–awarded chef Takashi Yagihashi), which is home to a small bar with one of the best sake selections in town. Takashi is a fine dining experience with both tasting menus and traditional kaiseki (multi-course) dinners, but a handful of seats at the bar await those who'd rather slip in for a few rounds of sake.

On July 29, 2013

Lauren Viera answered the question:

What are the best rooftop bars in Chicago?

My current favorite is Drumbar atop the Raffaello Hotel, just east of Michigan Avenue downtown. It's smaller than most rooftop bars, but that's why I like it—it feels exclusive. Top-notch cocktails are on offer as well as bottle service, if that's your thing.

Newly opened in summer 2013 is The dec at the the Star-Rated Ritz-Carleton, a Four Seasons Hotel, which borrows bittes from the property's deca Restaurant and Bar. Decorated with bold neon lighting and shiny sculptures, The dec is a much talked about hotspot for summer nights.

The north end of Lincoln Park offers one of the prettiest views from the J. Parker, the roomy rooftop bar perched on top of Hotel Lincoln. Sharing some menu items with critically heralded Perennial Virant, on the hotel's ground floor, the J. Parker specializes in market-fresh cocktails.



On July 29, 2013

Lauren Viera answered the question:

What are the best bars in Lincoln Park in Chicago?

Lincoln Park is a fun, laid-back neighborhood whose watering holes are fairly traditional, which is why beer-and-a-shot bars and Irish pubs are so popular in these parts. But for a bit more sophistication, head to The Barrelhouse Flat, far and away my favorite Lincoln Park bar. Launched by Stephen Cole, a founding bartender at Wicker Park's impeccable Violet Hour, Barrelhouse Flat is a two-story space that stacks an elevated cocktail lounge on top of a laid-back piano saloon. Come hungry—the bar snacks are great here, too.

Just up the street from Barrelhouse Flat is Delilah's, a 20-year-old brown-spirits instutiion with which whiskey aficionados may already be familiar. If it's whiskey—American, Irish, Canadian, Scottish—chances are, it lives somewhere on these shelves.

Though it's not a stand-alone bar, one of my favorite places to grab a pint in this neighborhood is Duke of Perth, a cozy little Scottish pub located toward the north end of Lincoln Park near Lakeview. This little fireplace-lit taproom boasts the largest collection of single-malt whiskies in town, as well as a wealth of imported beers.

On July 29, 2013

Lauren Viera answered the question:

What are the best bars in Gold Coast in Chicago?

My Gold Coast go-to is Bernard's, tucked on the second floor of the gorgeous Star-Awar winning Waldorf Astoria Chicago. With just a few dozen seats covered in luxe leather, and an atmosphere dominated by soft lighting and jazz, Bernard's looks and feels like the private gentleman's club to which I've always wanted to belong.

Literally off the beaten path on Rush Street (it's down a level and underground), The Drawing Room is a pleasantly sophisticated cocktail lounge that's often overlooked simply because of its out-of-the-way location. With a rotating cocktail menu and food worth staying for, this small bar and comfortable lounge never disappoint.

Opened the day after the repeal of Prohibition in December 1933, Coq d'Or at the Drake Hotel is simply a classic hotel bar that hasn't changed much over the past 80 years. I've never had luck ordering much more than a simple martini here (these old-school bartenders aren't concerned with 21st century drink trends), but the ambiance and aura are the real reason to stop in during the violet hour.

On July 29, 2013

Lauren Viera answered the question:

What are the best bars in River North in Chicago?

River North is notoriously littered with nightclubs—one reason most locals flee before nightfall unless they're dressed to the nines and prepared to party. But in recent years, the neighborhood's bar scene has made progress toward catching up to its club scene. Attached to the well-heeled Hotel Palomar is Sable Kitchen & Bar, which boasts one of the better cocktail menus in town, courtesy head bartender and former chef Mike Ryan. And unlike most quiet hotel bars, Sable is known for high-volume, and was recently recognized as one of the best high-volume bars in the country by Tales of the Cocktail's prestigious Spirited Awards.

A few blocks from Sable is the brand new Three Dots and a Dash, a tiki-themed joint in the basement of honkey-tonk restaurant Bub City. With decorated mixologist Paul McGee at its helm, Three Dots is a welcome breath of tropical air to a neighborhood known primarily for beer-and-a-shot bars.

I'm a big fan of the cocktails at all of the venues run by local restaurateur Brendan Sodikoff, including Gilt Bar, on the neighborhood's western edge near the Merchandise Mart. All low lighting and chandeliers, Gilt is an aptly named cocktail haven tucked into an otherwise brassy restaurant row.

If you're celebrating or simply in the mood for Champagne (and really, is there ever a wrong time to drink bubbly?), Pops for Champagne is a must-visit. Though most of its newer patrons may not be aware, River North's sparkling wine bar has been around for three decades, and still offers fresh, educated service with no pretense. Peruse the more than 200 bubbles on the menu, or simply ask for a recommendation.

Next