What are the best places to stay in Chicago?
Answers from Our Experts (3)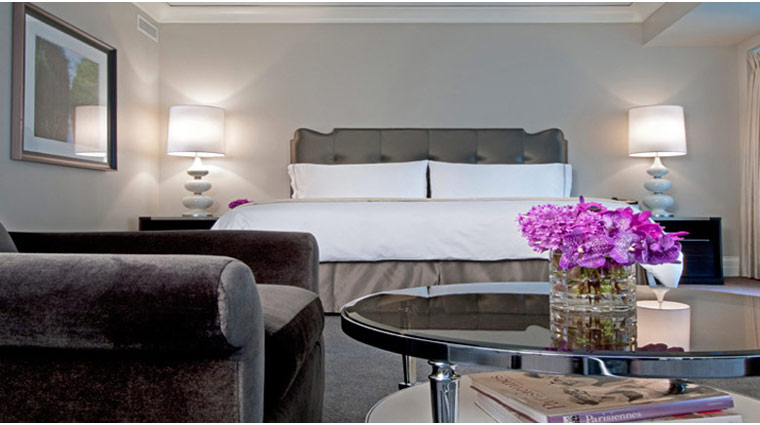 ©Waldorf Astoria Chicago
Don't be surprised if the Five-Star Four Seasons Hotel Chicago has a file on you. The staff meets every morning to go over who's arriving that day and what they might need, whether it's something you requested prior to your visit or something they know by scrolling through their huge database of guests. It's this flawless service that makes a stay here feel exquisitely relaxing. It also doesn't hurt that the hotel recently underwent a thorough revamp, and is just steps from the city's best shopping.

Steps away is the Five-Star Peninsula Chicago, which mixes Old World opulence with Asian-influenced style. The hotel's graceful service befits the dignified atmosphere of this gem. But the Peninsula's crown jewels are also its most delicious. The trendy Shanghai Terrace serves Asian-inspired fare and cocktails, Pierrot Gourmet is a sunny morning spot to start the day with breakfast and brunch and a late-night room service order of a famous Chicago-style hot dog is practically mandatory during any Windy City visit.

You might be confused when you walk into Five-Star Trump International Hotel & Tower. Is it a hotel? Is it a condo building? It's both, and the understated but upscale lobby is a precursor to everything this well-done hotel has to offer: A sophisticated but relaxed lounge; a gorgeous, Five-Star fine dining restaurant, Sixteen; lavish rooms where every detail has been taken into consideration (down to Sub-zero refrigerators); and amazing views from everywhere.

Located high atop Water Tower Place along Michigan Avenue, Four-Star The Ritz-Carlton Chicago underwent a major renovation in 2010, giving rooms a sophisticated and modern makeover. The Deca restaurant on the 12th floor is a chic place for cocktails and bistro fare.

The Four-Star Waldorf Astoria Chicago is adorned with chandeliers inspired by Coco Chanel's jewelry and features only 10 rooms per floor, which include fireplaces, terraces, and white Carrera marble bathrooms. The elegant Parisian-style building has a cobblestone motor court, a Greek-columned spa, handsome bar and two fantastic restaurants.

With its cherry-wood design and gold and mocha accents, the Four-Star Park Hyatt Chicago is a prime choice for a striking stay in Chicago. Anything you could need is a question away with the hotel's butler service and oversized tubs and room views of the Windy City's famous skyline and Lake Michigan guarantee your a fair share of relaxation and beauty during your stay.
One of the best options in Chicago is Trump International Hotel & Tower Chicago. Located at the center of the city along the Chicago River and steps away from Michigan Avenue, it is a perfect place for both business and leisure travelers. With the largest guestrooms in the city, guests will find themselves in the midst of incredible luxury and comfort. The fine dining and spa options at the hotel make it a one-stop shop for a vacation. The restaurant Sixteen offers fine dining all day long while the chic lounge Rebar is a wonderful place to unwind and enjoy a craft cocktail.

Aside from Trump, another wonderful, trendy option is the Wit Hotel in the city's Loop neighborhood. Across the river from Trump, it boasts many of the same advantages of Trump's location: proximity to the business district but not far from the great shopping along North Michigan Avenue. Its rooftop bar and club, known as The Roof, is the perfect spot for an exciting night out. Additionally, its fine dining restaurant Cibo Matto offers exceptional cuisine for hotel guests and city dwellers alike.
For those interested in the downtown luxury-hotel scene, get ready to weigh your options. The Forbes Five Star–rated Trump International Hotel & Tower Chicago is at the top of that list (its restaurant, Sixteen, is also a Five Star–rated venue), and the views alone justify its awesomeness. Poised on the edge of the Chicago River with a clear view of Lake Michigan, it's both one of the best located hotels in town as well as the one with the best site-lines.

The Five Star–rated Four Seasons Hotel Chicago and The Peninsula Chicago are both at the north end of Michigan Avenue toward the Gold Coast, each offering excellent service and dining options with views of Lake Michigan and downtown. The critically aclaimed restaurant known simply as The Lobby at The Peninsula Chicago is one of the loveliest un-dining rooms in town, while the Four Seasons recently revamped its dining room to open Allium, with classic American cuisine.

Other Forbes Travel Guide star-rated places to stay include The Ritz-Carlton Chicago and Park Hyatt Chicago, both Four-Star hotels just off Michigan Avenue, and my personal favorite is the gorgeous Four-Star Waldorf Astoria Chicago, situated in the Gold Coast just off the street via a French-style courtyard roundabout entrance. (Don't miss Bernard's Bar tucked into a quiet corner on the second floor.)

Further afield, Longman & Eagle is a unique tavern-style inn in Logan Square with a handful of rooms decorated with local artists and edgy style, while Hotel Lincoln offers a boutique hotel experience with stunning views of Lincoln Park and fun dining options, just a hop, skip and a jump from downtown.