What are the best attractions in Dallas?
Answers from Our Experts (2)
Dallas is an upbeat and thriving city with a perfect balance of modern culture and attractions significant to American history. Dallas is one of those destinations that anyone can visit and experience a great time; from family trips to girls' weekends, there's much fun to be had. To make your planning a little bit easier, here are a few of my personal favorites.

The Dallas Zoo is a great family place and a popular attraction for both locals and tourists. If you're looking to plan a nighttime event, though, catch a game or concert — the American Airlines Center always has sporting event and shows. It is home to the NBA champion Dallas Mavericks and is one of the best venues in the region.

To experience an interesting and educational aspect of Dallas, I always suggest visitors take a trip to the Dallas World Aquarium. Visit the newly expanded Mundo Maya exhibit, the rainforest and the aquarium that features 80,000 gallons of saltwater exhibits.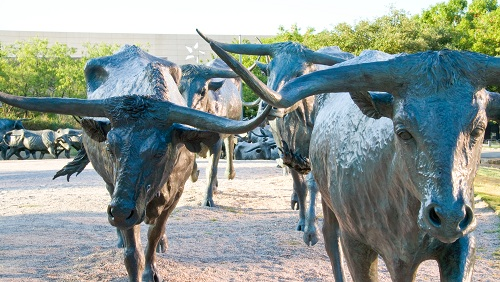 Photo by DCVB - Clay Coleman
One of the most recognizable landmarks in Dallas is Reunion Tower. The 560-foot tall structure originally opened in 1978, with three levels of public access, including an observation deck. Over the years it's housed The Dome night club, and a restaurant named Antares. Today, the aptly-named 560 by Wolfgang Puck occupies the old Antares space. The look is slick and modern, the wine selection is expansive and the Asian-inspired menu never fails to disappoint. Currently, the observation deck is closed for remodeling, but visitors can still enjoy sweeping, panoramic views of the city from 560's gently-revolving dining floor.

Another attraction that is distinctly Dallas is Pioneer Plaza. Located on Young Street, just outside of the Dallas Convention Center, the four-acre space features a 52-piece bronze sculpture of a larger-than-life cattle drive. Three cowboys on horses and 49 longhorn cattle are placed amongst native plants, trees and a stream. Created by Texas sculptor Robert Summers, this slice of history commemorates the route through the Shawnee Trail that brought settlers to Dallas, and cattle to market.