What are the best rainy day activities in Delhi?
Answers from Our Experts (1)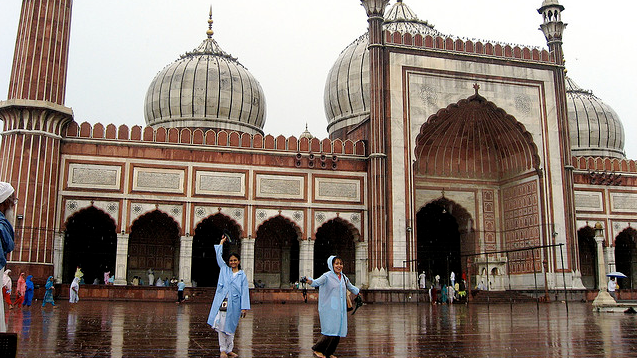 Photo: Kyle Taylor (Creative Commons)
The monsoon rains are a joyous time in Delhi, for they bring some much-needed relief from the scorching summer heat. Whether you hole up at a local joint for hot chai and snacks, or go for a long drive to realize just how green the city is, partake of the joy that the rains bring to the people of Delhi. After all, life is not about waiting for the storm to pass, it's about dancing in the rain!

Here are the best things to do on a rainy day in Delhi:

1) Watch the rain with a hot cup of chai

Ask any local what's the one thing they want to do when it rains, and chai will be the synonymous answer! After acquiring something of a national beverage status, tea in its many forms can add charm to any rainy afternoon. Cozy up at one of Delhi's best cafes, and hear the rain pour outside the window as you sip hot tea, and munch on savory Indian snacks.

2) Ride the Delhi metro

It's not the first thing that people think of on a rainy day in Delhi, but pick one of the above-the-ground routes, like the violet line towards Badarpur, seat yourself by the window, and observe daily life in the city as the rain lashes down outside. Best done in the afternoon, when the crowds are in check.

3) Catch a Bollywood movie

What better time to acquaint yourself with Bollywood's finest, than when the rains are in full force? Head to DT Cinemas or PVR in one of Delhi's many malls, buy a bag of popcorn, and munch away to the latest Bollywood flick.

4) Photograph the city

If there's one season when Delhi dresses up for pictures, it's during the monsoon. The rain paints the gardens, parks and tree-lined streets of Delhi a lush green, and towards the end of the season, trees bloom in yellow, red, orange and purple colors. Central Delhi, and in particular Rajpath, are a feast for any photographer.

5) Go for a walk

They say you haven't soaked in the rains till you really get soaked. Leave your umbrella at home, head to one of Delhi's picturesque parks, and get drenched! Lodi Gardens, for instance, is the most romantic when engulfed in the rain and the mist.