What are the best bars in Houston?
Answers from Our Experts (3)
I love to go to Hotel ZaZa and sit out on their patio. I think that's so fun. The bar has really fun staff and lots of energy, so that always makes me feel young. Then I love to go to Benjy's Bar — it's so fun, the upstairs bar. Then there's this really cool über-modern bar called Anvil. It's just a fun experience if you want to come to Houston and try, and it's in the Montrose area, which is really eclectic and young.
Cottonwood
Another addition to the list of superb craft beer venues is Cottonwood. Created by the same owners as Washington Avenue craft beer and Liberty Station, Cottonwood is a massive open space with sizable tap wall, and a 2,000 square foot patio for you and your friends to goof off and play corn hole or foosball. The food menu is full of unexpected surprises like Pork Belly Corn dogs, Black Mussels with chorizo, and Stuffed Quail. Before the weather gets too steamy give their chicken pot pie a taste. It's comfort food at it's finest, and comes with a squirrelly silhouette in the crust (Cottonwood's logo).

The Sam Bar
After years of visiting The Sam bar, it is still one of my top drinking establishments in the city. Nestled inside the Hotel Alden, it is chic, modern, intimate and serves up first-rate libations. My guy friends like their selection of scotch and cognac, while my ladies always rave about their fine wines.

Max's WIne Dive
Laid back and industrial-chic, Max's Wine Dive has been adding class to Washington Avenue since 2006. Serving up some addictive gourmet comfort food, and an extensive wine list, there's really no to reason to ever bar hop on nights you visit Max's. Bacon lovers be sure to try the Bacon PB&J triangle, complimented by the Alexana "Revana" Pinot Noir from Willamette Valley.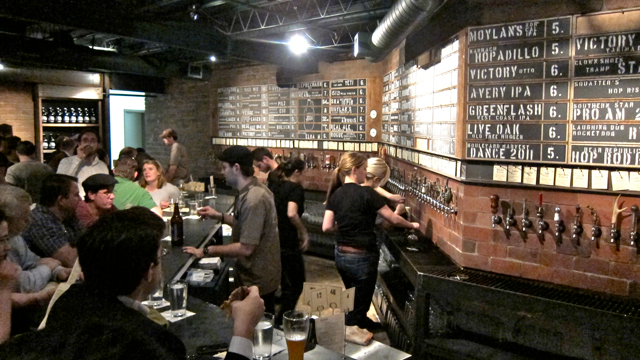 1. Anvil - Bar & Refuge. Located in the heart of the Montrose in the fourth ward, Anvil is widely regarded as the best cocktail bar in Houston. On weekends, there's usually a mass of bodies three to four people deep and standing room only. Cocktails are constructed with precision and may take a bit of time to prepare, but the wait is worth it. Tiki Tuesdays are super fun, when Tiki-themed cocktails are served in fun-shaped glasses or mugs, often with a paper umbrella. Don't ask for vodka on the rocks. This place is dedicated to spirit-based drinks. A good bet is the ever-popular Pimm's Cup.

2. Mongoose Vs. Cobra. One of the coolest new bars in Houston, the space is lofty and airy, with cool fans that double as ceiling decor, and wooden tables with benches for groups convene over a beer, cocktail, nosh, or all three. You'll see a cobra inside the window display and when you order drinks, be prepared to get something that's pretty darn strong.

3. Grand Prize Bar. If you want to get in with the locals, and industry people in particular, Grand Prize Bar is the place to be. Kind of divey, with red lights casting a hued glow on all the patrons, it gets packed around 11pm with servers, chefs, and people who are just getting off shift in restaurants. The cocktails are well composed and the kitchen offers gourmet bar bites from a rotating crew of food truck owners.

4. Double Trouble. Located around the corner from the legendary chicken and waffles joint, the Breakfast Klub, Double Trouble is the brainchild of two female bartenders named Robin. The decor is beach-chic bohemian, and the drinks come with cool names like "$1500 and two weeks off" or the "Bruice Lee," because each drink has it's own unique personality and flavor profile. Don't worry if you can't decide what to order. Describe what you feel like drinking to the bartender, and they'll whip you up something that you'll love in no time flat.

5. The Tasting Room. Yes, it's a wine bar. But it's one of the best in Houston for location and popularity. It's always packed with people on dates, with groups of friends, of singles who want to stop by and unwind. You get to taste wines by the glass, and order them by the bottle if you so desire, or even order them to take home if you like them that much. The Tasting Room is all about getting people together to enjoy a great time over a glass of vino, and potentially, some nosh.

6. Hay Merchant. Located in the heart of Montrose, Hay Merchant is an homage to all things beer, in particular, craft beer. With approximately 80 selections of beer to choose from, this is a passion project for owner Kevin Floyd. For beer aficionados who want something special, look to the special cask selections of the day to find something that you won't find anywhere else in the city.