What are the best five Houston food experiences?
Answers from Our Experts (2)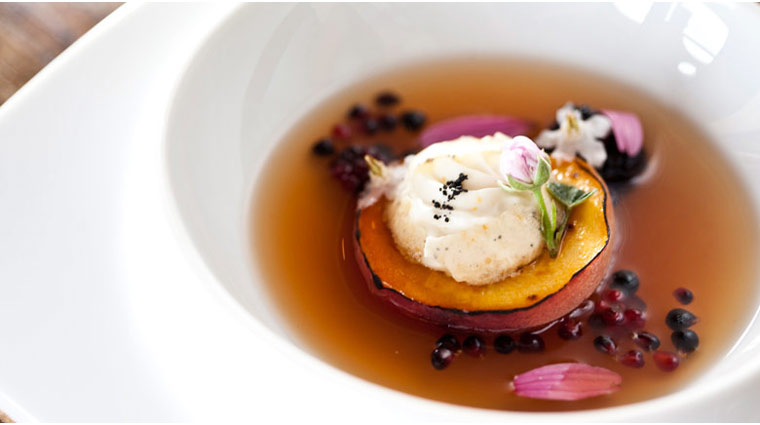 ©Inn at Dos Brisas
You better come to Houston with a Texas-sized appetite, because there's lots of barbecue, Tex-Mex and more to be had. Here are five food experiences you can't miss in the Bayou City:

1. Houston Livestock Show and Rodeo: You can't make a trip to Houston without stopping here and tasting its BBQ, Tex-Mex and fried food (and we mean fried everything). The rodeo comes to town every February and stays in the city through March. Located at the Reliant Stadium complex, this is unlike anything you've ever experienced. Chow down on items like Cajun tacos and Sweet Cheeks' Deep Fried Moon Pie. And while you're there…

2. See if you can catch the World Championship BBQ: The rodeo committee holds this contest every winter to discover the best barbecue in the Lone Star State. The three-day contest consists of dancing, cooking and, of course, eating. The event kicks off the Houston Livestock Show and Rodeo.

3. Inn at Dos Brisas: You'll want to visit this Five-Star restaurant for a more upscale dining experience. Located on a picturesque ranch, it serves up masterful gourmet creations that are sourced from the inn's own organic gardens. The haute cuisine includes dishes such as poached pheasant with black-eyed pea cassoulet and chilled lobster with Texas Rio Star grapefruit.

4. Tiny Boxwoods: Tucked away inside the Thompson and Hanson Nursery, the French-inspired restaurant feels like a secret garden. Dive into simple but sophisticated dishes like Smokey Goat Lamb Burger and wood-fired pizzas with figs, blue cheese, prosciutto and a balsamic glaze. Leave room for dessert - the chocolate chip cookies are gooey and utterly irresistible.

5. The ethnic food scene: Houston is often considered a cultural melting pot, so it's no surprise that it has a wide variety of ethnic restaurants available. You won't want to leave without digging into some Tex-Mex or any of the Thai, Indian and Vietnamese restaurants that line Westheimer Road in the Montrose area.
1. Crawfish. Houston excels at crawfish, and during crawfish season, many will indulge in the delicacy up to a few times a week. To get your hands one some of the best mudbugs in town, it will behoove you to head to the Southwest area of Houston, where Vietnamese restaurants have perfected the art of the garlicky, sweet crawfish. Best bets include Crawfish & Noodles, Seafood Shoppe, and Crawfish and Beignets inside the Hong Kong City Mall. Inside town, fan favorite Rajin Cajun is a solid mainstay.

2. Steak. Houston is without a doubt a steak city. Indulge in scrumptious steak at Killen's Steakhouse, Vic and Anthony's, Del Frisco's, Perry's, Taste of Texas, Brennar's on the Bayou, and Fleming's, Eddie V's, and more.

3. Fajitas. Tex-Mex is really king here in Houston, and the best example of true Tex-Mex can be found when you order fajitas. For the best in Houston, visit the original Ninfa's on Navigation, El Tiempo, or Lupe Tortilla. Chains such as Adobe Cafe, Guadalajara, and Pappasito's are also a pretty great bet.

4. Burgers. There's no shortage of great burgers in the city. From traditional burgers you can find at Hubcap Grill, Itty Bitty Burger Barn, or Christian's Tailgate, to the gourmet Akaushi burgers popping up all over the city at places like the Burger Guys, Burger Palace and Guru burgers, to the over-the-top restaurant gourmet you'll find at Max's Wine Dive, Rainbow Lodge, Mockingbird Bistro or Jonathan's the Rub, you can pretty much find an excellent burger at any respectable restaurant.

5. Vietnamese food. Houston is home to the third largest Vietnamese population in the country, which means you'll find Vietnamese food and Vietnamese influenced food a-plenty throughout the city. On Milam in Downtown, find places like Les Givral's for great Vietnamese sandwiches, or banh mi, Pho Siagon Noodle House for Vietnamese beef noodle soup, or pho, or indulge in late night eats like the famous garlic beef plate at the iconic Mai's Restaurant. For a broader selection, head over to the new Chinatown area on Bellaire, where you can find Vietnamese noodle houses like Pho Binh or Pho Dien, seven courses of beef at places like Saigon Pagolac and Jasmine, and banh mi sandwiches at places like Don Cafe, Lee's Sandwiches, Nguyen Ngo Parisian Bakery, and Thim Hing.