What are the best food gifts to buy in Houston?
Answers from Our Experts (2)
Buc-ee's:

This Texas-based chain of convenience stores doesn't just sell gas, chips, and Cokes. Stop into Buc-ee's for a variety of Texas-made items. Specialty products such as hot sauces, marinades, jams, and pickled vegetables line the shelves. In-house made items like fudge, cookies, kolaches, and jerkey are also available. There are several locations around the Houston area, as well as Austin and San Antonio.


Hebert's Specialty Meats:

Louisiana doesn't have the monopoly on great Cajun food, it can also be found in Hebert's three Houston locations. This import from Louisiana has Cajun staples such as gumbo, etouffee, and boudin. Delicious crawfish pies, turduckens, stuffed chickens, and Cajun-spiced steaks, catfish, and pork are also top picks. Stop in around lunchtime where a pre-cooked meal of the day is available. Most items can be purchased already frozen and thus can be packed in a carry on or loaded in a cooler of ice for the road trip home. Hebert's also accepts online orders and ships anywhere in the USA.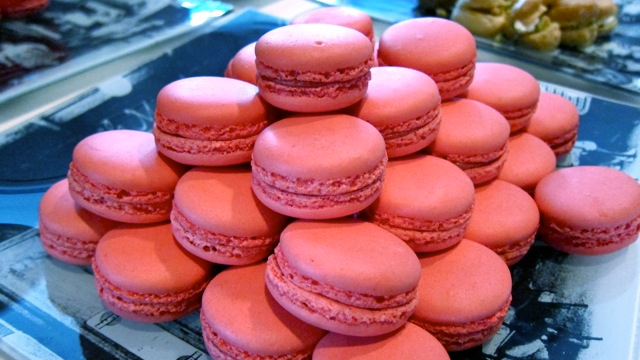 French macarons by Foody's Gourmet, Photo by Mai Pham
The best food gifts to buy in Houston start with sweets. For French macarons, hit Petite Sweets in town, Sweet Houston in CityCentre, Foody's Gourmet on the Energy Corridor, Dolce Delights in Midtown, and Revival Market in The Heights.

For sauces and pickles, visit chef Chris Shepherd's Underbelly for a changing stock of house-made goods or chef Jamie Zelko's Zelko Bistro for fresh local honey and prettily bottled infused oils and jams. Revival Market is also a good one-stop shop for cool items like Sorghum Worcestire sauce, and a myriad of other gourmet goods made by a team overseen by Executive Chef and Owner, Ryan Pera.

One of the coolest spots to visit, where you can taste before you buy, is Olive & Vine in the CityCentre for its ultra-fresh, imported every quarter olive oils and balsamic vinegars. You can also visit the Urban Harvest Farmer's Market, located at City Hall on Wednesday afternoons, and in Highland Village on Sundays for a good spread of craft and artisanal goods and gift.