What are the best local dishes in Houston?
Answers from Our Experts (2)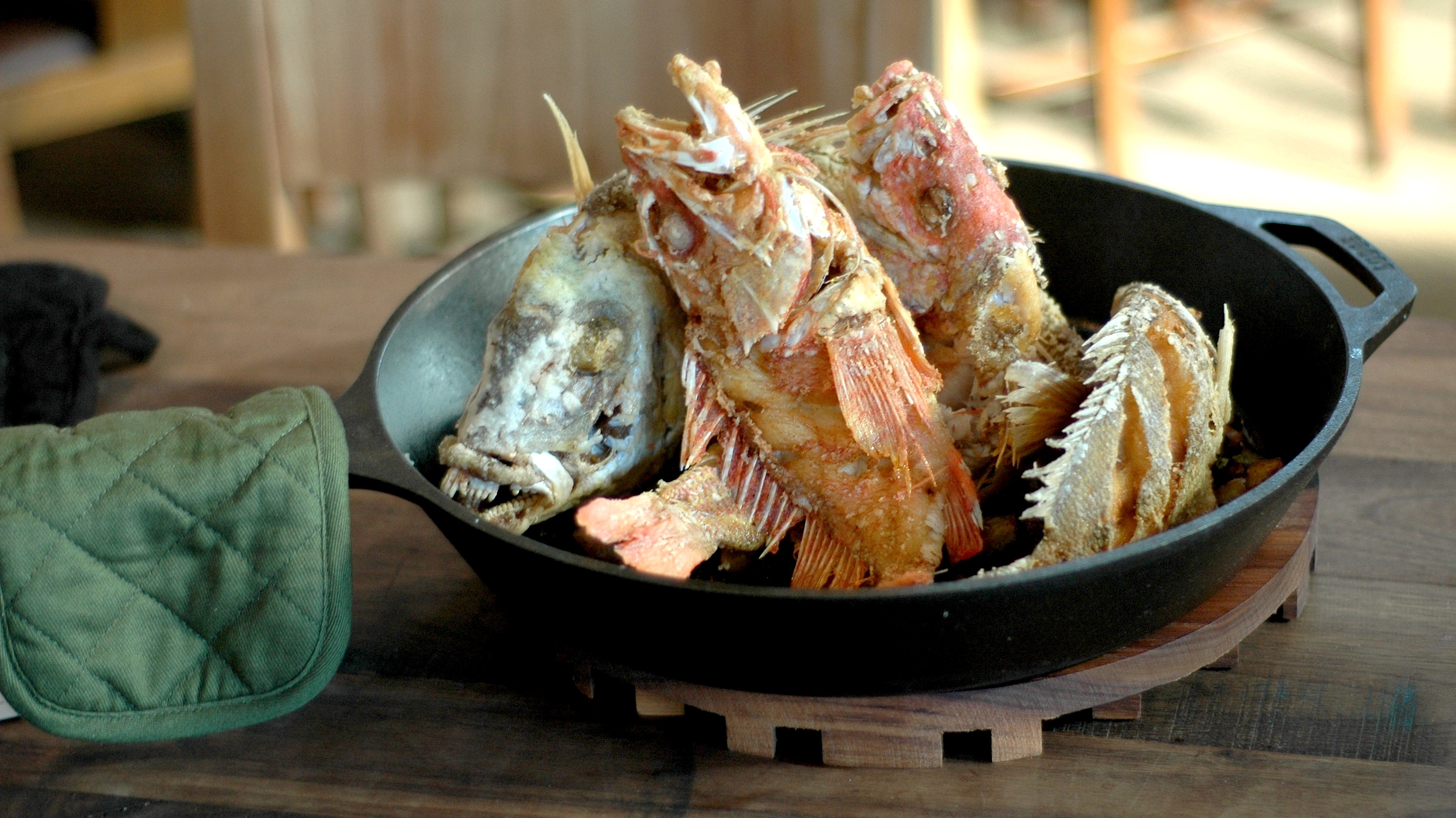 Crispy by-catch at Underbelly, Photo by Mai Pham
The best local dishes are the ones you crave when you leave Houston. For me, number one would be fajitas. Local favorites include the chain Lupe Tortilla, which has enjoyed tremendous success for its strong-flavored sizzling platters of beef that come with house-made flour tortillas, rice, beans, pico de gallo, sour cream and guacamole. Other prominent fajita legends include The Original Ninfa's on Navigation, El Tiempo, and Molina's , along with my local mom and pop neighborhood favorite, Lupita's in Sugar Land.

Steak is also one of those things that is remarkably delicious in Houston. The options are plentiful, but if I would bet my money on one, it would be Killen's Steakhouse in Pearland, which does some incredible work with meat. Eddie V's also offers a lively scene, Del Frisco's, some of the best service you'll experience, Vic and Anthony's for expense account-worthy decadence, and Perry's for their chateaubriand, which is carved tableside.

Houston is also home to some excellent barbecue -- ribs, sausage, brisket, chicken, pulled pork -- the best being the little mom and pop's like Gatlin's BBQ in the Heights, the 70-year-old family-run Pizzitola's, the famous Goode Company Barbecue. Chains like Spring Creek barbecue also offer a fun atmosphere when their staff break out in song with each order.

Vietnamese food is also very big in Houston, especially with dishes like pho, or Vietnamese beef noodle soup, and banh mi, or Vietnamese sandwiches. You can find both in pretty much about any Vietnamese shop in Houston. For banh mi, head to local chef favorite Cafe TH, Les Givral's in and around Downtown Houston, and Alpha Bakery and Deli or Nguyen Ngo French Cafe in Chinatown. For pho, head to Pho Saigon Vietnamese Noodle House (multiple locations), Pho Binh (multiple locations), Pho Dien and Pho Ga Dakao.

Finally, Gulf seafood, most notably, by-catch fish, is championed by local chefs, and is being served in places like Cove (the raw bar inside Haven), Oxheart, Underbelly, and Monarch at the Hotel Zaza. Connie's Seafood, open since the seventies, is also famous for the "You buy, we fry" concept, where you select the seafood and then have them cook it to order for you.
Enchiladas
Enchiladas are serious business in Houston. Silvia's Enchilada Kitchen on Westheimer is long believed to be the beginning of the enchiladas craze here in the city. They serve up old world style unbelievably tasty treats that always melt in your mouth. My personal favorite place for enchiladas is Chuy's. They take an interesting Tex-Mex approach to this classic dish. Whether choosing between the spicy and delicious chicka a chicka boom, or the delightful southwestern style made with blue corn tortillas and with a fried egg, It is a taste explosion that can't be stopped.

Barbeque
Texas is of course known for Barbecue and there are at least a thousand places that serve it, and serve it well. One of the Houston favorites has to be Gatlin's in the Heights. What started out as a family hobby has become a force in the barbecue restaurant scene. They have stellar ribs, brisket, and some of the dirtiest rice, and most savory mac and cheese in town. With their Texas style smoked meats and friendly atmosphere, you are in for a really good time and a full belly.

Nachos
If you're looking for Nachos with a twist please allow me to recommend the nachos at Escalante's. These aren't your regular nachos, Escalante's uses white cheddar cheese and black beans and those two ingredients really put this creation into its own wonderful and tasty category