What restaurants does Vdara Hotel & Spa have?
Answers from Our Experts (2)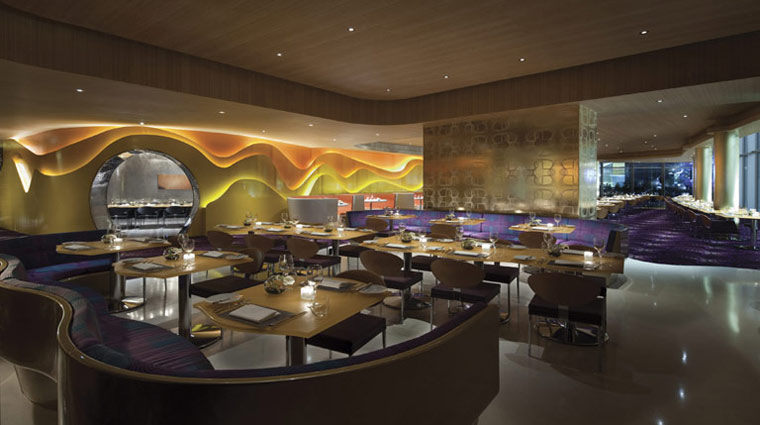 © 2011 MGM Resorts International
Market Café Vdara is Vdara Hotel & Spa's only restaurant and it's certainly not indicative of the kinds of restaursnts you'll find on the Strip. Instead, it's cool and casual with a strong emphasis on fresh, seasonal and organic ingredients. Serving what it calls a "California Coastal" menu, Market Café Vdara's menu includes dishes such as the Mexican roasted chicken soft taco with pineapple, cilantro and tequila chile sauce. Homemade soups, salads and sandwiches make up the rest of this cafeteria-style eatery's lunch menu. For dessert, executive pastry chef Fred Larre whips up fine French pastries like chocolate caramel tartes to satisfy your sweet tooth. And if you'd rather eat in the comforts of your own room, and eliminate the middle man, attached to the café is a boutique grocer carrying items from places like Dean & Deluca. Breakfast and lunch are a casual, yummy affair at this on-the-go market — and don't forget to include Vdara's in-room dining menu for when you want a bite to eat but don't feel like doing anything more than dialing a phone.
Vdara has two dining options on the main level of the hotel — Market Café Vdara and Bar Vdara. Market Café Vdara features a gourmet coffee bar, pastries, paninis and a menu of freshly prepared breakfast and lunch items. This is a great option for a quick bite or when you need to grab something on the go. Market Café Vdara also has a small grocery store, stocked with delicious items. Bar Vdara is in the center of the Vdara lobby, and is the perfect setting for light fare or a late-night cocktail. Pool & Lounge Vdara also offers breakfast and lunch selections as well as tapas-style cuisine.