What are the best bars in Las Vegas?
Answers from Our Experts (5)
Hyde and Lily Bar & Lounge at Bellagio have excellent cocktails and great atmospheres. I also like Kona Grill, Red Square at Mandalay Bay — I love the vodka cellar — and Double Helix Whiskey and Wine Bar.
Recently, I went to a place at the Hard Rock called Culinary Dropout. I think that's a cool bar. I think that it's taking its beverage program very seriously. I like the cocktails that you get, generally speaking, at The Cosmo; everything from the Vesper Bar downstairs on up into Jaleo does some really interesting cocktails. Even at Comme Ça, you can talk to a bartender who is really into crafting something for you.

Herbs and Rye on Sahara, which is a small place, pays homage to the old-style cocktails, yet it's modernizing it a little bit. I like to go there just for a drink. For atmosphere and ambiance, I've been to The Barrymore, which I think is pretty cool. It's another one of those off-the-beaten-path bars and lounge areas, which is fun.

Downtown, there are a lot of places you can go. There's the Downtown Cocktail Room. There's also Commonwealth, which is really gaining popularity downtown. It's a pretty cool place as well.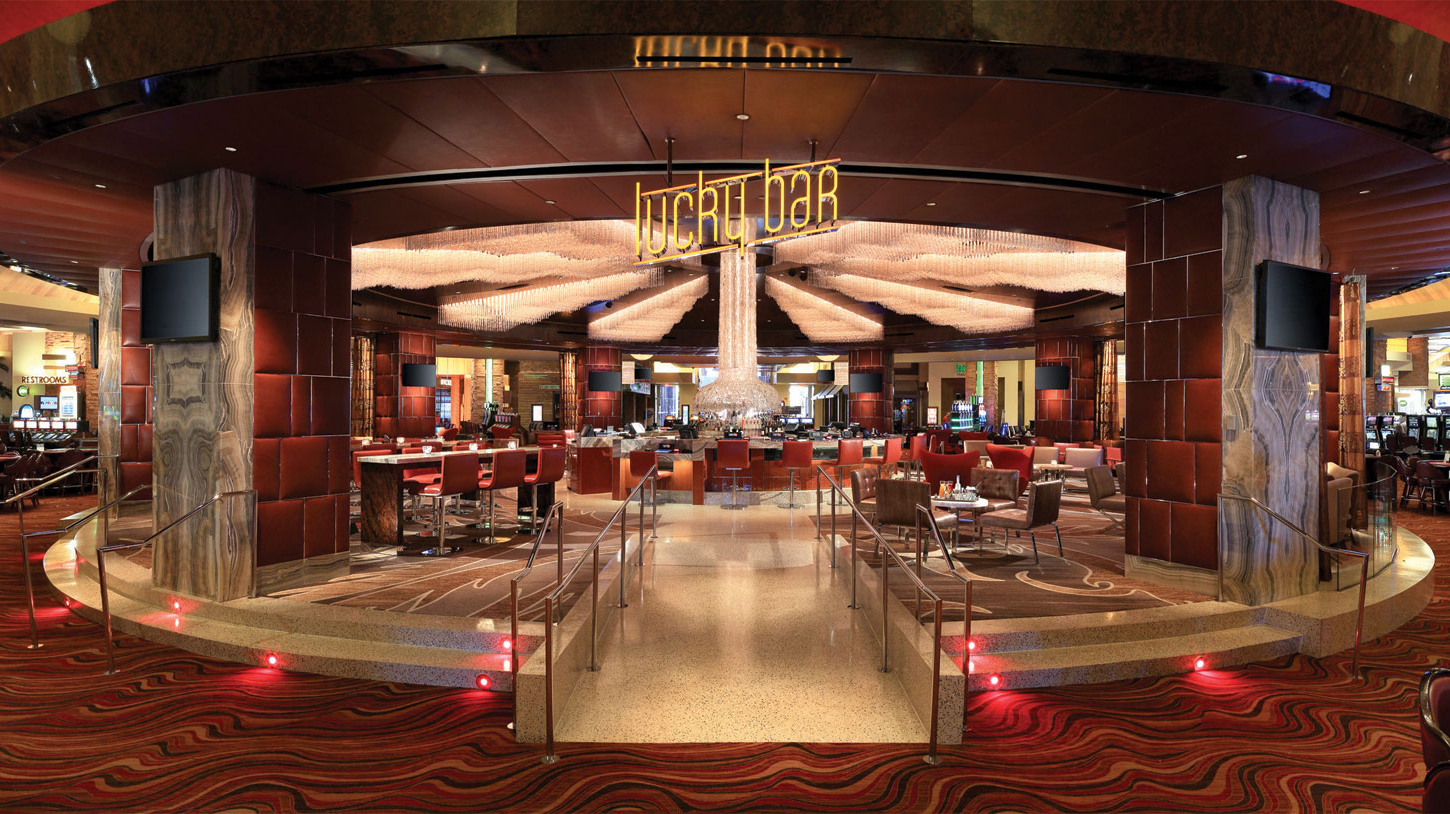 Las Vegas' hotel bars will never rival the city's ultralounges and megaclubs for entertainment and amenities, but they can try. A few recent upgrades are worth noting.

Press
Not having its own casino or even its own hotel tower, the Forbes Travel Guide Four-Star Four Seasons Las Vegas is something of a best-kept secret and home to Verandah restaurant, which offers one of the most popular and well-attended brunches in town. It is also here that the new Press lobby bar opened on May 3, a sleek multipurpose, indoor/outdoor venue. By day, Press offers gourmet coffee and espresso drinks, fresh pastry and free newspapers amid comfortable lounge tables and a coffee bar. Four workstations come equipped with phone charges and oodles of power outlets. But coffee gives way to something a little stronger at 3 p.m. when the bar opens with a menu that includes original cocktails, reinterpreted classics, house juleps, wine and nightcaps as well as small plates and whimsical desserts.

Lucky Bar
Red Rock Resort has done a phenomenal job with the renovation of its center bar. The perfect meeting spot for cocktails before dinner, after a concert or as a destination unto itself, Lucky Bar has been transformed from a somewhat closed-off cave into a social hub with 360 views of the lively casino floor. Cocktails are simple, modern interpretations of the classics, but be sure to check out the martini cart.

Lobby Bar
Fans of Kokomo's in The Mirage, may still be mourning the loss of their surf 'n turf staple to make room for Tom Colicchio's Heritage Steak, arriving in July. But the Kokomos's Lounge that offered such a great vantage over the masses has been separated from Colicchio's new venue, and remains virtually unchanged despite its having been re-christened as the Lobby Bar. And the Side Car is a still a winner.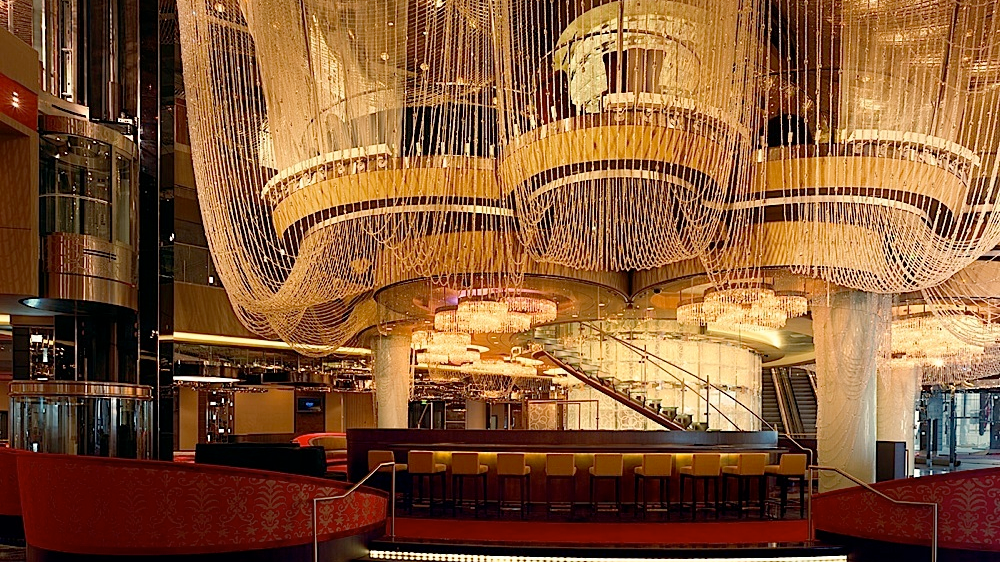 Chandelier. Photo: Cosmopolitan of Las Vegas
No trip to Vegas is complete without a stop at one of the fine bars here.

Make your first stop at Vesper Bar, the bar near the check-in desk at the Cosmopolitan of Las Vegas named for the drink. Here find a bar surrounded by mirrored tiles and a wood liquor cabinet in the center. The specialty here is cocktails based on old recipes.

A walk through Cosmopolitan brings you to The Chandelier, a three-level bar all sitting inside 2 million Swarovski crystals that make up the chandelier. Head to the mid-level for specialty cocktails including molecular garnishes made by mixologists. The lower level often features live music while the upper level for cocktails made with house-made lavender and rose syrups for a modern take on drinks.

Head off-Strip for Herbs & Rye for concoctions from the Gold Age of cocktails made from original recipes using the same techniques used in the bygone era.
Despite being built in a desert, one of the great things about Las Vegas is that you'll never go thirsty.

Beer has become a big player lately for the serious drinking community, so much so that the beer equivalent of sommeliers – cicerones – have been popping up all over town. Public House at The Venetian has built itself a nice little reputation for its beer selection – and the glass wall that allows passers-by to see their massive collection from the hallway doesn't hurt either. Public House has over 200 beers to choose from, with 24 on tap, and three seasonal cask beers. Keep an eye out for some obscure Belgian brews as well as hipster favorites like Ommegang Hennepin saison.

Gordon Ramsay Pub & Grill at Caesars Palace boasts a beer selection that aficionados have been making it a point to stop there for a pint. There's some 40 beers on tap at the pub; some usual suspects, some nice surprises. Innis & Gunn, a Scottish craft brew, is a personal favorite of Chef Ramsay's, and a big seller. t's even become my go-to whenver I stop in. And for it to be Gordon Ramsay's bar, the food's got to be good as well.