What are the best places for dessert in Las Vegas?
Answers from Our Experts (2)
My two go-to spots for desserts in Las Vegas include Payard Patisserie & Bistro in Caesars Palace and Bread & Butter in Henderson. I can't talk enough about pastry chef François Payard's white rocher wafers. This crispy confection, which is shaped like a cluster is light and delicate. Although the treat comes in milk and dark flavors as well, my absolute favorite wafers were the white-coated ones. They are so good that by the time I made it home (and I used to live on the Strip!), they'd be all gone. The other place I can't rave enough about is Bread & Butter in the suburb of Henderson, Nev. My pick there is the red velvet whoopie pie. The moist dessert is filled with a cream cheese frosting that is heavenly. If you're in Vegas, you must visit these two places. Your life will be changed!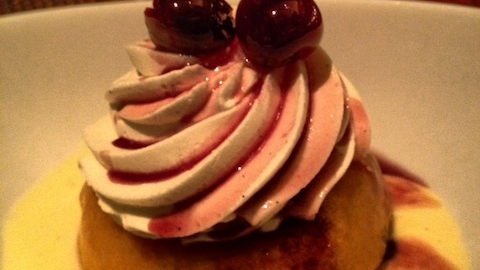 I didn't go to Allegro in Wynn for dessert. In fact, I rarely go anywhere just for dessert. I'm more of a cheese plate kinda girl. (For that, try Vintner Grill in Summerlin.) But after the most tender, flavorful osso bucco d'agnello with house-made pappardelle I've had outside Italy, chef Enzo Febbraro prevailed, and out came the sweets. His cassata Siciliana is not of the sponge variety I recall so fondly from my trip to Sicily; the base is a raspberry gelato, topped with meringue sorbet and frozen nougat, which is refreshingly different, but simply not my style. However, I have a soft spot for rum-soaked desserts: Tortuga rum cake, baba au rhum ... Oh, yes. And Febbraro's baba au rhum is quite the specimen—tender sponge drenched in rum, swimming in a pool of crème anglaise and topped with dense, real whipped cream and brandied cherries. Does it seem to be looking at you? Yes. But I bet you'll blink first.