What are the best restaurants in Las Vegas?
Answers from Our Experts (4)
I enjoy going to Honey Pig, which is a Korean restaurant. For tapas or small plates, I like to go to Jaleo, which is José Andrés' restaurant at The Cosmopolitan. For good, well-presented, delicious French dishes, I like to go to L'Atelier de Joël Robuchon. If I want to eat really, really healthy, I go to Go Raw, which is tucked away in the Lakes. There's nothing cooked there; everything is just raw food, and it's really good for you.

It depends what I'm in the mood for, too. For ramen noodles, I go to a place called Monta in Chinatown. That's all they serve. You're in and out of there within a half an hour usually, and it does the job. It's really good. For Chinese food, I tend to go to a place called China Mama on Jones right off of Spring Mound. It doesn't have a liquor license, but it has killer food — really interesting stuff that's not what Americans expect to get. It's not chow mein. It's Szechuan fish cooked in a chili paste that's just going to make your lips sweat, but it's so good. Those are the kind of places that I enjoy.

Le Thai, as far as eating in a restaurant downtown, is doing a great job, too. It's small. Not a lot of money has been spent on the décor, but the food is killer, and it's a good menu.
One of the best things about Las Vegas is the culinary scene. So many world-renowned chefs have restaurants in the city, it's really hard to pick my favorite. If I have to choose, I would have to go with Joël Robuchon at MGM Grand, the namesake restaurant from the chef of the century, and Vintner Grill, a bistro-style restaurant located in Summerlin that offers a delicious contemporary American menu and indoor and outdoor dining.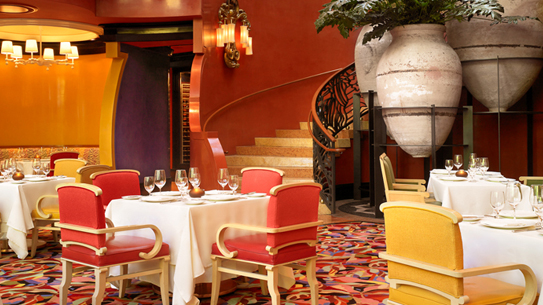 Bartolotta Ristorante di Mare. Photo: Wynn Las Vegas
Picking out the best restaurants in Vegas is like choosing a favorite child — impossible. But for the sake of argument, here are three that will never disappoint.

For fresh seafood flown in daily from the Mediterranean, try Bartolotta Ristorante di Mare at Wynn Las Vegas. The star of chef Paul Bartolotta's menu is his langoustines, sourced from an obscure island not found on any map off the coast of Italy. Even the boxes that bring the exquisite seafood are removed of any identifying marks to keep the location top secret.

French chef Guy Savoy's only restaurant in the United States sits on the second floor of Caesars Palace. The newest innovation at Restaurant Guy Savoy? The Krug Room, a private dining room for up to six people serving up to 13 courses paired with Krug Champagnes. The artichoke and black truffle soup is a must-order here.

Head to Aria for Shawn McClain's Sage and its ever-changing New American fare. Aside from mixologists behind the bar who can pair drinks with dishes and an absinthe cart, the foie gras custard brûlée has quickly become the dish to try here. Find blood orange, cocoa nibs and salted brioche in this savory combination.
Referring to something as the "best" is a tricky when it comes to restaurants. Dining out is one of the most subjective activities to participate in. Most everyone does it, yet everyone's opinion is different. So rather than pick the "best" in Las Vegas in terms of critics darlings or most popular, there's room to call out those restaurants that do good work every day and consistently.

Every hardcore foodie knows that a meal at Joel Robuchon at MGM Grand is life changing, the artichoke and black truffle soup at Restaurant Guy Savoy at Caesars Palace is transcendent and that Alain Ducasse's MIX atop Mandalay Bay sports both a beautiful room and a breakthtaking view.

But not every knows that Jean Georges Steakhouse at Aria Las Vegas has one of the best beef programs on the Strip. They specialize in sourcing some of the finest, humanely raised beef available from the US and Austraila. It was one of the first restaurants to bring in true Wagyu once the embargo on Japanese beef was lifted.

And not everyone knows that Kabuto, located off of Spring Mountain in Chinatown is hands down the best Japanese omakase experience in town. The chefs prepare each piece of sushi, made from fish that comes weekly straight from Tsukiji market in Japan, at the counter, and place it in front of you to eat.

Or that there are chefs who go above and beyond what Las Vegas visitors and diners expect, such as Brian Howard of David Myers' Comme Ca at The Cosmopolitan. While executing Chef Myers' already well-thought brasserie menu at Comme Ca, Howard branches out to with a nightly specials program that runs the gamut from wild game menus to offal nights to a good old fashioned fried chicken platter.