What are the best spas in Las Vegas?
Answers from Our Experts (3)
Las Vegas is filled with luxurious offerings and breathtaking experiences. Many of these niceties can be found in the city's Forbes Travel Guide Five-Star spas. Located in CityCenter on the eighth floor of the Forbes Travel Guide Five-Star Mandarin Oriental, Las Vegas, The Spa at Mandarin Oriental Las Vegas is a serene sanctuary (upon arrival you'll be given a cup of green tea). Guests will appreciate the relaxation lounges with Strip vistas, vitality pool, laconium, 17 treatment rooms and more. We recommend unwinding with one of the spa's signature treatments such as the Oriental Harmony where two therapists work on your body from head-to-toe. Head a little further south on the Strip and you'll find The Spa at Four Seasons Hotel Las Vegas. With a focus on skin hydration and anti-aging treatments, this haven exudes state-of-the-art services. The spa's 14k Gold Sugar Scrub will leave the skin extra soft and glowing, and the staff's attention to detail lets guests know that they care. (Don't be surprised when you find a note left for you at the checkout counter with product suggestions from your therapist.) Booking an appointment at The Spa at Wynn Las Vegas will not disappoint. The newly renovated 45,000-square-foot retreat is the brainchild of interior designer (and resort executive vice president of design) Roger Thomas. Apricot and neutral hues can be found throughout the spa's 45 updated treatment rooms. You'll also find a coed lounge area with skylight, 15,000 veneer Capiz shells used as wall treatments in the spa court and five life-size golden body panels created by Christopher Guy on the walls near the lobby. Take a stroll through the Forbes Travel Guide Four-Star Wynn Las Vegas resort and guests will end up at the Forbes Travel Guide Four-Star Encore Las Vegas. Then, take the pool elevator to the fourth floor (or press the "Spa Level" button) and that's where you'll find the Forbes Travel Guide Five-Star The Spa at Encore Las Vegas. The 61,000-square-foot spa includes 51 treatment rooms for massages, facials and hydrotherapy. Our favorite services include the Moroccan Mud Wrap and the Dragon Youth Body Treatment and Facial. For more outstanding spa experiences, turn to the Forbes Travel Guide Four-Star properties, which include Spa Mio, Spa Bellagio, The Spa at Trump Las Vegas, Canyon Ranch SpaClub at The Venetian & The Palazzo, and The Spa & Salon at ARIA.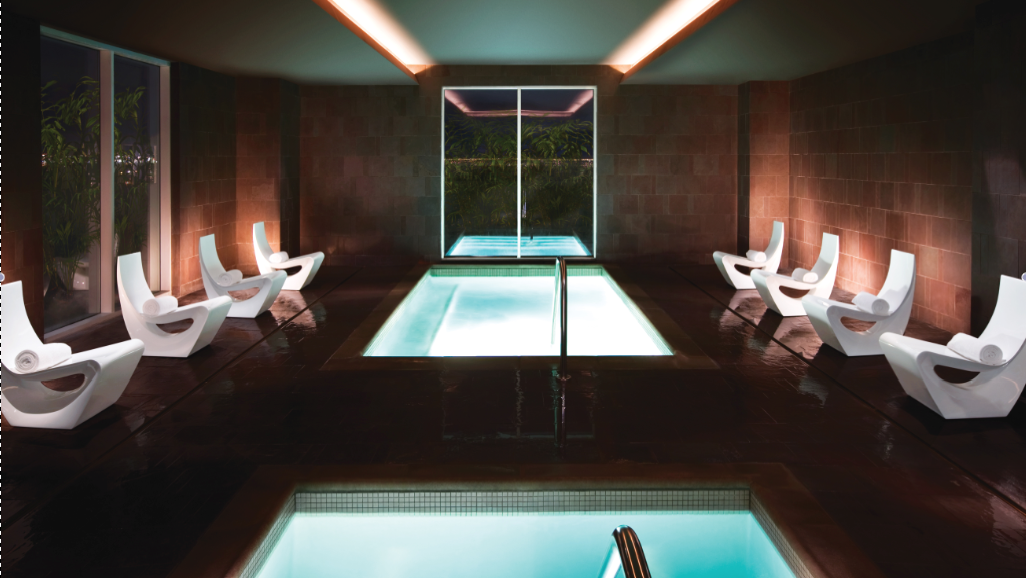 We should all treat ourselves more often. That's the conclusion I always come to after a visit to the Palms Place's Drift Spa & Hammam. It starts with check in in the reception area, purveyor of all things good-smelling: candles, incense and such. My shoulders immediately drop as an attendant shows me to my locker, and outfits me with a soft robe, slippers and towel. The locker rom has showers, restrooms, dressing areas and vanities thoughtfully stocked with amenities.

I always arrive early for my deep-tissue massages (writers often have trouble with our rotator cuffs, hips and lower backs, not to mention the stress) so that I can take advantage of the quiet area. A little lounge offers curtained chaises, a kettle with herbal tea options, trail mix and fresh fruit, a fridge filled with cold juice and water, all the women's magazines you could desire and a flat screen TV usually tuned to a film or show of the romantic comedy variety. I believe the last time I visited, Sex & The City was on.

When it's appointment time, the therapist scoops you up from here. And when the bliss is over, she drops you back here. I like to hydrate and grab a couple of magazines, then head to the wet areas: wet and dry sauna, hot tub, plunge pool and chaises with ice cold water, frozen towels and cucumbers for your eyes. The room faces directly west, so afternoons and sunsets are beautiful from this room. I make a few circuits from hot tub to saunas to plunge pool and back. The facilities are very clean and modern, and well attended with plenty of fresh towels and a helpful staff. Guests slip under that spell, too, and are very respectful of each other's space and vibe.

Of course, I have no idea what's going on over in the men's side of the spa—it could be a wild frat party over there! But I doubt it. Ommmmmm.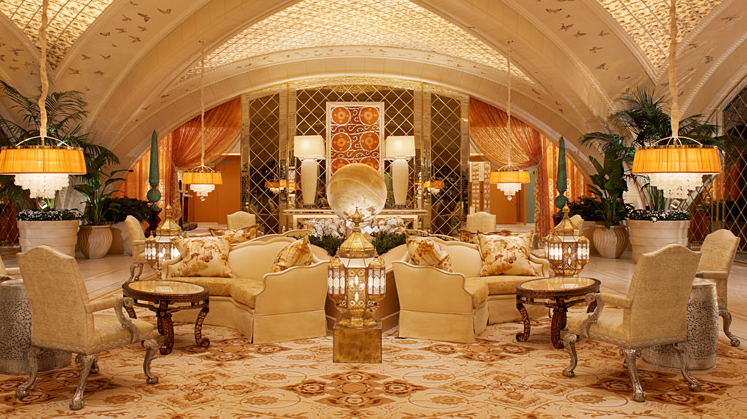 Spa at Encore. Photo: Wynn Las Vegas
Just relax. Just because Las Vegas is filled with so much to do doesn't mean you can't get away from the hubbub for a moment to relax. Here's a look at three spas that deliver with excellent treatments.

Change your mindset to 1930s Shanghai at The Spa at Mandarin Oriental, where the treatments have roots in Asian medicine. Here at the Forbes Travel Guide Five Star spa, the Chinese foot spa delivers a bath infused with herbal blends, while a hammam, laconium, experience showers and more round out some of the decadent treats found here.

The Spa at Encore has products and treatments from Ling, a product line that seems to defy age. Look for treatments such as the Moroccan Mud Wrap and the Shirodhara renewal for a Forbes Travel Guide Five Star experience.

Forbes Travel Guide Four Star spa Canyon Ranch SpaClub sprawls across the third floors of the Venetian and Palazzo. Get there early to try the Aquavana, a European-inspired aquathermal oasis complete with the Igloo and its snow, the HydroSpa with its heated loungers, the Herbal Laconium with herbal-infused steam and the Experiential Rains with multisensory cooling showers.