What are the five best free things to do in Las Vegas?
Answers from Our Experts (2)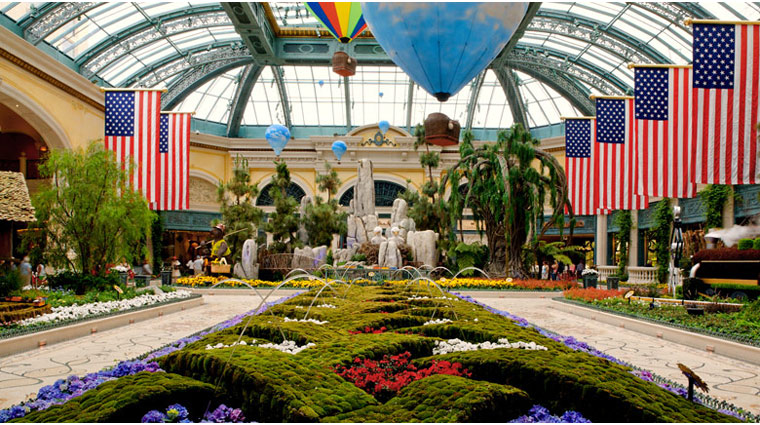 ©MGMResortsIntl
While you may vacation in Las Vegas in hopes of winning big at the casino, you should have a contingency plan just in case you get hit with bad luck at the roulette wheel. Luckily, Sin City offers a slew of free attractions. You have nothing to lose by venturing out to see water shows like the Volcano or Fountains of Bellagio. The Bellagio Conservatory and Botanical Gardens and the lion cage at MGM Grand are all great complimentary attractions in a city where losing money is a pretty common occurrence.

1. The Volcano. For nearly two decades, the Volcano at the Mirage burbled and spewed its innards onto the surrounding lake with the help of some fancy lighting and special effects. It went dormant in February 2007, but after a renovation by WET Design, the Volcano is erupting yet again, this time with music to match. Thanks to the combined efforts of Grateful Dead drummer Mickey Hart and Indian tabla virtuoso Zakir Hussain, the Volcano impresses Strip passersby with an exclusive soundtrack to match the erupting rhythms, soaring fireballs and fiery lava.

2. Sirens of TI. Stand your ground on the sidewalk early for the Sirens of TI show, because it fills up quickly. This battle between buff young pirates and barely clad sirens takes place in the lake in front of TI on the Strip. There are powerful pyrotechnics, amazing acrobatics and nearly 12 minutes of dialogue.

3. Bellagio Conservatory and Botanical Gardens. Picture an organic art museum, where the displays are made of flowers, shrubs, plants and trees, and change with the seasons. The Bellagio Conservatory and Botanical Gardens does just that, and it's even more beautiful than it sounds. The 13,500-square-foot palatial setting, located across from the resort's lobby, is home to five alternating displays throughout the year, with themes that include the holidays, Chinese New Year, spring, summer and fall. On average, each display consists of 40 trees, 1,500 shrubs and 10,000 blooming plants. Considering that the hotel spends $8 million annually on the conservatory, this free attraction is a jackpot all around.

4. Lake Bellagio. Romance is anything but watered down at Lake Bellagio, as water, music and light meld together in an aquatic ballet. The water echoes human motion seen in dance, swaying while spraying more than 460 feet into the air. The jets' moves are perfectly choreographed to music, with scores from Broadway, the classics and more. If you can't snag a prime place along the Lake Bellagio railing, head across the street to Paris for an equally stellar view.

5. MGM Grand lions. For those who prefer to live on the wild side, visit the lions at MGM Grand. An Asian good-luck symbol, lions have made a home at MGM Grand for years, frolicking in their own expansive habitat, just a few feet from the slots. The multi-level dwelling hosts a handful of lions, and there's a translucent tunnel that makes you feel as though you're in with the beasts.
This might seem a little corny, but when you're in Las Vegas, you should definitely take a picture in front of the Welcome to Fabulous Las Vegas sign. Depending on when you go, the line could be long but don't fear. Everyone waiting for a photo opp is there for the same reason — to say they've been to Sin City. When I went with my sorority sister who was visiting, a guy behind us in line snapped a couple of shots of us posing in front of the sign. When we were done, he then asked if we'd take pictures of him and his family. One favor for another, right? Yup. This is one free landmark you won't want to miss out on. Say cheese!