What are the best Las Vegas food experiences?
Answers from Our Experts (2)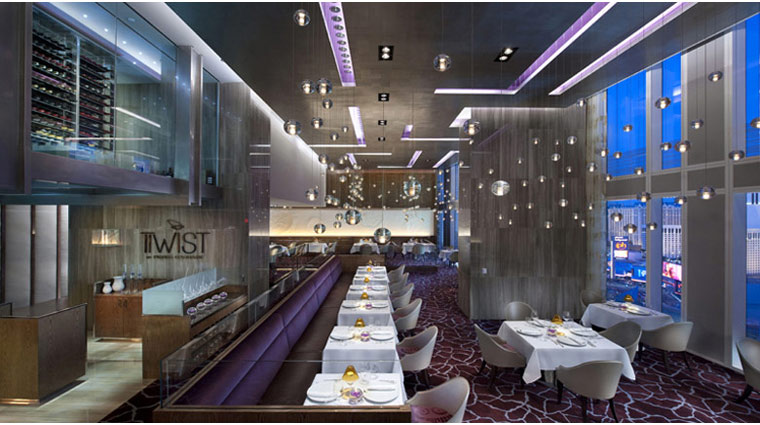 ©MandarinOrientalLasVegas
Las Vegas has burst onto the culinary scene with a slew of elite dining experiences that would give any major metropolitan area a run for its money. Internationally renowned chefs such as Guy Savoy, Joël Robuchon, Michael Mina and Alessandro Stratta opened restaurants here, and Pierre Gagnaire's Twist is his first U.S. venture. Bring your taste buds to these five best Las Vegas food experiences:

1. Guy Savoy. Located in the Augustus Tower of Caesars Palace, Guy Savoy's only American venture is quiet, cool and sophisticated. Run by Guy's son Franck, you can be assured that you'll get the same quality treatment and meal here that you would at the original Guy Savoy in Paris — minus the Eiffel Tower view. Two tasting menus (one 10-course and one four-course) are available, and both offer Savoy's signature dish of artichoke and black truffle soup, a divine concoction served with toasted mushroom brioche and earthy truffle butter.

2. Joël Robuchon. One of the world's greatest chefs, Joël Robuchon has come to epitomize fine French cuisine. The intimate dining room is regal, from the black-and-white-tiled entryway to the chandelier in the middle of the room. The 16-course tasting menu will set you back a cool $385, but it's worth it. What makes his food so special is the innovative ways he shows his respect for ingredients.

3. Twist. Following in the footsteps of fellow legendary French chefs Joël Robuchon, Guy Savoy and Alain Ducasse, Pierre Gagnaire opened Twist as his first stateside foray. Located on the 23rd floor of the opulent Mandarin Oriental, Las Vegas, Twist offers views from its 20-foot-high windows that are as noteworthy as the chef. Don't-miss dishes include chicken chiffonade with three kinds of tender gnocchi, as well as the signature langoustine five ways. Close with the Grand Dessert Pierre Gagnaire, a twist on traditional French pastries and a meal unto itself.

4. Michael Mina. Tucked behind Bellagio's stunning Conservatory, Michael Mina feels like a nice little secret. The restaurant is the perfect storm of design and cuisine, from its chic décor with floor-to-ceiling blond wood shelves to its innovative menu and equally sleek wine collection. Michael Mina, one of the few restaurants on the Strip that does a vegetarian tasting menu, is well-known for its tasting trios, which feature a singular product presented three different ways, ideal for those who want to expand their palates.
And now for something completely different. If you're ready for a little off-Strip adventure, head to locals favorite Gaetanto's Ristorante in Henderson for a bourbon-tasting dinner you will certainly remember. Wait—bourbon paired with Italian food? Yes. Long story short, this is a family-owned-and-operated neighborhood Italian restaurant, the kind of haunt where couples have a standing reservation and their favorite drink hits the bar the moment they appear in the doorway. One of the owners' sons is a bourbon aficionado of the highest degree (his personal collection is very impressive). So in late 2012, he started holding bourbon dinners at the restaurant, roughly quarterly, and tickets to both dinners—so far, the Wild Turkey family of whiskies and Beam's Small Batch Bourbon Collection—have sold out fast. "But," you might be thinking, "this isn't a fancy celebrity restaurant in a casino on the world-famous Las Vegas Strip!" Exactly. At Nick Palmeri's bourbon dinners, you get to meet and dine with distillers or top brand reps, who happily move from table to table explaining the spirit or cocktail presented with each course. And then there's the food itself. Gaetano's has a distinct old-world charm. That extends to the evening's special pairing menus, where the whiskey is actually often incorporated into the dish, say, in a sauce, dressing or crouton. So don't worry about whether Italian food makes sense with bourbon. If only sensible things were delicious, there would be no room in this world for the Twinkie. And we all know how people feel about that. Gaetano's Ristorante, 10271 S. Eastern Ave., Suite 111, Henderson, call 702-361-1661 to inquire about the next scheduled dinner, GaetanosLasVegas.com.