What are the five best romantic restaurants in Las Vegas?
Answers from Our Experts (1)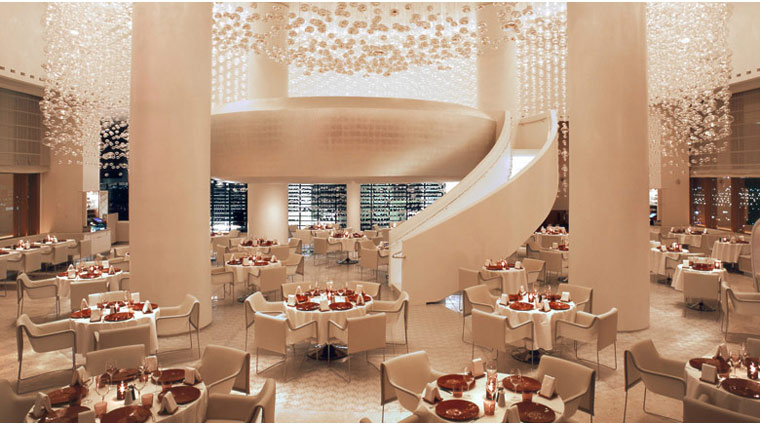 ©MandalayBay
Unlike other cities, some of the most romantic restaurants in Las Vegas are quite vibrant rather than moody and dark. In other words, they don't compromise the city's general feel. Le Cirque and Mix, as well as Picasso decorated with — you guessed it — art by the legendary painter, fit the bill. The Eiffel Tower Restaurant overlooks the Strip and evokes the great building itself, and Aureole enlists a Cirque du Soleil-like waitstaff.

1. Eiffel Tower Restaurant. Chef Joho has done it again at the Eiffel Tower Restaurant at Paris Las Vegas. By that, we mean he's cooking his impeccable fresh cuisine just above the 11th floor of the Paris Las Vegas's Eiffel Tower replica. If its name doesn't give it away, the restaurant oozes with romantic charm from its spectacular views to the scrumptious dishes such as foie gras with braised Bing cherries and Alsace spice cake.

2. Aureole. When you come to Aureole, come thirsty. The 42-foot steel-and-glass wine tower that greets you at the door holds 10,000 bottles and comes complete with "wine angel stewards," servers who float on wires to snag your bottle of choice from the towers. Charlie Palmer's menu treats fresh-off-the-farm ingredients with elegance and sophistication, evidenced in dishes such as the scallop sandwiches in a crisp potato crust and monkfish osso buco with chanterelles and pork belly-stuffed cabbage.

3. Le Cirque. The original Le Cirque in New York City is legendary because the food is spectacular, and because the service, often led by family patriarch Sirio Maccioni himself, is stellar and welcoming. Le Cirque at Bellagio holds to the same principles. Maccioni's sons run the restaurant to the same exacting standards as its East Coast sibling. In the vibrantly colored, circus-tent-like dining room, expertly executed French cuisine is served.

4. Mix. Alain Ducasse's artful restaurant located atop the Hotel at Mandalay Bay, offers one of the most stunning views of the Strip. Walking into Mix is like entering a modern art museum with its sleek, white décor and enormous chandelier, made of 15,000 hand-blown Murano glass balls. American cuisine is interpreted using contemporary haute French technique, producing dishes such as lobster salad served with a tangy apple and vegetable mosaique, and surf and turf made with halibut and foie gras rather than the standard lobster and steak.

5. Picasso. With its stunning view of the Fountains of Bellagio, Picasso is by far one of the most elegant and awe-inspiring dining rooms in the world — an art-minded romantic couple's dream. And if all the Picassos surrounding you aren't enough, culinary artist Julian Serrano prepares his own masterpieces for you to enjoy. The sublime degustation and prix fixe menus are predominantly French and Spanish influenced, and the wines — with more than 1,500 selections to choose from — are sourced exclusively from European vineyards. The menu changes almost daily based on what's fresh each morning.