What is the weather like right now in Las Vegas?
Answers from Our Experts (1)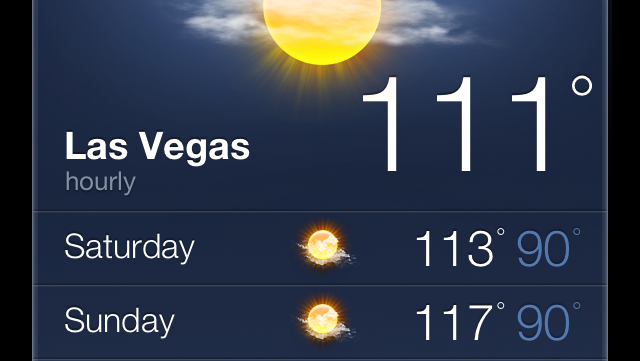 6:45 p.m., June 29, 2013: My iPhone tells me it's 111 degrees, but my skin says it's way hotter. Earlier today, Las Vegas hit a high of 115 degrees, and varying reports have have tomorrow matching or even topping the standing record high of 117 degrees. And it's looking to stay above 112 for some time. While Las Vegas locals are used to triple-digit highs in summer, even we hardy souls begin to wilt under such circumstances. Just walking from the car to the coffee shop, my skin stings, my lungs fill with the hot air, and my contacts crisp, beginning their migration off my eyeballs. Cliché as it is, it's hot!

But the party doesn't stop for heat in the desert! So what's to be done? Do what the Las Vegans do and find a cool place to pass the time hottest hours: movie theaters, shows, casino malls, restaurants ... On the Strip, the communal billiard table on the third floor at the Cosmopolitan sees plenty of action when the mercury soars. Minus5 ice bars, complete with ice couches and cocktail glasses, are more than happy help you keep your cool. The vodka locker at Red Square, too. Downtown, Insert Coin(s) is a dark, air-conditioned place to kill time, pumping quarters into the vintage machines and sipping something cool. Or cozy up to your Kindle at the Beat Coffee House & Records with an icy chai latte and a freshly baked chocolate croissant.

But if you must see daylight for yourself, survival depends on priorities: water, sunscreen, hat, sunglasses. Make shade a requirement, and misters a must. The patio at Estiatorio Milos in the Cosmopolitan are both shaded and misted, improving the already amazing $20.13 lunch. From a seat at the Cosmo's Overlook Grill, you can keep an eye on the pool goings on from the comfort of your indoor table, where brunch is served to the tune of a DJ. And at Wet Republic, you can spend the entire day in the misted, shaded bar, just feet from the DJ—usually a celebrity—and pool. See a gal covered in SPF 75 carrying a parasol? Say hi—it's probably me.