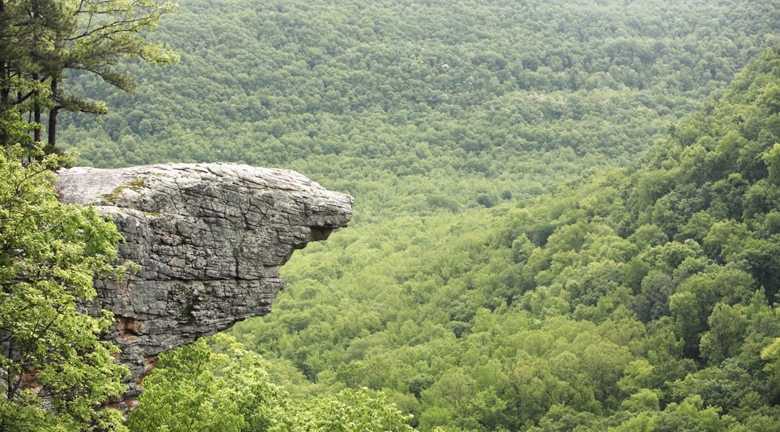 When it comes to the best time to visit Little Rock, we'd have to say that it all depends on what you're looking for.

Autumn is a kind and beautiful time to visit the city. Once known as the City of Trees, Little Rock's flora and fauna capture the essence of autumn. The temperatures are pleasant, still slightly warm with a nice breeze. It's football season, and the Arkansas Razorbacks play twice each fall at the War Memorial Stadium, bringing with them an average 100,000 fans to congregate on the grounds for tailgating. Sports fans would enjoy the festivities. The city celebrates its culinary heritage with the World Cheese Dip Competition in September and the Arkansas Cornbread Festival in November. The Little Rock Zoo kicks up its biggest festival with Boo at the Zoo in October, and there are hundreds of little celebrations here and there throughout the fall.
On October 10, 2012

Forbes Travel Guide Inspector answered the question:

What is Little Rock's restaurant scene like?

Little Rock's restaurant scene is in the process of blossoming. As a generation of chefs inspired by the legendary Jacques and Suzanne's retirement, they're being replaced by the city's New Americana wave. The star of this revival is former New Orleans-based chef Lee Richardson, who came to the city after Hurricane Katrina and who supervised the renovation and reinvigoration of Capital Hotel's Capital Bar and Grill and Ashley's restaurant.

The market itself is one of the most highly restaurant saturated cities of its size in America. There is a strong leaning towards burger joints, Mexican and Mexican-inspired restaurants, and bistro-style cafés in the area, as well as a large number of sushi bars and barbecue joints. So what are you waiting for? Get out there and reserve your table to get a taste of it all.

On October 10, 2012

Forbes Travel Guide Inspector answered the question:

What are the five best Little Rock food experiences?

Little Rock's restaurant scene is just beginning to come into its own. A generation of chefs trained at the famous — and now closed — Jacques and Suzanne's have gone on to create other restaurants of their own. Other great chefs have come to the city, and with the creation of the Arkansas Culinary School five years ago there are new chefs just waiting in the wings for the next series of possibilities.

1. For a purely Arkansas sort of flavor, you must start at Capital Hotel with either Capital Bar and Grill or Ashley's. Both restaurants are under the tutelage and guidance of chef Lee Richardson. Both feature new interpretations of Arkansas and Southern dishes, with ingredients from local farmers and ranchers. Everything from the bacon to the jam is made right in-house, and you can't beat the charming service.

2. For fine dining in West Little Rock, you should try 1620 Restaurant. A place where powerful alliances and lifelong commitments are made, the restaurant is best suited for two-person dining. A mouth-watering series of appetizers will likely start to fill your gullet long before dinner arrives. Order your crêpe when you arrive.

3. For incredible Asian fusion fare, Lilly's Dim Sum Then Some offers amazing inspired creations at reasonable prices. The décor is upscale, the waitstaff well trained and the food tasty. Owner Kathy Webb has created a new standard for other mid-range Arkansas restaurants to achieve.

4. The best Indian fare you may find in the Mid-South may be found at Star of India. Longtime proprietor Sami Lal knows every customer by name, even if you don't visit more than once a decade. The food is handcrafted by dish and worth the wait.

5. For an intimate Italian experience, seek out Ciao downtown on West Seventh Street. The chef will cook your dish to order — that is, if you're not tempted away by gorgeous pasta dishes in impossibly rich sauces. The focaccia setup with its separate dipping ramekins of balsamic-olive reduction and green onion spread shouldn't be missed.

On October 10, 2012

Forbes Travel Guide Inspector answered the question:

Which five Little Rock restaurants are best for brunch?

Little Rock offers plenty of great brunches; there are so many different perspectives on this quintessential American experience. It's impossible to determine one restaurant as being the absolute best — but here are five our Forbes Travel Guide editors think you should try:

1. B-Side in West Little Rock's Market Street Shopping Center. It hasn't been open long, but it's become a local favorite. On the weekends, it's standing-room-only as customers wait for their chance to dine on bacon wrapped French toast on a stick, "breakfast mountain" or beignets with lemon curd. The smoked Gouda grits are impossibly rich and fabulous.

2. Ashley's at Capital Hotel. This charming and sophisticated restaurant offers a comprehensive brunch every Sunday. With items such as shrimp bisque with tarragon cream; fried green tomatoes with goat cheese, pepper jelly and ham hocks; and a spinach and mushroom omelet with mascarpone cheese and potato hash — you can't get much more Southern or inventive.

3. Vieux Carre in Little Rock's Hillcrest District. You'll find Cajun-inspired breakfast classics such as crab cake Benedict, a French Quarter omelet filled with crabmeat and asparagus with brie and savory brunch crêpes here. This wonderful jazz brunch is the closest you'll get to Louisiana on a Sunday morning without hitting the interstate.

4. Victorian Garden in North Little Rock. Here, you'll find Low Country grits topped with shrimp and bacon, quiche and other breakfast favorites served up almost universally with fresh fruit, focusing on reduced-fat options (to go along with some full-fat main dishes). They also serve up Dijon brisket and Victorian chicken at brunch.

5. Forty Two at the Clinton Presidential Center. Go presidential by dining here. You'll find shredded pork fajitas, fresh-made waffles, fresh salads and a carving station are among some of the many rotating items offered in this fine-dining experience. Champagne is on tap and there's a dessert table that will surely impress you.

On October 10, 2012

Forbes Travel Guide Inspector answered the question:

What are the five best romantic restaurants in Little Rock?

Little Rock's most romantic restaurants aren't all that expensive, which makes The Rock a date destination a financially sound idea.

1. Still, if you want to impress your sweetheart with the best, take them to Ashley's at Capital Hotel. This fine dining establishment, re-envisioned and re-opened in 2007, features the creations of chef Lee Richardson and a host of talented cooks. It's southern food at its finest and the dining room is charming, and incredibly romantic.

2. If you like the type of fine dining in which you can watch your chef construct your dinner, you should try Ferneau Restaurant in Little Rock's Hillcrest District. Chef Donnie Ferneau takes delight in entertaining customers with fine Southern-fried fusion cuisine.

3. For a more elegant take on the dining ritual, head to 1620 Restaurant in West Little Rock, where chef Tim Morton will create a signature dish that will dazzle you. Featuring a comprehensive wine list and a delicious selection of small and large steaks, you'll find you'll want to stock up on irresistible appetizers such as the famed cream cheese fritters. If you already know you want to order dessert, order on of the restaurant's famous dessert soufflés — which you'll need to let your server know when you arrive, as they need enough time to bake. You can choose from Grand Marnier or chocolate Jamaican rum; both are serve with St. Cecilia Crème.

4. Lilly's Dim Sum Then Some might not break the bank, but you'll walk out feeling like a million bucks. Kathy Webb's focus on fusing Thai, Chinese, Japanese and Indian food together means you'll enjoy great cold sesame noodles, hot spicy Thai red curry and delightful wontons all in one sitting. It's a perfect spot for a date.

5. And if you're looking for fabulous housemade Italian without dropping a lot of cash, seek out Ciao on West Seventh Street downtown. Two can dine for $30 or less; or if you want to make a big show of it, order the $49 steak with U5 prawns. The desserts are delicate and divine — and come in half sizes if you're watching your weight (or want to try more than one).

On October 10, 2012

Forbes Travel Guide Inspector answered the question:

Where can I go to watch sports in Little Rock?

Little Rock has several great sports venues where you can catch everything from football to tennis. Verizon Arena hosts many of these events. Local and regional basketball is big here, as is rodeo and ice-skating — so you'll find quite a diverse mix depending upon what you're looking for here. But keep in mind, it's not as big of a sports town as other cities that boast many national leagues. So if you're looking for big games, you'll just have to watch them on TV.

Dickey Stephens Ball Park is home to the Arkansas Travelers, the Central Arkansas minor league baseball team.

War Memorial Stadium plays hosts to two Arkansas Razorbacks home football games each year, as well as several high school games and competitions. War Memorial is also home to a world-class tennis complex.

Want to watch the game on TV instead? There are several great locations around the city for that. We suggest local sports bar Zack's Place, with its banks of television monitors, darts area and pool tables. Other great stops include West End Smokehouse and the Oyster Bar.

On October 10, 2012

Forbes Travel Guide Inspector answered the question:

Where are the best places to hear live music in Little Rock?

Little Rock is a mecca for small venue live music. You'll find just about everything you would want to hear within a short radius — so be sure to check out the local music flavor while you're here.

In the River Market there's quite an eclectic mix. Juanita's Mexican Cantina has hosted the like of Henry Rollins, Maroon 5 and Daughtry recently. You'll get your groove on at Stickyz (the venue's full name is Stickyz Rock'n'Roll Chicken Shack), shake to the dance scene at Rumba Revolution and shimmy with the guys on the ivories at Ernie Bigg's and at Willie D's.

The best dance scene has to be Discovery, an LGBT-friendly bar close to downtown. For more classic rock acts, try out West End Smokehouse in west Little Rock. Celtic punk is hot at Hibernia Irish Pub, and there's always some swangin' goin' on at The Electric Cowboy. See, you'll find everything in Little Rock. Just decide what you feel like listening to and head on out.

On October 10, 2012

Forbes Travel Guide Inspector answered the question:

What is the best Little Rock nightlife?

In order to experience the best Little Rock nightlife, you need to head to the River Market. That's where you'll find all the action. The Little Rock River Market District is home to a wide selection of bars, restaurants, museums, shops and dives worth checking out. The music venues are legendary — from the recently relocated Juanita's Mexican Cantina to the down-home groovy tunes at Sticky Fingers, you're going to find what you like on the music scene.

All along the River Market's main drag and President Clinton Avenue, you'll find places like Rumba Revolution, Flying Saucer, Proust, Willy D's Piano Bar and Ernie B's Dueling Piano Bar. Late-night dining can be found at Flying Fish, Bosco's and Sonny Williams Steakhouse.

Our deep secret though is to frequent where the locals go for a good late night burger — and that's Midtown Billiards. The 60-year-old establishment on South Main Street opens at 3 p.m. and closes at 5 a.m. The menu is small but the burger is worth a late night trip. Don't bother counting the calories.

On October 10, 2012

Forbes Travel Guide Inspector answered the question:

What are the best places to stay in Little Rock?

There are several lovely hotels to choose from when staying in Little Rock, depending upon what you're looking for. Keep in mind, Little Rock isn't a large city where there's a hotel on every corner; but the hotels here each add their own unique charm.

For the historic-minded traveler looking for a boutique hotel, check out Capital Hotel. Renovated in 2007, this charming hotel features large, traditionally decorated rooms lavished with details — from a custom mattress created in Arkansas to personalized amenities obtained in the state. You'll feel as if you've been transported to another era (although the hotel is stocked with all the necessary modern touches) just walking into the regal lobby, filled with grand flower arrangements, stained-glass windows and colorful tiled floors. If you're staying here, you must dine at the elegant Ashley's — which not only serves up delicious fare but also exudes Southern charm.

If you're looking for Forbes Travel Guide Four-Star comfort, The Peabody Little Rock is your ideal destination. Featuring the Peabody Dream Rest mattresses from Simmons Beautyrest, beds are comfortable and furnished with high quality linens. Free Wi-Fi is available around the property and you'll want to catch the famed Duck March at least once (after all, this is one unique thing that they're well-known for). And with plenty of business amenities and conference rooms, it's a great place for the business-minded traveler or for large conventions and meetings.

On October 10, 2012

Forbes Travel Guide Inspector answered the question:

What are the five best free things to do in Little Rock?

There are lots of great free things to do in Little Rock that won't put too much of a dent in your wallet. Here's our Forbes Travel Guide editors' list of the five best free things to do in Little Rock:

1. Head over to the Old Statehouse for a step back into history. The former seat of Arkansas government now features rotating exhibits that cover all aspects of the state's political history, from the pain of Reconstruction through the election of then-Governor Bill Clinton to the presidency. A must-see — the inaugural gowns of the First Ladies of Arkansas.

2. The Arkansas Arts Center features the works of Van Gogh, Jackson Pollack, Cezanne, Rembrandt, Reubens and others in a friendly and open series of art galleries.

3. The Heifer Village at Heifer International offers kids and adults the chance to interact with a series of exhibits that celebrate and commemorate the organization's history and work and also examine the ways global hunger and poverty can be eliminated.

4. You can walk on the world's longest pedestrian-intended bridge not far from downtown. The Big Dam Bridge sits on and over Murray Lock and Dam on the Arkansas River just a short distance west of Rebsamen Park. Take in the lovely sights as you walk across.

5. Visit the Witt Stephens Jr. Central Arkansas Nature Center in the River Market for opportunities to learn more about the ecology of the varied types of terrain in Arkansas, from the rolling Ouachita Mountains to Ozark peaks to the sprawling Delta.

On October 10, 2012

Forbes Travel Guide Inspector answered the question:

What are the five best things to do on a romantic trip to Little Rock?

Looking for suggestions on where to take someone on a romantic trip to Little Rock? Look no further.
Our Forbes Travel Guide editors suggest an evening of entertainment.

1. For that, you should check out what's playing at Murray's Dinner Playhouse. The decades old Little Rock landmark serves up a fine dining buffet with a side order of hilarity, hosting some of the best dinner theater in the region.

2. The finest dining you'll find that both reflects good taste and Arkansas flavor can be found at the charming Ashley's. This laudable restaurant inside the Capital Hotel features the stylings of chef Lee Richardson and his team of chefs. Everything from the bacon to the grits is constructed in-house, and you won't find a better example of Southern cooking around. You'll want to dress up, though — it's a lovely dining experience.

3. The Rep is Little Rock's great playhouse. Featuring a half in-the-round design set over three stories, you'll feel as if you're attending a private showing from almost any seat.

4. If you're the athletic sort, take your sweetheart out on a bike ride to the Big Dam Bridge. At night, hundreds of LED lights flash brilliant colors out over the surface of the Arkansas River for hours on end. You'll get in some exercise and take in some beautiful views.

5. If you love fine art, you should catch a Friday Art Walk in North Little Rock's Argenta District. The artists themselves come down to chat, sketch and create every Friday evening, come rain or shine. Make a night out of it, and head to dinner at Ashley's afterward.
Next