What are the best bars in London?
Answers from Our Experts (8)
I live very close to Belgraves, and in that area, there's a severe lack of somewhere you can go, sit on a huge sofa, meet friends, grab a bottle of wine and have a few snacks. So I often actually go to Belgraves — the lounge bar there.

I think The Connaught's great. Claridge's as well, which is one of London's great hotels and has a great bar. In Soho, there's a place called Randal & Aubin, and it's a really cool. It's an oyster bar, and they open up all their windows onto Brewer Street all day long. You can go there in the early evening, have some drinks and go have a dinner looking out onto Soho.
[Aside from The Connaught Bar], the best bars in London depend on what you're looking for. The Artesian Bar at The Langham Hotel; they use a lot of creativity as well; they're very funky. Montgomery Place is a small bar in Notting Hill where I was working previously before coming to The Connaught, and it is amazing with its music, fantastic cocktails and great bar food as well. Also there is The Nightjar, which is a jazz club with live music and they do experimental cocktails — it's very interesting.
The bar at Claridge's is perfect. It's not trying too hard to be cool, but it's luxurious and gorgeous and sexy in a really grown-up kind of way.
London is brimming with fantastic drinking holes, so where does one start? May I introduce you to a handful of personal favourites; North, East, South and West:

North

69 Colebrooke Row – aka The Bar With No Name - what this bar lacks in size, it more than makes up for in quality cocktails. Far beyond your usual Manhattan, expect inventive mixes incorporating seasonal and unique ingredients you've likely never heard of, let alone associated with a cocktail: smoked frankincense, woodland bitters, distilled clay, 'hint of hay'…

Happiness Forgets: 'High End Cocktails, Low Rent Basement' is the strap line for this bar on Hoxton Square, but don't let the 'low rent' bit put you off. It's a dark, bare-bricked intimate space, but cosy all the same - think speakeasy. More importantly, they know their stuff when it comes to cocktail-making.

East

The Zetter Townhouse - Stepping foot inside this award-winning East Central London cocktail lounge is like stumbling into the study of an eccentric explorer, with all manner of curios dotted around, from a taxidermy kangaroo and Victorian dressed cat, to maps, old books and tobacco tins. Expert molecular mixologist Tony Conigliaro is the mastermind behind the original cocktails served up here, with recipes inspired by the area's distillery roots, and bitters, tinctures, herbal remedies and homemade cordials among the ingredients. The warming Byrrh Harvard is a highlight, with the delicate Rose Petal Gimlet following at a close second.

Steeping foot inside Callooh Callay is a bit like venturing down the rabbit hole to Wonderland, without the hallucinogenics and antsy Mad Hatters. This eclectically-decorated gem serves up playful cocktails such as From Nancy With Love and Mary's Magic 8 Ball and a menu of bar snacks. The best lies through the unassuming wardrobe at the end of the main bar, the JubJub Bar – a popular space for private parties and pop-up events.

South

A short stroll from Blackfriar's or Waterloo Bridge, stooping high over the river Thames and South Bank, lies the OXO Tower Bar, the place to head for an evening tipple, when London is in its all-twinkling glory. Lounge back, relax after a day of exploring the city, and take in the view with one of the many Champagnes, cocktails (the location-apt Room With a View perhaps?), whiskies, liquors and locally-brewed beers.

West

Experimental Cocktail Club: A small speakeasy-type bar on Gerrard Street, in the heart of Chinatown. Finding this place can be tricky for first timers, but it's worth the effort. The laid back ambience inside is a complete contrast to the hustle and bustle of nearby Leicester Square, it's like stepping back in time to a glamorous era gone by; perfect for pre-dinner cocktails or a post-theatre nightcap. To guarantee a spot on one of the velvet-clad seats, booking (by email) is essential.

Bar 45 - For tea-infused cocktails in amber and chocolate brown leather surroundings, under the watchful eyes of candid photographs of the A-list, Bar 45 - housed in 45 Park Lane - is a recommended nightspot. Aside from an impressive line-up of signature cocktails - the Earl Grey tea-infused Duke of Earl is a personal favourite - the wine list boasts the largest selection of American bins in the United Kingdom.

Sketch: The Parlour - For an early evening tipple in opulent, theatrical surroundings, The Parlour at London hotspot Sketch is a Mayfair must stop. A great place to grab a light bite or colorful afternoon tea by day, but come 6pm it's all about the cocktails. At 9pm it switches to members only, so you really do need to get there early.

Serving classy martini, long, and sparkling cocktails in equally high end opulence, Beach Blanket Babylon is a bar with personality and, with the fire roaring during this chilly time, a cosy place to head for a drink or two before continuing onwards for dinner in Notting Hill.

Degò – A laidback Italian wine bar, two minutes walk from Oxford Circus. A great little spot to rest up after a hard day's retail therapy, enjoy a glass of wine or champagne, from a large selection of boutique old world wineries, and work your way though one of the hot or cold meat and cheese platters, in stripped back, red and black, contemporary surroundings.
The attraction of Islington as an antiques shopping destination is pretty much evergreen, but the borough's interest as an after-dark hangout waxes and wanes. The recent opening of a handful of craft beer bars have given it a real shot.

Craft Beer Co. probably has the most skilful beer sourcing operation in London—you will find 30 or so on tap at any one time at any of its three London bars. Brews from the likes of Danish cult brewers Mikkeller and Evil Twin are never cheap, but Craft's comfy fireside chairs are just the spot to sample them. Decadent.

The Earl of Essex is a traditional neighbourhood pub with a Cheers-style central bar that got a refit and a small brewery installed in 2012. It gets busy on weekends, but during the week is a great place to sample some of Britain's best traditional beers, alongside rye and wheat beers and occasional intriguing oddballs like ginger ale.

It's a little out of the way, at the northern reaches of Islington, but the meticulously sourced bottle fridge at the Hops and Glory makes for a worthwhile journey. Some of London's most exciting new microbreweries such as Partizan are well represented. The bar only reopened just before Christmas 2012, and you will usually find a spot on one of its clubby, leather sofas if you arrive early.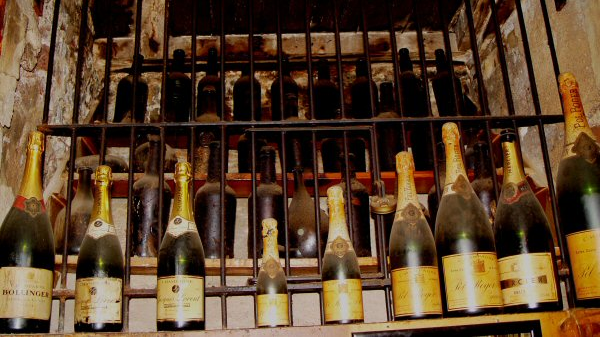 If you went for drinks in a different London bar every evening it would be years before you had to visit to the same place twice. But when it comes to choosing the best bars in the capital, it all depends on what sort of place you're looking for.

The cocktail bar
For a bar to kick off an elegant evening, there's nowhere better than the OXO Tower Bar, with its cool interior, innovative cocktail list and gorgeous views over the Thames and out across London.

The traditional pub
This is by far the most common type of drinking establishment, dating back to the time when there were pubs on practically every street corner. The Holly Bush in Hampstead has been a pub since the early 19th century and it doesn't feel like it's changed much since then. Full of nooks and crannies and beautiful old touches, it's a place to spend an entire afternoon nursing a pint of bitter.

The trendy bar
Dalston is currently one of the coolest places to go out in London, and Dalston Superstore is a great bar to start with if want a taste of this scene. The staff are aloof, there's sometimes dancing to be had, and the sight of pretty people wearing ridiculous clothes is just about guaranteed.

The wine bar
Gordon's Wine Bar (pictured) is thought to be the oldest in London and has existed in its present location since 1890. You can drink surrounded by ancient memorabilia beneath crumbling vaults or on the terrace outside. It's always very busy, so anyone seeking a table needs to be both patient and quick as lightening. If you get peckish, they serve excellent cheese platters and cold plates as well as some hot food.
London has a bar for every mood. Here is my guide to where to go when.

Feeling lazy
Take a seat by the crackling fire in the Three Kings in Clerkenwell and order real ales and hearty pub grub. This traditional pub may be comfy, but it's certainly not dull - kitsch bric a brac and an ancient jukebox make the decor as appealing as the atmosphere.

Feeling glam
Pass through the revolving door of Buddha Bar in Knightsbridge and you'll find an inviting, seductive atmosphere that whispers to you to sit awhile and enjoy a decadent cocktail. Low-lit by bulbs hanging in birdcages, this dark and stylish bar serves up a fine wine list too, not to mention some fantastic snacks and sushi, including truly addictive chilli edamame beans.

Feeling funky
Joe's in Camden can't be beat for a fun night out without the hassle. This 1950s American rock and roll bar attracts a slightly older, more discerning crowd who wash down their hotdogs with cocktails and pack the dancefloor daily until 3am.

Feeling chatty
A quiet pub in central London can be hard to find but thanks to its position tucked away on Ely Place, near Farringdon, Ye Olde Mitre remains delightfully undiscovered - and so makes a great place for proper chat over a proper pint. There's heavyweight history here too - Queen Elizabeth is said to have danced around the cherry tree at the door with Sir Christopher Hatton.

Feeling flush
Relatively few London bars have view out over the city, so those that do can afford to charge prices as sky high as they are. Madison at new development One New Change offers an extensive wine list at fair prices (from £6 a glass) and gorgeous views over St Pauls Cathedral.
You're spoilt for choice when it comes to bars in London. All you need to do is decide what kind of place you're after…

The Traditional British Pub
For those seeking out a real local experience, it's hard to beat The Princess Louise in Holborn; a genuine Victorian public house serving real English ales. Other traditional British boozers include the flowery Churchill Arms in Kensington, the time-honored Mayflower in Rotherhithe and the eccentric Sir Richard Steele in Chalk Farm.

The Historic Cellar Bar
The best subterranean bar in London is surely Gordon's Wine Bar on The Strand – a candlelit cavern with bare brick walls, framed pictures of royal coronations and fine wine served straight from the barrel. But an honorable mention also has to go to the wonderful Worship Street Whistling Shop in Shoreditch.

The Chic Cocktail Joint
Although a decade old, the hippest cocktail bar in the capital remains Soho's Milk & Honey – a speakeasy-style member's bar where the ingredients are fresh and the preparation is painstaking. But pretenders to the throne include the Savoy's Beaufort Bar in Westminster and Callooh Callay in Shoreditch.