What are the best bookstores in London?
Answers from Our Experts (5)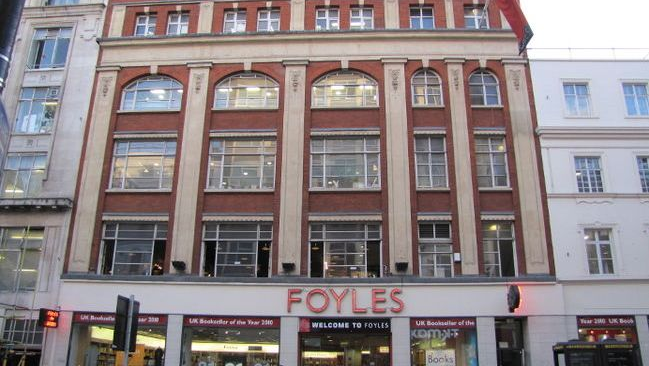 London Review Bookshop, 14 Bury Place, WC1A 2JL: With over 20,000 titles spread over two floors, you'd be hard pushed not to find what you're looking for in this independent store; however, if you're not at all sure where to start, the knowledgeable staff will be sure to guide you in the right direction. Regular readings, talks and debates from visiting literary talents and the on site cafe, to re-energise you after all that browsing, are two more reasons why this store is worthy of your attention.

Foyles, 113-119 Charing Cross Road, WC2H 0EB: Foyles' five-floor flagship on Charing Cross Road opened its doors in 1906 and is still considered one of London's finest, with a UK National & Children's Bookseller of the Year 2012 accolade to boot. Over 200,000 titles, as well as magazines, stationary, DVDs, CDs, a gallery and café to explore.

Waterstones: An award-winning high street chain with many outposts dotted around the city, and a great selection of fiction and non-fiction, staff recommendations, and special evenings led by visiting authors. Head to the flagship superstore on Piccadilly – one of Europe's biggest - for a gargantuan collection spread over six floors.
If you are looking for the latest bestseller, there are dozens of very good chain book shops to explore in London. But if you're after something a little more niche, try one of these three.

Stanfords
One of the largest travel bookshops in the world, Stanfords is the place to come to browse literally thousands of different travel guides on every conceivable destination, along with travelogues and narratives, travel fiction, maps and atlases, and travel-related accessories and gifts. It also houses a lovely coffee shop, so it's the perfect place to pop in for a quick read during a visit to Covent Garden.

Bookmarks
Billing itself as a 'socialist bookshop', Bookmarks sells a wide variety of published works, from dusty tomes on Marxist philosophy to recent releases on the Occupy Protest movement – plus everything in between. So whether you want to know about the economy, the Israel-Palestine conflict or the LGBT movement, take a trip to this Bloomsbury Street landmark.

Daunts
Another specialist travel bookshop – though it also sells everything from classic fiction to regional cookbooks – Daunts is housed in a magnificent 19th century Edwardian building on Marylebone High Street. The large glass roof allows the sun to illuminate the lines of oak shelving, giving the independent bookshop the feeling of an academic library, but without the stuffiness. Expect warm service and smiling advice.

London has had two centers of bookselling and publishing operations within living memory. The buildings around St. Paul's Cathedral were stacked floor-to-ceiling with books and manuscripts ... until they were destroyed in World War II, notably on the night of the Second Great Fire of London in December 1940. Bookselling HQ relocated to Charing Cross Road after the war, and you can still see signs of old-school dealers along the stretches just north and just south of Cambridge Circus. It's here (at no. 113) you'll find Foyles, which probably has central London's best range of books in both fiction and nonfiction genres. If they don't have it, they can probably get it for you — and quickly.

Another favorite mini-chain is Daunt Books, which has branches in some of London's most genteel neighborhoods, including Marylebone and opposite the Heath (and around the corner from poet Keats' former home) in Hampstead. The two-story oak gallery in the Marylebone branch is like shopping on an Edwardian film set. Daunt's booksellers are genuinely knowledgeable. I especially like the way they arrange their travel section, shelved by country with fiction, nonfiction and guides thrown in together.

For anything travel or map related, Stanfords has London's widest range.
If you're looking for a book in London, the centre of town is a pretty good place to start. There you'll find Waterstones Piccadilly and Foyles (Charing Cross Road), both of which claim to be the biggest bookstore in Europe. Between them they stock over 350,000 titles, covering all manner of specialist subject areas. Waterstones alone has eight and a half miles of shelving.

Both have also got nice watering holes too, hidden away on upper floors. 5th View at Waterstones serves breakfast, lunch, dinner and afternoon tea, as well as a range of tasty cocktails. The café at Foyles, meanwhile, is a great spot for a sandwich or a coffee. It's got free wi-fi too.

Another good central London option is Daunts, which occupies a beautiful Edwardian bookshop on Marylebone High Street. This is the place to come if you're after a travel book or map – they've got a huge range, plus fiction, non-fiction, crime, etc. It's a very civilised place to go shopping.
Nobody told London that the bookstore was a dying breed. The city is still home to numerous shops selling books both generally and on specific subjects. Here are my top picks for the best:

Stanfords:
This is THE place to come to for travel books. Guidebooks focused on every corner of the globe fill the shelves, along with travel narratives and a massive collection of maps that you could get lost in for days. There's also a cafe here and the location in the heart of Covent Garden makes it a popular place to pop in and browse. Talks on all things travel take place some evenings too.

Foyles:
Ever the generalist, Foyles has been selling books of all shapes and sizes from its Charing Cross Road branch for as long as anyone can remember. This is a place to linger and explore, with books on everything from astronomy to zoology. There are also newer branches at St Pancras, Royal Festival Hall, Westfield Stratford City and Westfield White City too.

Grant & Cutler:
Need something in a language other than English? This foreign language bookshop stocks the UK's largest selection of non-English tomes and although it specialises in the major Western European languages and Russian they also pride themselves on covering all living languages, from Afrikaans to Zulu.

London Review Bookshop:
You won't find just any old book here, only those specially selected by the London Review of Books. It makes for an inspiring selection, running the gamut from politics and current affairs to poetry and philosophy. Browse awhile and stop for tea and cakes in the small cafe.