What are the best hotels in London?
Answers from Our Experts (5)
You will find some of the world's best hotels in London. After all, there's a reason Forbes Travel Guide chose the city to be its first star-rated destination in Europe. If you are visiting London, stay in one of our Forbes Travel Guide Five-Star hotels.

Most of them are located in the tony Mayfair neighborhood. Try to reserve one of The Dorchester's gorgeous suites — The Harlequin was a favorite of actress Elizabeth Taylor's. The storied hotel's rooms are undergoing renovations that will bring a new dose of glamour, with a striking platinum color palette that whispers luxury. Across the way is 45 Park Lane, The Dorchester's sister property. Inside 45 Park Lane, you'll see art-deco splendor, but the rooms are ultra-modern, with iPads, cordless touch-screen phones and Bang & Olufsen TVs in the bedroom. Not only is Four Seasons Hotel Park Lane a Five-Star property, it has a Five-Star spa. It also offers one of the best amenities for travelers: a 10th-floor arrival lounge with great views of Big Ben and the London Eye as well as showers, in case you arrive early and want to freshen up before check-in. The Mayfair hotel Claridge's showcases its art-deco heritage in its stunning Foyer restaurant, with its arched doorways and elaborate silver screens. The guest rooms have the same look, but if you want something different, book one of the suites designed by Diane von Furstenberg. Also in the tony Mayfair area is the Five-Star hotel The Connaught, which has hosted some of London's most prominent guests since 1815.

The Savoy, located in Convent Garden, is one of the most iconic of the Five-Star hotels. Learn more about its storied past at its onsite Savoy Museum. An important part of that past is its American Bar. A number of famous cocktails, like the dry martini, were created at that very bar.

Another iconic hotel, The Goring is moments from Buckingham Palace and Westminister. The posh rooms and suites have hosted members of the British Royal family multiple times over its 100-year history for royal weddings and coronations, making it a stay fit for a king.

If you make Knightsbridge your base, try The Lanesborough, a St. Regis Hotel. The luxurious hotel caters to business travelers — every room comes with a Sony Vaio laptop and personalized business cards — but it has amenities everyone can appreciate, including a guests-and-members-only outdoor cigar lounge that has the city's largest walk-in humidor.

Just a short drive out of the city, the classically elegant Coworth Park has 240 acres for leisurely walks near Windsor Park, private polo fields and an equestrian center, where guests can take horseback riding lessons and seasoned riders can explore the grounds on their own.

London's very like New York in the sense you can go very uptown or more downtown. A small and quite charming hotel is the Dean Street Townhouse in the middle of Soho. Also, there's The Connaught, one of the most beautiful hotels in London. The Connaught is the opposite of Dean Street, and I would hazard a guess that anyone who liked The Connaught wouldn't really be the type to go to Dean Street — but they should go there for dinner regardless. The Connaught is one of London's original boutique hotels. It's situated in the middle of Mayfair. I go there a lot if I'm meeting people for a drink after work.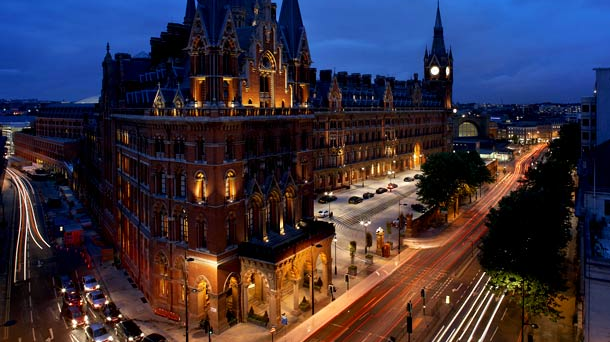 With so many great places to choose from, it can be hard to know where to start with London hotels. Here are three of the best.

The spectacular
When the Midland Grand Hotel opened as part of the new St. Pancras railway terminus in 1873, this masterpiece of Victorian high gothic architecture was the place to stay in the capital. By the 1920s though, the hotel's star had faded and in 1935 it shut down. Fortunately, after years of neglect, the astonishing building reopened as the St Pancras Renaissance London Hotel in 2011 (pictured). The place has been restored to its former glory, with the addition of a fitness centre and luxury spa.
The classic
Top hotels come and go, but Claridge's stands above the rest as London's ultimate luxury accommodation option. Slap bang in the centre of town, it regularly plays host to princesses and pop stars. Gorgeous art deco interiors, four suites designed by Diane von Furstenburg, a Sisley spa and impeccable service make this a must-visit.

The gourmet
When it comes to fine dining at London hotels, it's hard to beat the Mandarin Oriental Hyde Park. Star British chef Heston Blumenthal, founder of The Fat Duck, opened Dinner By Heston Blumenthal here in 2011. The food, inspired by historical British dishes, is some of the most exciting in the capital. The hotel itself isn't too shabby either, with antiques filling the rooms, an award-winning spa and an enviable Knightsbridge location.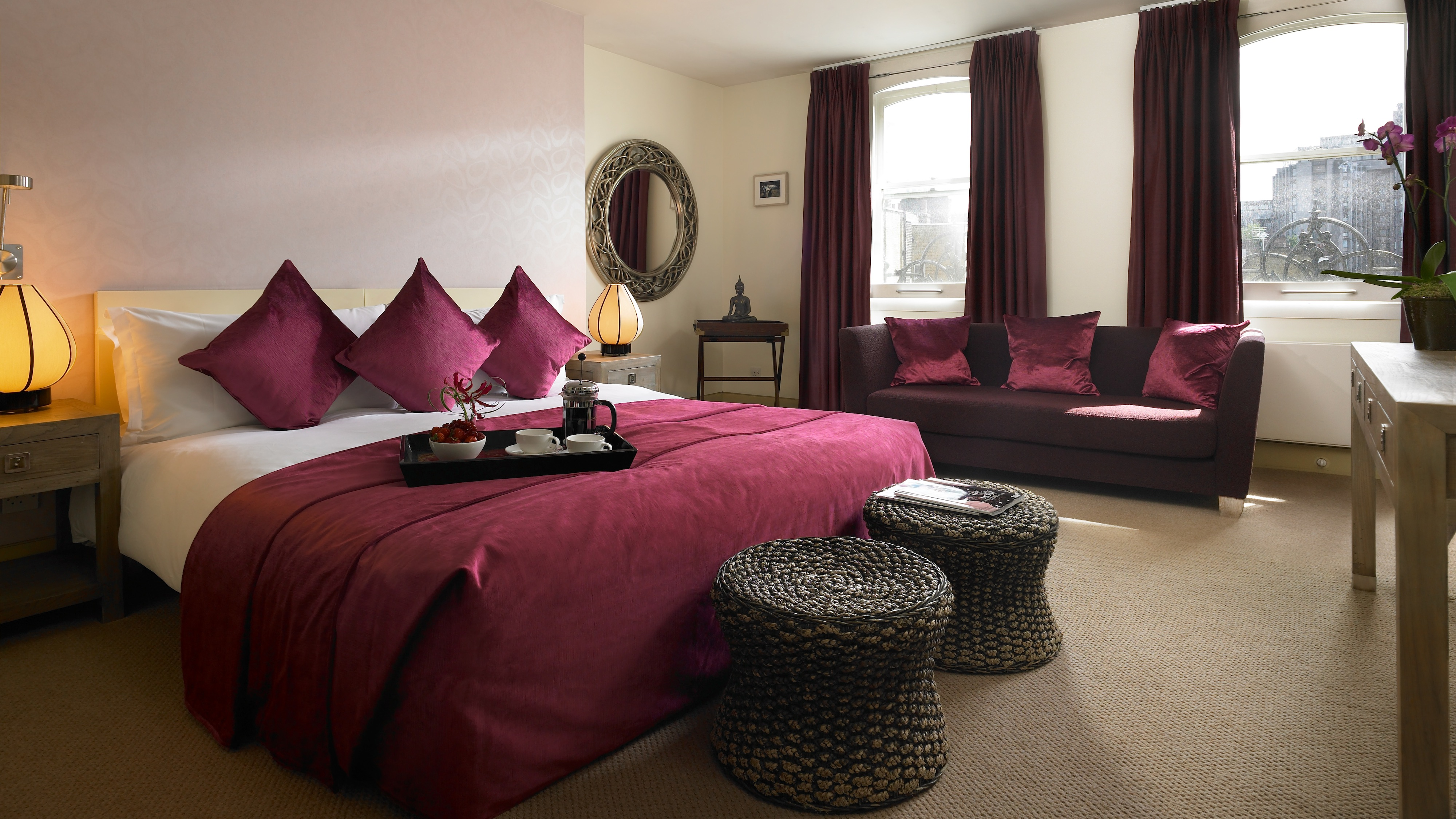 London has hundreds of top-class hotels to choose from and selecting the right one for you is a question of taste. Nothing is more subjective than hotel preference so pick your style from the list below and check in to see if you agree.

Fun and funky
Step into the lobby of MyHotel Bloomsbury and you've arrived. Not just at a cool hotel but also at a buzzing restaurant and a cosy cafe – a real home away from home. Spend the night in your spacious suite before enjoying breakfast as you watch London life passing by the large windows. Then get out among it yourself, using your location just off Tottenham Court Road as an unbeatable base from which to explore.

Old-school British
Located at Hyde Park Corner, the Lanesborough is a hushed palace of British style, where service standards are second to none and discretion is guaranteed. Repeat visits are more than 60% and it's easy to see why - faultless butler service, utterly personal amenities and a restaurant that is as glamorous at breakfast time as it is for dinner. Like staying in a stately home, that feels like it could be yours.

All-out glamour
The recently refurbished Savoy is a lesson in style for a thousand other hotel, marrying the weight of tradition and expectation with a thoroughly modern new look. As soon as you set foot in the lobby you know this is somewhere special. The bedrooms are opulent and showcase the hotel's two main aesthetics: English Edwardian and Art Deco. No two are the same and many have river views. Don't miss a drink in the American Bar which harks back to the cocktail age of the 1920s.

Modern chic
For those who prefer a contemporary feel, Myhotel Chelsea is the perfect destination. This boutique hotel is understated yet luxurious with a sense of fun – check in to the Thai suite and your shower even turns into a steam room. You're just a few minutes walk from the Kings Road, too.

Quirky opulence
There's nowhere quite like the Zetter Townhouse, which styles itself as the home of your eccentric yet indulgent aunt Wilhelmina. Set in two Georgian townhouses the style is all mismatched furniture and quirky design touches – look out for the taxidermy – and the lounge bar is one of the most laidback spaces in London. Try one of the signature cocktails, made with tinctures and bitters you'll have never heard of.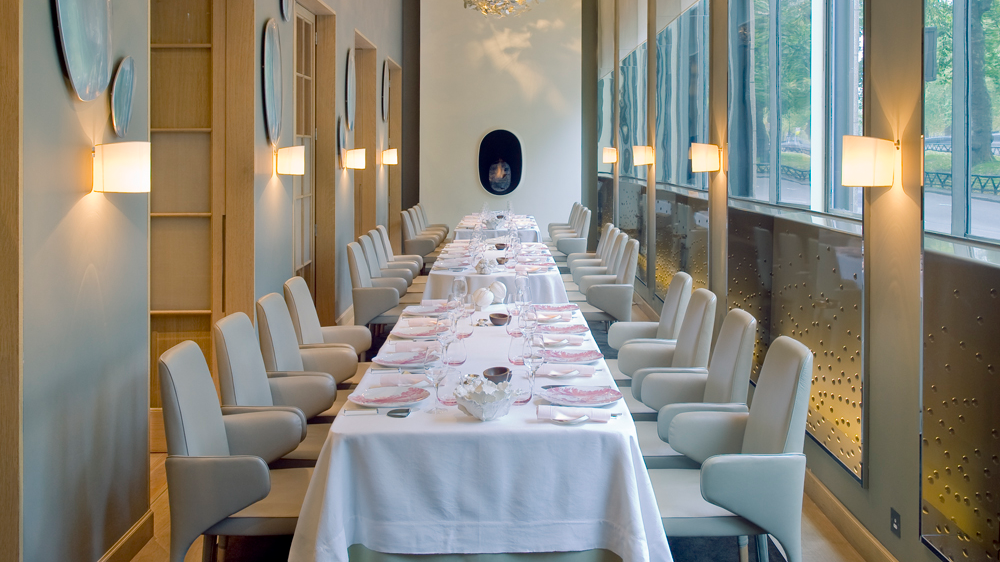 Alain Ducasse at the Dorchester
London is blessed with a multitude of excellent five-star hotels – from grandiose manors to petite boutiques. But for a truly unforgettable stay, you should check into one of these long-standing London landmarks.

The Savoy
Arguably London's most prestigious hotel, The Savoy opened its doors in 1889 and has since played host to everyone from Edward VII to Marilyn Monroe. Its place on the northern bank of the Thames, overlooking Westminster, makes it the perfect check in for tourists, while its spectacular rooms, fine restaurants and unparalleled service ensure that every guest checks out satisfied.

The Dorchester
Designed to be the finest hotel in Europe, the Dorchester is a near-century-old London landmark that boasts some of the most decadent rooms and suites in the city. Located in the heart of Mayfair, on the edge of Hyde Park, it is renowned for its façade of wrought-iron balconies, its striking Art Deco interior and its three-Michelin-starred restaurant, run by Alain Ducasse.

Grosvenor House
Since its grand opening in 1929, Grosvenor House has been a popular choice for royals and celebrities alike. And it's easy to see why. Home to a range of perfectly upholstered suites, award-winning restaurants, contemporary gyms and spas and one of the largest ballrooms in Europe, it's a hotel that continues to dazzle even the most hardened of five-star regulars.