What are the best restaurants in London?
Answers from Our Experts (8)
I really love Morito in Exmouth Market. It's like a Moroccan-Spanish tapas place, which is just phenomenal. It's one of my most regular haunts. Then I'd be remiss if I didn't mention Bruno Loubet at Bistro Bruno; I love his food. That's probably the two main ones I eat at the most.
The Quality Chop House, of course. Our son opened it in November 2012. It's a listed Victorian working-man's dining room that serves great British food, has a wine bar next door, and offers some stonking wines at exceptionally good prices. Spookily, [our son] Will is exactly the same age that his father was when he reopened another historic and much-loved London restaurant, L'Escargot.
Hélène Darroze, which is our restaurant here at The Connaught because once you try it, it's like an addiction. You cannot stop. It's very rich in flavor and has a good blend of French heritage with a touch of Mediterranean. So the food is rich and light and has fantastic flavor, and the restaurant has great service.
London has a dining scene that is second to none with cuisine from every corner of the globe and a restaurant for every occasion. The choice can be overwhelming so here's my pick of the very best.

For a quick bite
You can't beat diner food for speed and convenience and The Diner has the classic American ambience down to a tee. Sit in a booth to order chilli cheese fries and a chocolate shake, or perhaps an all-day breakfast washed down with a craft beer. There are branches in Soho, Covent Garden, Islington, Camden, Shoreditch and Gloucester Road with Spitalfields coming soon.

For a casual pub dinner
English pub food has come on leaps in bounds in recent years but my favourite London pub food remains the Thai menu at Churchill's in Kensington. Packed with flavour, served speedily and costing well under a tenner, the curries and stir fries available here offer unbeatable value – and at this time of year the pub itself couldn't be more pleasant, covered from top to toe in vibrant hanging baskets full of flowers.

For dinner with friends
Tapas is the perfect sharing food, and Camino has a particularly authentic selection. Try the calamari, pata negra ham and patatas bravas, or sample the daily special. The always-packed bar is a great place for drinks too, and serves what is surely the most wide-ranging selection of Spanish wines in the capital.

For a lively night out
La Perla on Maiden Lane is ideally located for Covent Garden and Trafalgar Square. This fun restaurant has delicious Mexican food and a lively up-for-it atmosphere, plus a bar area serving cracking margaritas. The fajitas are a particular favourite — and generously sized.

For date night
Impress your date with lobster – without breaking the bank. At Burger and Lobster in Soho, burger and lobster are the only options on the menu, or you can combine the two on one delicious plate. Fries and a salad come as standard, and the wine list has been chosen specifically to be a perfect match. There's no awkward mathematics with the bill either - it's £20 a head whether you choose the burger or the lobster.

For a truly special occasion
If you can afford to splash the cash, there's no better place than Restaurant Gordon Ramsay in Chelsea. Book far in advance, dress up, order the tasting menu and settle in for several hours of lip-smacking, mind-bending food. There's no wine matching package but there are sommeliers on hand to tailor your drinks to the food you order, and the waiting staff couldn't be more professional.
Barely a week goes by in London without the launch of a hip new restaurant with a top international chef at the helm. This makes for a thrilling dining scene, but it's not always easy to keep up with the pace of change. When venturing into territories new feels too much like hard work, sometimes falling back on old favourites is just the thing. Here are some of mine.

Chinese
Eschew Chinatown's myriad Cantonese restaurants and opt instead for sizzling Sichuan at Barshu. Almost everything is served on a bed of chillies, but don't be afraid, they're the numbing rather than the fiery variety and bring out the subtle flavours of this wonderful cuisine. Ba Shan, across the road, is under the same management.

Vietnamese
On a funky east London high street home to over a dozen Vietnamese restaurants, Song Que is famous for the brilliant value of its cheap and cheerful food and the rudeness of its staff. There are queues out the door every night, but you'll never have to wait more than 20 minutes for a table.

Japanese
Tokyo Diner is open from midday until midnight every day of the year and serves a range of Japanese food from sashimi to curry, as well as dishes less familiar to British diners, such as salmon don (where salmon sashimi and other ingredients are served on top of a bowl of warm rice). As is customary in Japan, tips are not accepted.

American
In the basement of a nondescript building on a narrow Covent Garden backstreet hides Joe Allen, late-night canteen to London's theatre crowd. Dishes are unfussy and generous (including the amazing Joe Allen burger, which you have to ask for as it isn't even on the menu), prices are reasonable and the staff are discreet.

Italian
Of the handful of outstanding Italian restaurants in London, Trullo stands out for its unpretentiousness and reasonable prices. Go for the fantastic fresh pasta, rich meat dishes and inventive deserts, plus an excellent wine list.

Turkish
Mangal Ocakbasi is an east London institution, serving simple, authentic Turkish food from succulent kebabs to filling vegetarian meze dishes. The Mangal brand is so good that London art legends Gilbert & George have eaten at the sister restaurant, Mangal 2, almost every day for years.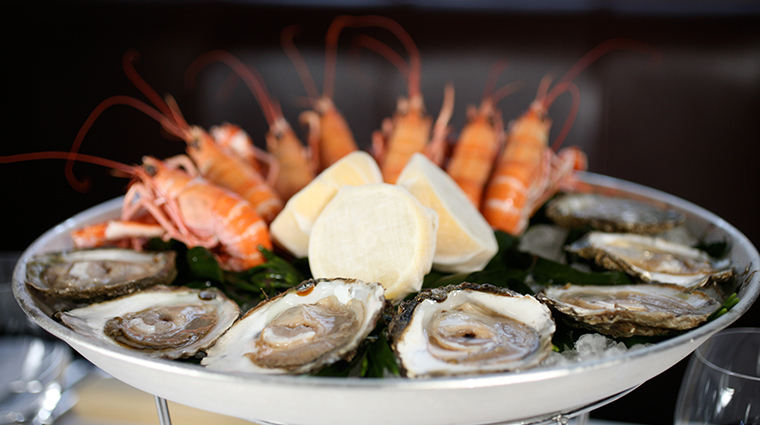 Caprice Holdings, Ltd.
Chances are you are considering a night out in Theatreland, at one of the shows running in the theaters around Covent Garden. But the food offering at most theatres is limited, and you don't want to sit in the auditorium for three hours feeling hungry.

L'Atelier du Joel Robuchon has the West End's best fine-dining pre-theater deal. It is a highly acclaimed venue close to Cambridge Circus. The inside is arranged around an open kitchen and counter, Japanese-style. The food is French in heritage, but modern and precise in its presentation and concentration of flavour. At £28 for two courses, £33 for three it offers outstanding value for the quality of the cuisine.

Nearby Dishoom is a designer take on the Irani cafes of colonial-era Mumbai. You can't book a table, but there is a cocktail bar downstairs where you can have a drink and bar snacks while you wait. Staff is very efficient at seating you. The menu offers classic Indian grills, but you will usually find the real gems on the specials board.

For something more traditional, J. Sheekey plays to its strengths: fish and shellfish, including halibut, sole, a fruits de mer platter, and daily-changing market specials. Or just drop into the Oyster Bar for a platter and something sparkling to wash it down. The place is a Theatreland institution.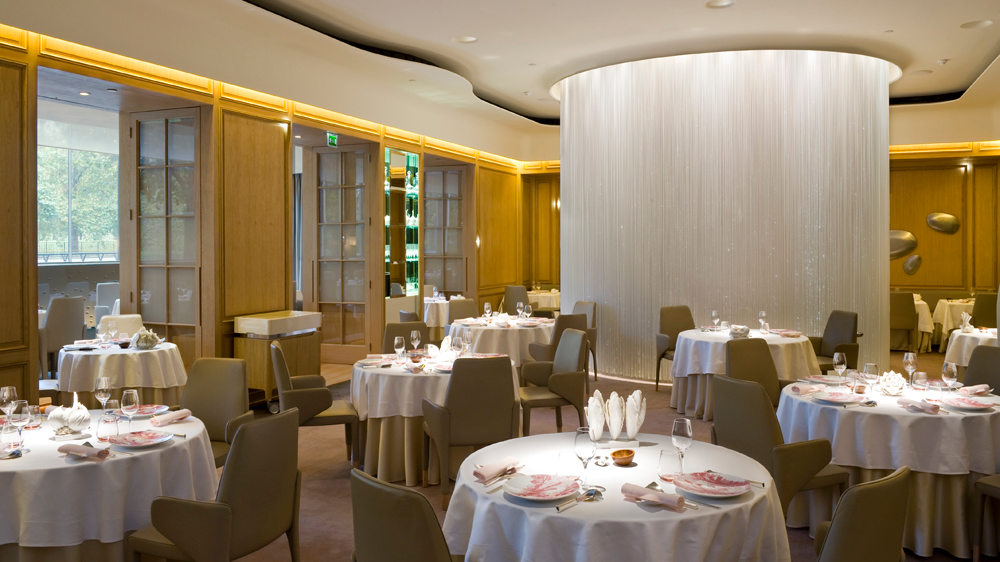 Alain Ducasse at the Dorchester
London is a cosmopolitan culinary capital, with cuisines from all around the world available within its borders. But if I had to choose my three favorite restaurants for food alone, they would be these:

1. Dinner by Heston Blumenthal
A relatively uncontentious choice, as it consistently wins widespread accolades, this latest offering from leading local chef Heston Blumenthal delivers the finest flavors and textures from Britain's long history.

2. Alain Ducasse at the Dorchester
A French restaurant located within one of London's most prestigious hotels, the dining experience here gets better and better each year. The signature 'Cookpot of British terroir vegetables' – a casserole cooked with distinctive cheddar – is simply divine.

3. Tamarind
A multi-award-winning Indian restaurant in the heart of trendy Mayfair, Tamarind has been changing Londoner's perceptions of Indian cuisine for more than 15 years. Opt for one of the traditional Moghul dishes, which are delicately cooked in an authentic tandoor oven.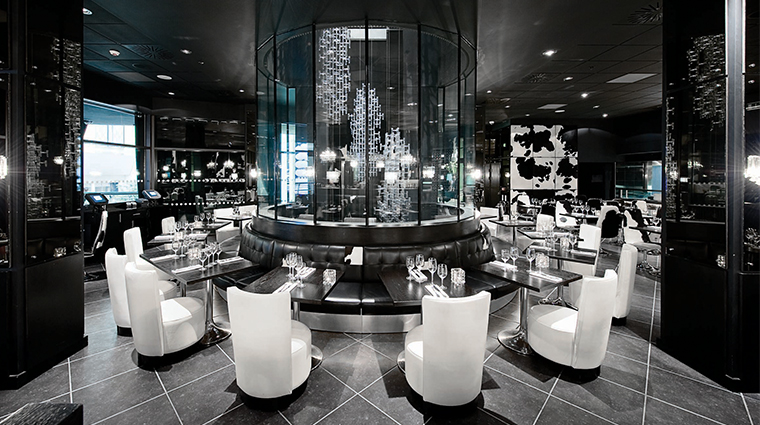 Gaucho
From pop-up stall to candlelit haute cuisine, there's something for all budgets among London's restaurant scene. Here are some recommendations for vegetarians and meat-eaters:

Vegetarian

Smart: Vanilla Black - a noted restaurant hidden down a back street off behind the busy strip of High Holborn; a 5-minute walk from Chancery Lane underground station. A sigh of relief from vegetarians who are finally taken seriously with an extensive menu of original and very pretty plates, which taste as good as they look. One to reserve ahead.

Casual: Tibits off Regent's Street serves up a buffet selection of over 35 delicious salads, hot dishes, dips and nibbles, but the comfortable surroundings are far from what you'd expect from a help-yourself eaterie. From the people behind the world's oldest vegetarian restaurant, (Hiltl, founded in 1898), it's safe to say they know a thing or two about taking the cuisine beyond just plain 'rabbit food'. With a no reservations policy in place I recommend heading just as the lunchtime service starts, 11am, or early evening. If the tiramisu is on the menu when you visit, I urge you to try a slice; seriously good!

Meat

Smart: For prime, melt-in-the-mouth, cuts of meat in dark, moody (in a good way) surroundings, head to Gaucho. This Argentinean steak house, with 14 locations across the city, combines great service and food, with cowhide pattern wall covering, designer light fittings and floor to ceiling mirrors – in fact, tables folded away it'd make a perfect cocktail bar. While we're on the subject, they also boast a great selection of house cocktails and Argentinean wines.

Casual: Meat Liquor was the place to head for burgers when it first arrived off Oxford Street in 2011, with people willing to queue for over an hour on its 'no bookings' policy and word of mouth alone. Now the buzz has died down a bit and the burgers served up inside are still good – the real get your hands messy sort; the cocktails, too (may I suggest the Full English Martini), it's a great place to drop by for a laid back bite in stripped back, rock 'n' roll music surroundings. Head down early evening and you're much more likely to walk straight in.