What are the best yoga studios in London?
Answers from Our Experts (3)
Travelling can be a stressful business - why not drop in at one of these top London studios for a spot of yoga to rebalance body and mind?

Small class sizes and plenty of adjustments from the inspirational teachers make Astanga Yoga London stand out. Hamish Hendry, the studio's founder, is one of only a handful of people in the country certified to teach beyond the astanga primary series, so this is the place to be for experienced astangis visiting the capital. The studio is conveniently located near Euston Station on a street boasting some of London's best vegetarian Indian cuisine.

For those who like the flow of astanga but want to take things up a notch in terms of intensity, Bikram (hot yoga) is the obvious choice. Bikram Yoga London has four super-heated studios, in the City, Kentish Town, Kilburn and Primrose Hill, all offering drop-in classes throughout the day seven days a week. Get ready to sweat!

Triyoga, meanwhile, offers a broad range of different types of yoga at its four studios in Primrose Hill, Chelsea, Soho and Covent Garden. Try hot yoga, astanga, iyengar, jivamukti, kundalini and more, plus classes for pregnant women, babies and toddlers. The Primrose Hill studio is a particularly beautiful place in which to practise.

For visitors to London, one of the finest yoga studios is Yotopia. Located at the heart of the city, just off Covent Garden, the center offers a range of programs, from classic 'vinyasa flow' to hot Pilates, and they are all designed to adhere to the latest physiological research. Best of all, the studios themselves boast state-of-the-art heating and humidification systems, so there's nowhere better to work up a sweat.

Other great yoga studios within easy reach of the British capital's tourism hotspots include Indaba in Marylebone (close to Regent's Park and Baker Street) and Blue Cow Yoga in Moorgate (within walking distance of St. Paul's Cathedral). For something more unique, and perhaps more taxing, you can also take a trip to The London Dance Academy near Old Street. This brand new dance studio is London's only exponent of 'AntiGravity Yoga'.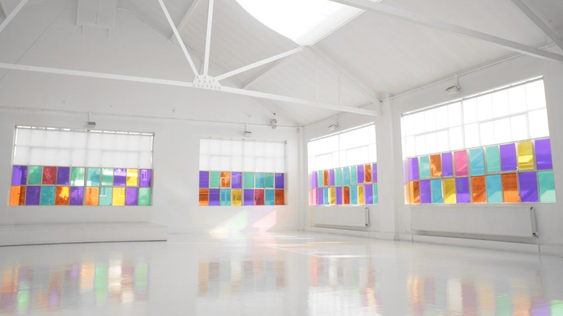 Copyright: Triyoga, Primrose Hill

Here are some of the top spots to practice your downward dog.

Sohot Bikram Yoga: Those who have tried and sweated through a Bikram, or 'hot' yoga, class will know just how precious any inch of fresh air you can get into the lungs can be during the 90-minute session of stretching, balancing and breathing exercises. Sohot is the only studio in the UK to maintain the oxygen levels in the studio, which in turn is said to boost performance and burns more calories, as well as ridding the air of airborne allergens and impurities. With over 82 classes a week, held across Sohot's Soho and Victoria studios, there's a time to suit the tightest of schedules. Visit the website.

Triyoga: There's something for all levels at this studio, with classes especially catered for babies, children, pre and postnatal and seniors too, and an A-Z of different types: ashtanga, iyengar, jivamukti, hot and kundalini, and much more, including Pilates. With locations in Primrose Hill, Chelsea, Soho and Covent Garden, and a packed timetable from 6.30am-9pm, Monday to Friday, there's no need to put your practice on hold while you're on vacation. All four outlets also offer a menu of complementary treatments – from acupuncture to reiki and REN facials – a calendar of dedicated workshops and courses. Visit the website.

Jivamukti Yoga London: In addition to over 55 classes a week, this West London studio runs various workshops, lectures and performances based on teaching the Juvamukti message and way: 'vigorously physical and intellectually stimulating yoga' set to music. Open 7 days a week. Visit the website.