What is the best time to visit London?
Answers from Our Experts (6)
September and October are my favorite months in London. The weather is just perfect, and there's a little bit of a lull in the air.
London really is a fantastic place to visit and explore any time of the year. Despite the constant reports of 'recession', 'double-dip recession' and any of the other economical woes that seem to dominate the column inches of tomorrow's fish and chips wrap, the city boasts an ever flourishing retail, restaurant and hotel market, making for new places to visit, shop, eat and stay all the time.

Yes, the weather is unpredictable, blanketing the city in scorching sun one minute, showers the next, sporadic snow falls, mild winters, 'coldest winters since the year of...', but we're well equipped to entertain the masses whatever mood Mother Nature might decide to be in on the days you visit. So there isn't even a best season to come – although, by default summer is sure to bring you more sunny days than fall or winter. That said, wrapped up against the cold, kicking through fallen leaves on a stroll through one the many ancient parks dotted around is - in my opinion – one of the best things to do anyway.

An annual, packed calendar of art, food and music festivals makes use of our green spaces and tests our ability to pitch a waterproof marquee pronto, if need be. Museums (mainly all free to visit) and shopping centers cater for rainy days and all tastes, and street upon street of places to grab a bite, a beverage, souvenir or new outfit - open 7 days a week, almost 365 days a year - offer something to keep everyone entertained on a visit to the city, come spring, summer, fall or winter.
London has so many different things to offer that there is hardly a bad time to visit. If the weather is miserable head to the shops or a show, if Covent Garden is packed take a walk down to the river, if it's too dark in the afternoons to enjoy the parks check out the museums instead.
Having said that, there are some times that are better to be in the city than others and if you want to enjoy a particular aspect of London life there are some simple rules of thumb to follow:

Love shopping? Avoid December and January
If you are visiting London to shop, forget the first couple of weeks after Christmas when the "January sales" make for massive queues, crazed bargain hunters and a lack of new stock in all stores. The run up to Christmas should be avoided too - this is too hectic a time to even try to walk along Oxford Street and the malls will be full to the brim with people desperately dashing for the last Christmas ham or roll of wrapping paper.
Much better to visit in February or March when the sales stock has been cleared out and the new season of summer clothes is in the shops.

Love being outside? Go for spring
Spring is the best time to visit London's parks and gardens, with the flowers bursting into bloom and the sun starting to warm everything up. Kew Gardens are fabulous in the spring, and it's also warm enough for a stroll in the park – but quiet enough to sit and comtemplate too.
If you want to walk everywhere (which is the best way to see the city) then spring and autumn are perfect – crowds are thinner than in summer, and the weather is cooler.

Got kids? Stick to summer
If you've got kids you might feel constrained to the summer holidays – but there is an upside. During the school holidays lots of London's attractions put on extra kids activities, and the theatres are more likely to be running shows targeted specifically to families.
If you can visit in the May half term break this is even better – and the weather is usually best at this time of year.

Want culture? Try autumn
The summer can see a dearth of culture in the city as everyone heads out of town and the tourists take over. Autumn sees lots of the museums and galleries launching new shows and exhibitions to tempt them back, and is an excellent time to visit as the autumn colours develop too.
There's plenty to do all year round in London, but for me, the spring and summer months are when the city really comes to life. Visit in June or July and take advantage of long days, warm evenings for al fresco drinking and dining and innovative outdoor arts festivals showcasing the best in music, theatre, film and visual arts (two to check out are the Greenwich + Docklands International Festival and the City of London Festival). You'll find parks full of people picnicking and barbecuing (Brits reach for their meat tongs at the slightest hint of warm weather – our enthusiasm for outdoor cooking despite the vagaries of our weather says a great deal about the national character), garden squares in beautiful bloom and the banks of the River Thames crowded with summertime strollers. Major sporting events such as Wimbledon are a chance to see an entire city obsessed, while Royal Ascot and the Henley Royal Regatta offer a unique slice of British life.

Of course it's not always warm and sunny in the summer here. But when the weather takes a turn for the worse, there's a huge range of exhibitions taking place at our galleries and museums and fantastic theatre on offer all over the capital. Some people love Paris in the springtime – I love London in the summer.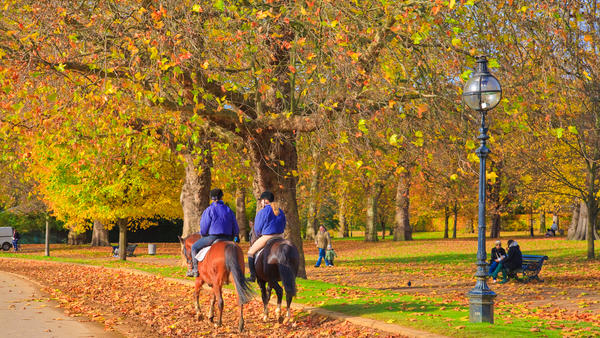 Hyde Park in Fall, Pawel Libera
It's always a good time to visit London.

Spring offers beautifully blooming Royal Parks and countless charity events, summer boasts world-renowned cultural and music festivals, fall serves up top sporting events and the rather bizarre Guy Fawkes Night, and winter means iconic ice rinks and Germanic Christmas markets. In fact, London's cultural calendar is so jam-packed that whatever your passion – be it music, art, food, fashion or nature – you're guaranteed to find suitable attractions any time of year.

In addition to this, the vast majority of the big tourist highlights open year-round, regardless of weather.

Having said that, my personal pick of the best time to visit would be early fall. While it has the obvious charm of being less likely (though not necessarily unlikely) to rain throughout your trip, this is also when the cultural scene is at its liveliest, with restaurants changing their menus, museums and galleries launching exhibitions, and bars and clubs welcoming back the locals — as the coachloads of tourists will have already left.