What is the weather like right now in London?
Answers from Our Experts (5)
London is so particular. Today it is snowing and it's fantastic, tomorrow if it's sunny it will be amazing. If it's raining, it's very romantic as well. Every day, you can sense a different atmosphere in London, every day is beautiful. Of course, if you stay too long and it's cold and rainy, you start to complain. But still, when you leave London you miss it; and when you come back, you're very happy to be back.
This summer is proving to be a corker! London has been basking in temperatures topping 30 degrees celsius (86 degrees fahrenheit) for the past few weeks and even overnight temperatures have barely dropped. A few storms have passed through more recently but any rain is drying up within a much shorter space of time than normal and sunbathing has become a daily possibility.

At this time of year London experiences very long evenings and so Londoners are currently enjoying plenty of al fresco dining and drinking. We had an exceptionally long winter and a cold spring this year so the sudden burst of warmth has brought everyone out with a smile on their face. The city is currently beaming!

Throughout August and into September however you should still expect some colder days and some rain – although not nearly as much as you probably think you should expect. It's always worth carrying an umbrella though! On cooler days Londoners are tenacious and you're sure to see us all shivering slightly in skirts and sandals and filling the pavements outside every available pub trying to soak any available sunshine in. And on hot days we'll all be filling the parks and guzzling ice creams like it's the last day of summer. Which, in this changable climate, always feels like a possibility.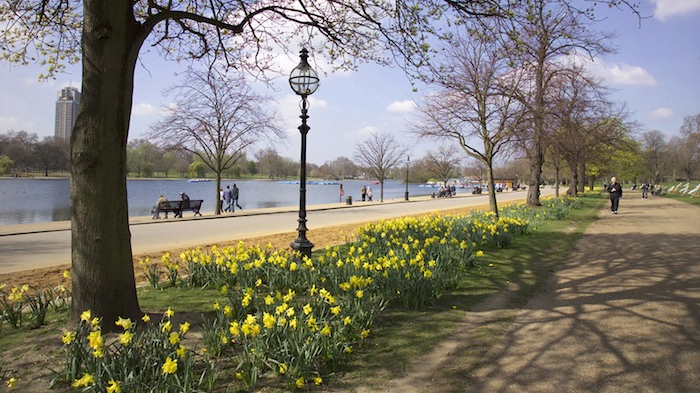 Today it's raining, but don't let that fool you – it actually rains far less in London than people would have you believe. That said, I make sure I've got an umbrella with me at all times, just in case. It pays to be prepared, especially if you're out and about sightseeing.

It may be rainy today, but it's not cold. As of this week, it feels like spring is finally on its way. You can see spring bulbs in all the parks, leaves are beginning to appear on the trees and there's a faint scent of blossom in the air. It nearly feels like the moment to pack away the winter coat and woolens.

Spring is a great time to visit London: warm enough that you can happily spend time outdoors but not so hot that public transport becomes an inferno. The days are longer now too and everyone is a bit more cheerful than usual. I can't promise there won't be a few rainy days, but it takes more than a bit of drizzle to cramp London's springtime style.
It won't be a great surprise to learn that the weather right now in London is a little rainy, and a little cold.

Visiting on the cusp of winter and spring usually means frequent drizzle and gray skies, along with temperatures that range from 4 degrees Celsius (39 degrees Fahrenheit) to 12 degrees Celsius (54 degrees Fahrenheit), so you should dress relatively warm and always keep an umbrella to hand. So far, 2013 has been very cold, with bouts of snow in January and February, so don't be surprised if temperatures drop a little closer to freezing. That said, you're never guaranteed clement weather in the British capital – even in the height of summer – so you shouldn't let the skies rule your vacation.
Right now, at this very moment, London is experiencing a light shower of rain. Yesterday, it was bright one moment, foggy the next, drizzling for a time, and then blowing a frosty wind… Colder temperatures - and even rumours of snow from some forecasters - is apparently on the way over the coming days; next week, there's a run of cloudy days and highs of 50 Fahrenheit on the cards. But then, being London, it could just as likely clear up and blanket the streets in warm sunshine, completely contradicting the experts.

This beautiful city is a bit of a changeable diva when it comes to the weather. Though, come rain, shine or hailstones, there are plenty of shelters to take cover until it passes - one of the many free museums and galleries, shopping malls, or delicious places to pick up a bite to eat, will keep you entertained while it does. For the latest report, visit the Met Office website.