Does Montage Beverly Hills have a pool?
Answers from Our Experts (2)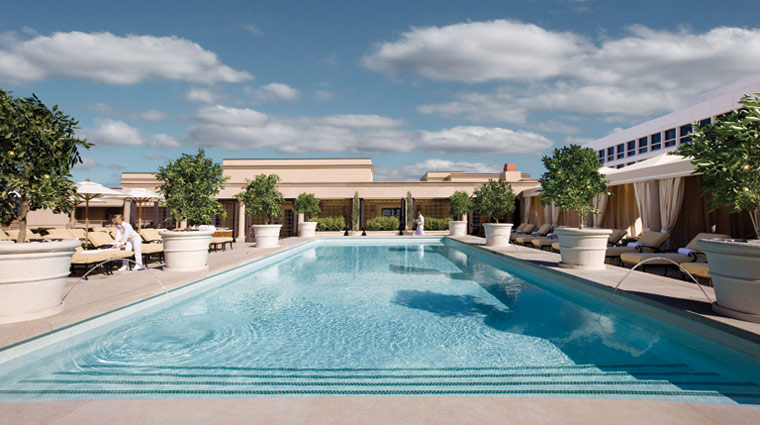 ©MontageBeverlyHills
Montage Beverly Hills boasts a rooftop pool with panoramic views of Beverly Hills and beyond. The elevated saline pool is made of blue mosaic tiles with petite spitting fountains and large potted plants lining the border. If you're going for an underwater swim, don't think you're crazy when you hear music – soothing classical music plays beneath the surface. Surrounding the pool are private cabanas, some equipped with an LCD TV, a DVD player and, of course, complimentary wireless Internet access, or you may opt for one of the many terrycloth-covered lounge chairs of which there are plenty to choose from. You can also request a fax machine in your cabana. A Montage Beverly Hills staff member may come around and offer you free lime-flavored slushie shots – the answer is yes, please – or order off the full menu at the adjacent Conservatory Grill, Montage's signature rooftop restaurant serving breakfast and lunch (we recommend the super-fresh 90210 Cobb salad). You'll find plenty of towels to lie out on or dry off with, along with an ample supply of bottled water to stay hydrated. The pool is open 24 hours, so you can get in a swim whenever you like. The rooftop pool is a wonderful way to take full advantage of Southern California's perfect weather and enjoy the stunning view of the Hollywood Hills.
Swim in our rooftop pool to the underwater rhythms of classical music. Or soak in the whirlpool. Relax with your family in a private poolside cabana complete with estate-quality furnishings.