What are the best bars in Los Angeles?
Answers from Our Experts (8)
That would be The Varnish where Eric Alperin is the bartender. Any bar he works at is great. He has perfect ice. It's just spectacular across the board.
I like Seven Grand, downtown. I think Julian Cox makes great cocktails. I'd recommend anywhere that he has made cocktails, which includes Bestia, Sotto, Picca, Short Order, Playa and Rivera. I think the drinks at Eveleigh, MB Post and The Strand House are really good. The drinks at The Varnish downtown are really good as well.
I like The Pikey and The Varnish — probably my two favorites right now.
The Roger Room on La Cienega is a bar with great cocktails. It's new but feels old. It's got an old-school sensibility, but it's using the new-school mixology.
If my girlfriends and I go out, we go to a place called Dan Tana's. We love the bar there. It's like old-school Italian. Good Italian food actually, old-school though. You'll see who's who there, but you'll see Old Hollywood and you'll see full-on mafia-like people. It's a weird mix. But if I do meet for drinks, I do the Soho House in Los Angeles. Great vibe. Occasionally I'll go up on the roof of The London hotel in West Hollywood. They have a great drink menu and you see the whole city. It's out by the pool, and they have these fire pits — it's really magical actually.
The best bars in Los Angeles are:

1. The Varnish
2. Covell
3. The Spare Room
4. Harvard & Stone
5. Bar Stella
Los Angeles has a bar for every taste. I break them up into rough categories—cocktail bars, hotel bars, wine bars and dive bars. Of course you could get more micro than that, from spirit specific spots like Seven Grand Whiskey Bar, Caña Rum Bar and Las Perlas for tequila and mezcal. It depends on your mood. Check out old-school speakeasy The Varnish, hipster Harvard & Stone and old jazz lounge style Pour Vous for craft cocktails. My favorite hotel bars are opposite in vibe. The gorgeous Library Bar at the Roosevelt Hotel is pretty much perfection for drinks made with fresh farmer's market ingredients, while The Bar & Lounge at Hotel Bel-Air serves up solid cocktails in a place of Hollywood legend. For wine, I'd head to Covell or AOC. And on the West side SHOREbar's proximity to the beach makes the libations even more delicious than they already are. For sentimental reasons my favorite dive is quasi-Polynesian, grimy and classic Tiki-Ti on Sunset.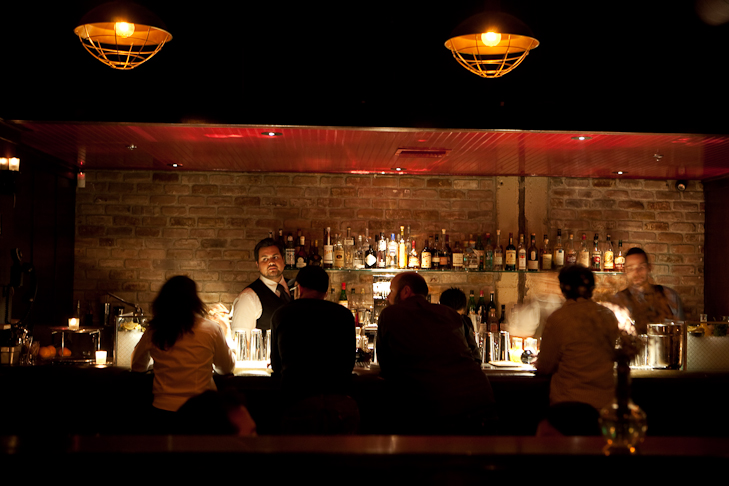 Photo Courtesy of The Varnish
If there is one thing people in Los Angeles are serious about, it is a well crafted cocktail. Mixologists in L.A. source their ingredients from farmers markets, barrel-age specialty cocktails and atomize essences with skill. Here are a few of my favorite bars.

The Varnish. In the heart of downtown, you walk into a restaurant famous for French Dips called Cole's. But you're not looking for the bar at Cole's, instead proceed straight to the unmarked door in the back of the restaurant and walk through it into The Varnish. One of L.A.'s first "speakeasies," this jewel-box bar offers classic cocktails like Aviations and Old Fashioneds. If you can't decide what looks good on the menu, relay your poison to the suspendered bartender and he will concoct one to fit your taste.

The Roger Room. There is no sign, you just have to look for the doorman standing by the emblazoned psychic sign near Largo at the Coronet. This snug speakeasy offers classic cocktails and inventive drinks like my personal favorite, the Thug (Maker's Mark bourbon, Bärenjäger honey liqueur, lemon juice and spicy habanero bitters).

Sassafras. This Southern-themed bar is new on the Hollywood scene. What's most notable about it are two very apparent items: 1) they make their own barrel-aged cocktails which rotate over the bar on an antique dry cleaning conveyor belt, and 2) they dismantled an historic house in Savannah, Georgia, transported it to Hollywood and reconstructed it inside the bar; it's where you'll want to grab a seat and sip on your Blackstrap Old Fashioned.