What are the five best romantic restaurants in Los Angeles?
Answers from Our Experts (4)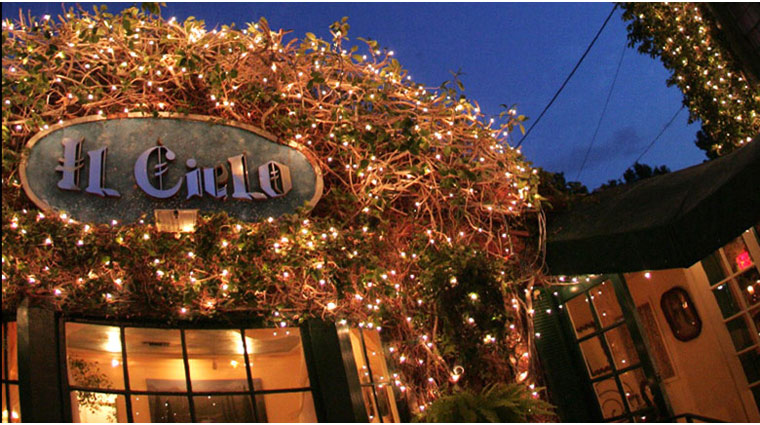 ©KerryCorcoran
With its sandy beaches, hillside bungalows and scene-setting locales, Los Angeles is the perfect backdrop for a romantic getaway. And after a day of horseback riding in the city's cavernous hillside cliffs or surfing lessons in Venice Beach, you'll be ready for a meal made for two.

1. Named after an aromatic, calming Mediterranean herb also known as lemon balm, Mélisse is a favorite spot for Westside gourmands. Chef Josiah Citrin opened this elegant but unpretentious eatery in 1999, creating contemporary American dishes with French influences. The dishes here are artfully presented and innovative but not overly intellectual, and ingredients are always fresh. It's a sophisticated spot to court a serious date and enjoy the delicious cuisine together.

2. Arguably the most romantic restaurant in Los Angeles, Il Cielo is deserving of its name, which means — the sky — because patrons dine in the outdoor garden beneath a canopy of twinkling lights. Dining at this L.A. restaurant will put you in the mood for love — it seems that every couple in the place makes eyes at each other over plates of housemade pasta and focaccia — so give in and order the antipasto Il Cielo, described as "good for two."

3. Forbes Travel Guide Four-Star Providence offers stellar seafood in a romantic setting. Chef Michael Cimarusti whips up creative dishes made from the freshest ingredients from all over the world. Situated in Hollywood, Providence is a must-hit for couples. Whether you're savoring caviar, sharing the wild French turbot or indulging in the rich desserts, it's hard not to be starry eyed at this restaurant. And let's be honest, anywhere with a six-course dessert tasting menu is date-worthy in our book.

4. For a sensory roller-coaster ride, head to The Bazaar, located in the SLS hotel, perhaps the most exciting restaurant in L.A. right now. The menu is divided into modern and traditional tapas, and while they're both excellent, the modern tapas are thrilling adventure to share. Take the foie gras lollipops, for example, in which a piece of foie gras is wrapped in vanilla-scented cotton candy. At first you experience the sweetness and aroma of the cotton candy, and then your mouth is filled with the cold and creamy foie gras.

5. Chef Thomas Keller's Bouchon has finally arrived in Beverly Hills, and with that you can stop the search for the ultimate French bistro date. Like the others, this third Bouchon the chef's wonderful bistro fare in a sprawling and lively space in the heart of Beverly Hills. The menu, an oversized fold-out of wax paper, is simple and unfussy — blood sausage, roasted chicken, even an $18 Croque Madame.

The five best romantic restaurants in Los Angeles are Il Cielo, The Little Door, Valentino, Melisse and The Peninsula Beverly Hills' own Belvedere.
The five best romantic restaurants in Los Angeles are Providence, Melisse, Capo, Il Cielo and Patina.
Whether you're looking to woo your special someone over an epic tasting menu, candle lit ambiance or in a sprawling Italian grotto, you'll find plenty of inspiration at these romantic Los Angeles restaurants.

Melisse
Setting the bar for upscale contemporary French cuisine and service, Five-Star rated Melisse is truly a destination to impress your special someone. Dine in perfect ambiance on selections prepared by chef Josiah Citrin, who shops the Santa Monica Farmers Market and serves you the very best from it teamed with top French technique.

AOC Wine Bar and Restaurant
Chef Suzanne Goin and her business partner Carol Styne had their eye on the new West 3rd Street location for quite sometime. When it finally became available in early 2013, AOC 2.0 opened complete with an expanded bar and dreamy open-air patio. Grab a table in one of its quiet corners and enjoy a menu of comforting California-French selections complete with a stellar wine list and new cocktail program.

Piccolo
Just a few steps from Venice Beach, Piccolo's cozy candle lit ambiance is the perfect setting for a romantic dinner of Italian cuisine. Dine on housemade pastas with fresh truffles, daily seafood selections and decadent desserts. Hit the boardwalk hand-in-hand for a post-dinner stroll.

Little Door
Once you pass through the "little door" of the Little Door, you feel as though you've been transported to a sprawling grotto. Reserve a table on the patio where you sit by candle light in the shadow of trees. You can also opt to dine in the whimsical winter garden or one of the other low key rooms set off the patio. The seasonal Mediterranean menu is the perfect compliment to the surroundings.

Cliffs Edge
Silver Lake offers this indoor outdoor restaurant that feels like you've been transported into the setting of a Midsummer Night's Dream. Twinkly lights flicker all through the outdoor patio where you'll want to reserve a table to dine on contemporary American fare. Inside is dimly lit so you can also opt to grab a corner spot for an intimate affair.