What are the best bars in Miami?
Answers from Our Experts (3)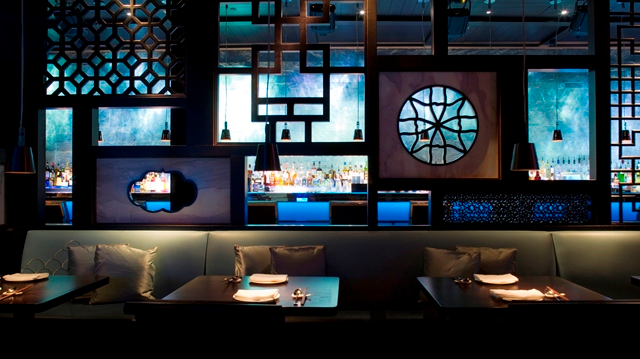 Hakkasan
The bar culture in Miami is quite diverse and whether you're looking to enjoy a craft cocktail at a posh hotel in South Beach or some cheap beers at a casual watering hole, the city will cater to your individual interest. With talented mixologists and profit-hungry bar owners continuously being attracted to Miami's vibrant hospitality scene, travelers can enjoy a wide range of bar experiences from Happy Hour to sunrise.

Serving some of Miami's most inventive cocktails, visit the lively bar scene inside Forbes Travel Guide four-star restaurant Hakkasan at the legendary Fontainebleau Miami Beach. Offering a variety of refreshing drink options, combined with its modern Cantonese cuisine and sexy Chinois-inspired interior design, take a seat at the main bar or at a private table depending on your mood. Order one of their signature cocktails and my personal favorite, The Hakka, which combines premium vodka, sake, fresh coconut, lychee juice and passion fruit.

WIth sunshine year round, Miami features a staggering number of outdoor drinking options whether it's enjoying an energizing libation poolside or at a location with mesmerizing views of the ocean. The Broken Shaker at the Freehand Miami continues to attract both locals and travelers by offering a range of specialty handcrafted cocktails where skilled bartenders use select ingredients right from the property's own garden. The setting, which includes an inviting pool, ping pong tables and a DJ, immediately puts you at ease as it's the kind of place where you know the crowd is there for one purpose: to kick back and enjoy some of the city's best drinks.

For travelers who are looking for an even more low key experience and are fans of craft beers, Abraxas in Miami Beach's South of Fifth neighborhood is a hidden spot that offers an extensive list of domestic and international varieties, including a number of Belgian rarities. Check out Trivia Nights on Tuesdays which is a fantastic way to meet some of the locals at this darkly-lit casual neighborhood bar. The Abbey Brewing Company, one of Miami's oldest pubs, is another inviting cozy bar that offers an impressive selection of hand crafted beers including my favorite, The Immaculate IPA, which is made from their special house recipe. Open every day until 5 a.m., it's a great location to share a toast with locals and visitors from around the world.
Miami is flowing with spirits. Wine, beer, cocktails, pour one on and let go of your cares.

Located at Miami Beach'sThe Standard hotel, Lido Bar & Lounge offers bayside seating in the back and retro design elements inside for a laid-back atmosphere to lounge after a day on the beach. The hotel is known for its healthy spa-like menu, which carries into the bar with wheatgrass and ginger infused shots. If you're looking for a casual spot, The Bar has a "everybody knows your name"-like vibe with friendly service, boutique beers and extensive menu of typical bar fare like burgers and wings, and live music on Saturday nights. At newcomer Swine, you'll find a long list of creative spins on classics, specialty cocktails, and an impressive selection of top-shelf and hard-to-find bourbons. Midtown's Lagniappe is a "New Orleans"-style like wine house. You can select from over 150 vintage wines for sale up front, and head to the back where they'll uncork it for you to enjoy with wine and cheese, and live music. You'll find cocktails at Blackbird Ordinary made with homegrown lemons and limes, strawberries and oranges, basil, cilantro and mint, and freshly squeezed juices, vintage décor, and unassuming feel for an experience that's anything but ordinary.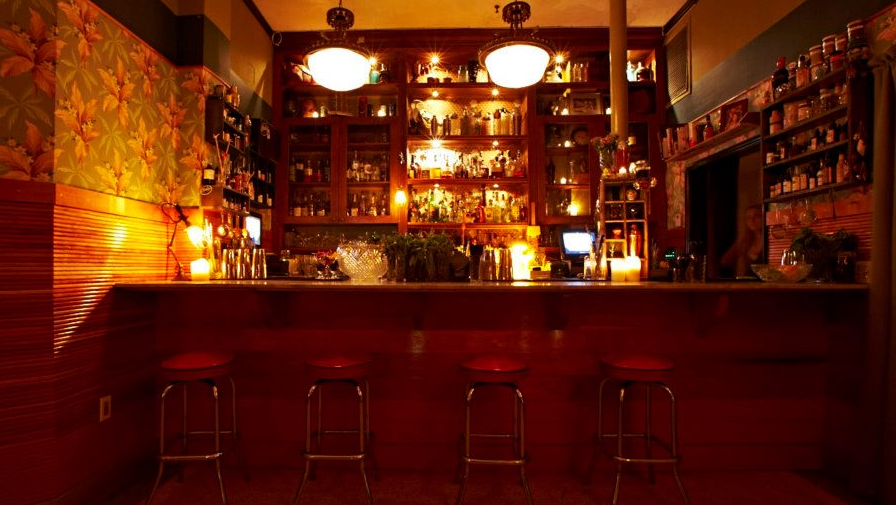 Broken Shaker

There are lots of different bars in Miami to choose from ranging on what type of vibe you're into. Whether you're looking for more of a trendy hipster scene in Wynwood or a fancy upscale lounge in South Beach, there are plenty of options to choose from in the Magic City.

Regent Cocktail Club
Between the classic New York-inspired vibe, the handcrafted cocktails, and the intimate ambiance, the Regent Cocktail Club is the place to go and be seen. A most talked about recently reopened hotspot inside the Gale Hotel, this bar is sexy and thriving without all the pretentious hype.

Broken Shaker
A pop-up bar that many locals have grown fond of, the Broken Shaker inside the infamous Art Deco Indian Creek Hotel, is the perfect spot to chill anytime of the week. The ambiance is laid-back and comfy, while the drinks are potent and definitely worth sipping on throughout the evening.

Foxhole
Don't be fooled by the outside of this local favorite bar with its dark alleyway because the Foxhole hosts some of the best nighttime debaucheries in South Beach. You'll have your choice of relaxing at the bar for drinks, dancing to old school 90's beats (think: Red Hot Chili Peppers and 2Pac), or play some video games in the arcade.

Townhouse Rooftop Lounge
If you're looking for a beautiful Miami skyline backdrop while you're sipping cocktails, the Townhouse Rooftop Lounge is the place to go. While it's amazing on its own during the day while lounging on a plush chair catching some sun, at night is where it's at with its picturesque views of South Beach at its finest.

Gramps
A mismatched space known for its skinny jean-wearing, beard-sporting crowd, Gramps is the trendy hipster newcomer to hit Wynwood. Strong drinks, outdoor entertainment (live comedy acts, DJs, and aligator wrestling), and custom-made furniture, all make this offbeat bar the perfect addition to the area.

The Abbey Brewing Company
Known as Miami Beach's only brewpub, The Abbey has been around for many years and serving up both locals and out-of-towners with lots a plethora of beer on tap. A great place to catch a game or just a decent selection of brew -- Immaculate IPA and Brother Dan's Double -- this european-inspired pub was recently renovated and continues to be one of the number one bars in the area.

Tobacco Road
Miami's oldest bar, Tobacco Road shells out insane drink specials along with wacky events (tomato toss anyone?), and lots of musical acts including their well-known blues tunes and cabaret. This bar offers a everything needed for a proper dive bar: dark and gritty feel, dim lighting, clusters of drunk patrons, and cheap drink specials.