What are the best beaches in Miami?
Answers from Our Experts (2)
Miami's beaches are a must-see and do for all visitors, and there are miles and miles of golden, sandy beaches waiting for you.

Along Ocean Drive on South Beach, Lummus Park Beach offers a lively scene, beautiful beach area, and plenty of good restaurants, bars, and cafés nearby. Quaint, quiet, and beautiful, Key Biscayne's Crandon Park Beach is the ideal beach spot for families with an array of activities for children nearby, including a playground, the Biscayne Nature Center, and Crandon Park Gardens. On the southern top of Key Biscayne is Bill Baggs State Park, home to the Cape Florida Lighthouse, and where you can find bike rentals and nature trails, picnic and grilling spots, and a seawall for fishing. Virginia Key, also on Key Biscayne, offers a picturesque, quiet escape. On the way to Key Biscayne is Hobie Beach, known as a hot-spot for wind-surfers. Haulover Beach is one of the few clothing-optional beaches in the area. Nearby, Bal Harbour Beach offers a more family-friendly atmosphere, and is a good spot for fishing, surfers, and shell hunters alike.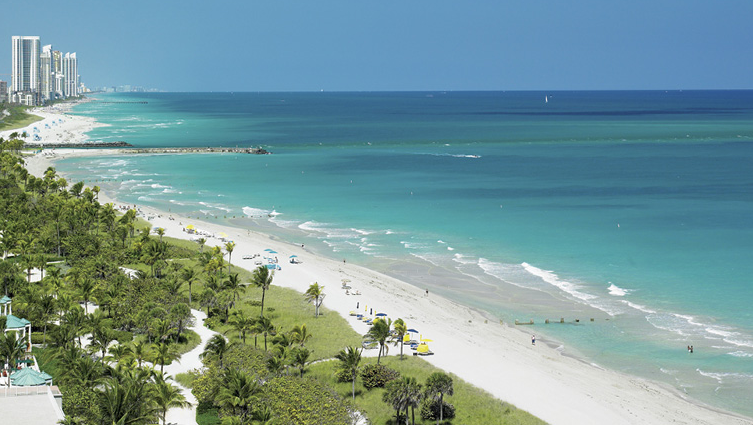 Miami is known for its beautiful beaches, and while South Beach is the main one that comes to most minds, there are plenty of other sandy spots worth checking out here too.

Haulover Beach
One of the few fully nude beaches in the area, Haulover Beach doesn't leave anything left to the imagination. If you're looking for a pretty beach without worrying about pesky tan lines, this is the area of choice.

Bal Harbour Beach
A picturesque sandy getaway, Bal Harbor Beach offers ample fun in the sun along with great fishing on the pier. A known spot for the surfers and yoga on the beach, this seaside escape might be small, but is a favorite among many locals.

Crandon Park Beach
If you're with children and are looking for a great getaway from the South Beach mayhem, Key Biscayne might be the right option. Here, you'll find Crandon Park Beach that's ideal for picnics, water sports, and just some ultimate relaxing in a beautiful setting.

South Beach
One of the prime tourists destinations in Miami, South Beach offers lots of vibrancy during the day and after the sun sets. With ample people watching and miles of sandy beaches, you'll never get bored hanging here.